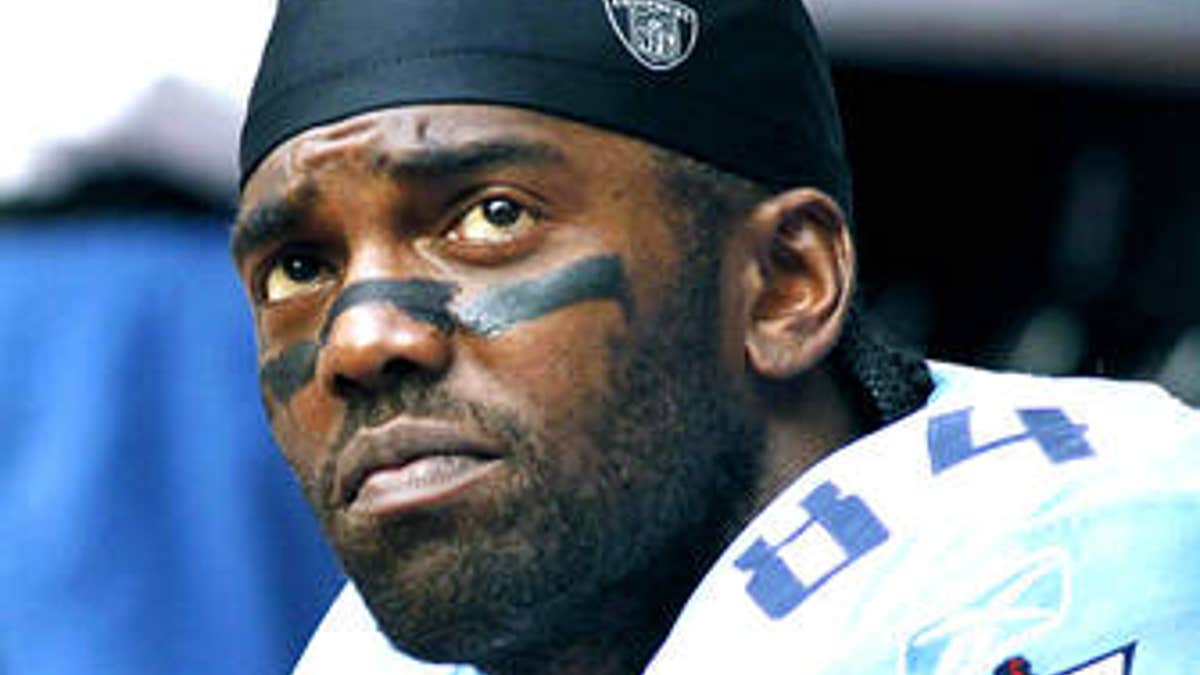 Randy Moss says he's coming out of retirement.
"Your boy be back for the upcoming season," Moss proclaimed earlier this week on an internet video stream.
If it were only that simple.
Yes, he's one of the most prolific wide receivers in NFL history. Yes, his agent told profootballtalk.com on Tuesday that three teams have already inquired.
But none of this means that Moss is guaranteed an NFL return.
This isn't Brett Favre circa 2008, when quarterback-starved teams like the New York Jets, Minnesota Vikings and Tampa Bay Buccaneers were making a strong play for his services. Even at age 38, Favre was coming off one of his best NFL seasons in Green Bay. He still had fuel in the tank.
Moss? At age 35, he may be running on empty almost as badly as Terrell Owens is.
The days of Moss causing defensive coordinators to change their schemes or risk being burnt deep ended well before No. 84 announced his retirement last summer. That's one of the reasons Moss drew scant interest as an unrestricted free agent.
New England head coach Bill Belichick has never provided exact details about why he traded Moss four games into the 2010 season. But it speaks volumes that the Patriots would deal their lone deep threat and not miss a beat en route to a 14-2 record. Just as damning, New England passed on the chance to reacquire Moss off waivers once he was cut following a four-game stint with Minnesota.
Moss landed with Tennessee and notched only six receptions for 80 yards and no touchdowns. He didn't catch a single pass during one three-game stretch after being demoted from the starting lineup. He didn't create receiving opportunities for others by drawing double-teams like before.
Moss apologists can point to Tennessee's unsettled quarterback situation (Vince Young, Kerry Collins and Rusty Smith were all under center at different points). He also was playing in a third different offense in a short span of time.
These are legitimate reasons. But one of the NFL's all-time great personnel assessors - former Indianapolis Colts president and general manager Bill Polian - points to a far bigger problem.
"It was pretty clear he had lost a fair amount of speed and flexibility," Polian said Tuesday night during our show on Sirius XM NFL Radio. "He was not the same player he was three or four years earlier during his heyday in New England. Since his repertoire of routes was always limited - he was essentially a deep receiver his entire career - losing a step can really hurt your effectiveness."
And then there's the matter of how Moss has conducted himself at times during 14 NFL seasons. Even Southwest Airlines would have to charge for the amount of baggage he carries. This will deter many squads from giving him consideration.
Moss can be a sweetheart with kids and shows compassion to those he cares about. But he also lacks common decency at times. Just ask the catering staff in Minnesota. Only weeks after his return to the Vikings, Moss reportedly screamed the food inside the team's locker room was unfit for his dog.
Days later, after a loss to New England, Moss started a post-game speech proclaiming "no disrespect to the Minnesota Vikings and their organization" before displaying the opposite. Moss questioned Minnesota's coaching strategy and knocked the staff for not properly acknowledging the amount of hard work he put into preparing for the game. Moss also rambled about how much he loved and missed the Patriots.
Less than 24 hours later, then-Vikings head coach Brad Childress cut Moss because their relationship already had turned so toxic. Childress -- another strong-willed and stubborn individual - later told NFL.com that he regretted waiving Moss without approval from team ownership beforehand. Childress, though, left no doubt about his feelings toward Moss when averring he "walked in the locker room and vomited on it."
There's more.
New York Jets cornerback Darrelle Revis captured Moss perfectly when describing him as a "slouch" early in the 2010 season. Moss -- who famously declared "When I want to play, I'll play" a decade earlier in Minnesota - takes snaps off. This can have a negative trickle-down effect on other wideouts, especially those who grew up wanting to emulate Moss and regard him with awe, like the star-struck youngsters in Tennessee.
Cris Carter, another future Hall of Fame wideout and former Vikings teammate, questioned Moss' heart Tuesday during an ESPN radio interview.
"When things don't go well, like no other player I've ever been around or associated with, he has a quit mechanism in him that's huge," Carter said. "That needs to be addressed before he signs with any team."
No kidding.
Personally, I'd love for Moss to resurface in the NFL. He's a great story. Maybe with a year to recharge his batteries physically and mentally Moss can regain the form that made him a great player. Moss didn't catch 954 passes for 14,858 yards and a whopping 153 touchdowns by accident.
But to think he will be signed before teams seek other wide receiver options in free agency and the draft is unrealistic.
"I just view it as a guy who was a great player, who obviously had some baggage throughout his career but had a nice run at New England, who sort of reached the end as every player does," Polian said. "Nobody, no matter how great they are, defeats Father Time. I just felt like Randy was in that category.
"For his sake, I hope he makes it back. But to me, he didn't look like a top-echelon player in Tennessee."
We'll know soon enough whether the rest of the NFL agrees