MLB Quick Hits: Strasburg to pitch Saturday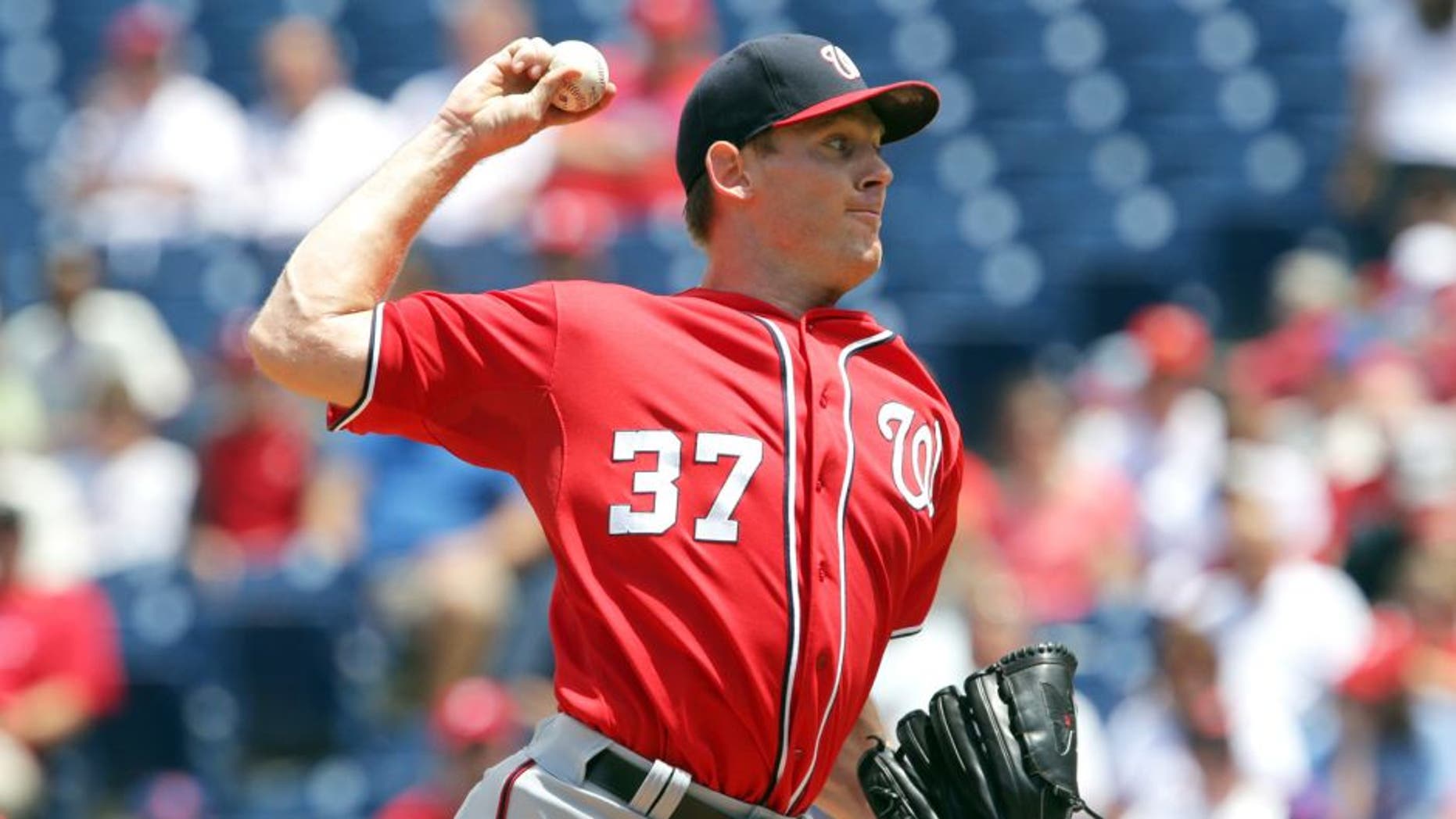 Nationals SP Stephen Strasburg, who has been out since July 4 due to an oblique strain, will return to the mound Saturday against the Rockies, bumping Doug Fister to the bullpen. In 13 starts this season, Strasburg has struggled to a 5.16 ERA.
Sure, that ERA looks bad, but Strasburg was pitching pretty well in the three starts before returning to the DL, as he was attempting to fix some mechanical flaws. Also, remember that neither of his two injuries was arm-related. I can't say I'd be surprised if Strasburg got hurt again, but if you still own him, start him immediately.
In other news ...
Kyle Schwarber is a hitting machine.
Did you notice that Rusney Castillo batted leadoff for the Red Sox on Thursday? Castillo is 11-for-31 with a homer and a couple of steals since being called up from the minors on July 27. Castillo is unlikely to stay atop the order with Mookie Betts (concussion) hoping to return next week and Brock Holt handling most of the leadoff duty since Betts got hurt, but could gain mixed-league viability if he keeps hitting and running. Keep a close eye on him.
Alex Wilson got Thursday's win in relief for the Tigers, despite allowing a hit and two walks. Meanwhile, Bruce Rondon whiffed two of the three batters he faced in the eighth inning. Rondon has allowed just two runs over eight innings in his last nine appearances, while striking out 11 and walking two. I really hope Brad Ausmus is reading these daily hints that he should make Rondon the closer.
Mets OF Michael Cuddyer (knee) is expected to come off the DL this weekend. The Mets' outfield is crowded, so Cuddyer might not play every day just yet.
Yankees C Brian McCann (knee) didn't start Wednesday or Thursday, but he should be in the lineup tonight or Saturday.
Here are your weekly free-agent recommendations: How much does Welington Castillo (owned in 13 percent of FOXSports.com leagues) have to hit before we pick him up in all leagues? This much ... Have we mentioned Ryan Howard (14.6 percent owned) lately? Sure, he's flawed, but he has 18 home runs ... Derek Dietrich (0.3 percent owned) is tearing it up for the Marlins, and has eligibility at 2B/3B/OF ... Alexi Amarista (3.4 percent owned) can run, and has been leading off all week for the Padres. He qualifies at 2B/3B/SS/OF ... Need power? Milwaukee OF Khris Davis (7.8 percent owned) hit a couple of homers on Thursday, and it's not like the Brewers have anyone else left to threaten his playing time. Davis went deep 22 times last season ... Kevin Gausman (10.6 percent owned) has pitched a couple of good games in a row, and had a solid 3.57 ERA last season. I'm a fan ... Nats SP Joe Ross (16.6 percent owned) has been pitching very well, and was kept in the rotation over Fister to make room for Strasburg ... There are plenty of closers (Osuna, Giles, Vizcaino) widely available, but if you can't get them and need to speculate, Bruce Rondon is your guy. Yes, it's possible that I'm being stubborn.
Scott Feldman was solid as Thursday's streaming starter. The weekend selections are: Aaron Nola (19.6 percent owned) at San Diego on Friday; Miami's not-so-terrible Tom Koehler (8.5 percent owned) at Atlanta on Saturday; and Jimmy Nelson (35.9 percent owned) against the Cardinals on Sunday.
DFS advice (based on 50/50 games, salaries from DraftKings): There are aces all over the schedule tonight, and Jacob deGrom ($12,100) edges Jose Fernandez ($13,000) as my favorite ... Hisahi Iwakuma ($7,800) is my preferred SP2, but you could spend a bit more on Andrew Heaney ($8,300) or less on Nola ($6,000) ... At catcher, it's hard to beat Matt Wieters ($2,800) vs. a non-elite LHP ... Would you like a $5,700 middle infield? Try Danny Espinosa (strong vs. LHP) and Cesar Hernandez. I think I start Hernandez every day ... If you want an inexpensive OF and aren't hung up on home runs, consider Philly's Odubel Herrera ($2,800), who bats second and has averaged 11.5 DK points over his last eight games.
See you back here Monday morning.