MLB Quick Hits: Replacing Tulowitzki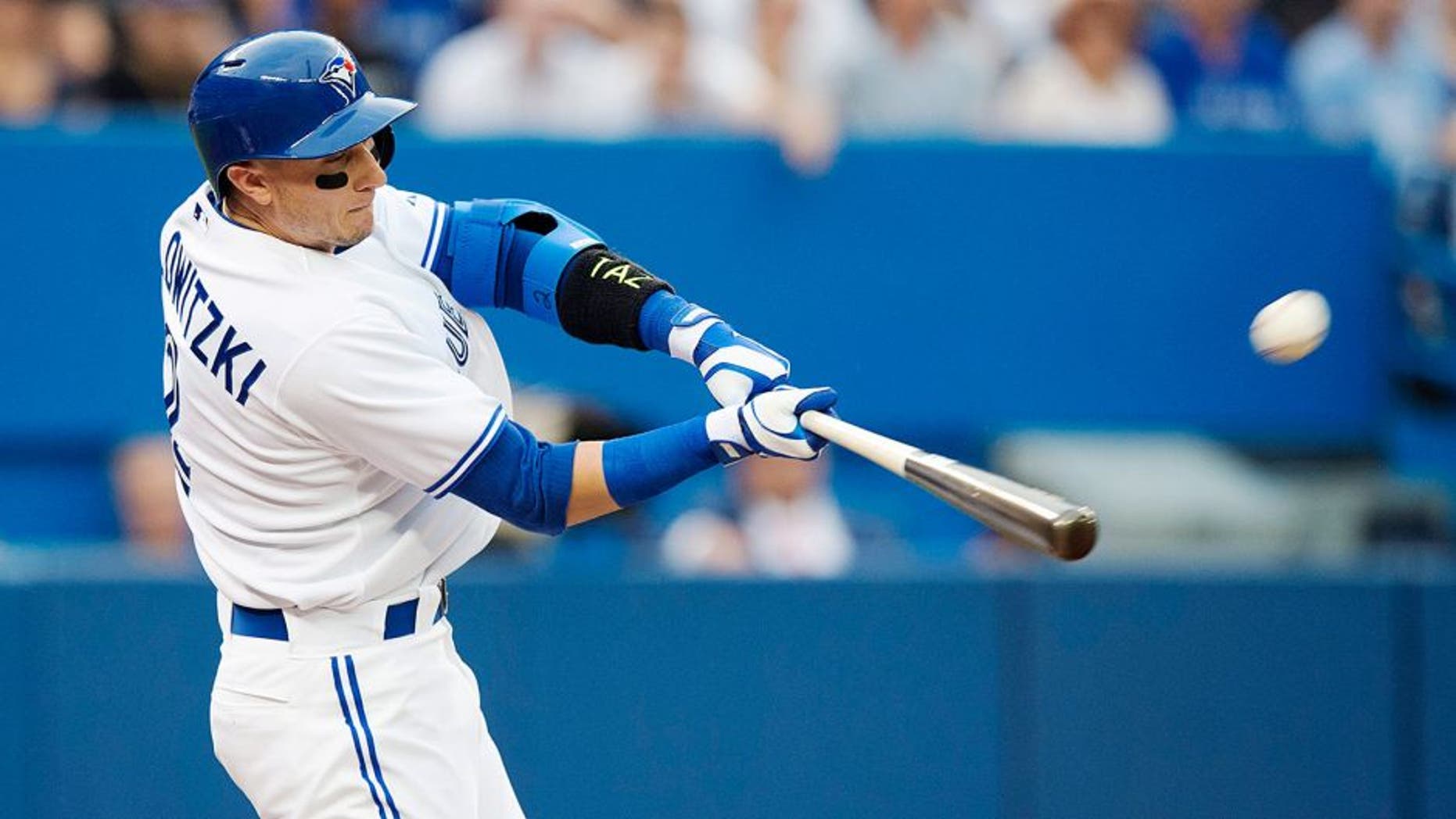 Blue Jays SS Troy Tulowitzki suffered a cracked shoulder blade on Saturday, and if he makes it back before the end of the regular season, it'll be for just a few games. Tulo's fantasy owners need to replace him, and here are a few widely available options:
* Slugging Pirates SS Jung Ho Kang is owned in just 41.5 percent of FOXSports.com leagues. He's ninth at the position with 15 home runs.
* Cubs' rookie Addison Russell (15.1 percent owned) has shown more power lately, with six homers in his last 22 games.
* Underappreciated Reds SS Eugenio Suarez (6 percent owned) is batting .285 with 11 home runs.
* White Sox SS/3B Tyler Saladino (0.6 percent owned) has four homers with seven steals in 203 at bats.
* The Jays will use Ryan Goins at SS and Cliff Pennington at 2B during Tulo's absence. Pennington should be available in AL-only leagues if you need a warm body.
In other news ...
Matt Harvey will make his next start on Sunday against the Yankees, but the team might let him make a few short starts instead of one or two normal ones down the stretch. I hope you've already moved on if you owned Harvey.
Hey, who's this Rich Hill who struck out 10 Rays while pitching seven one-hit, shutout innings for the Red Sox on Sunday? He's a 35-year-old lefty who used to be a pretty good prospect, but walked 30 batters in 54 innings as a minor-league reliever this season, and hadn't started a major-league game since 2009. Even AL-only owners shouldn't be fooled by Hill's big game, as it was very likely a fluke.
Lefty Robbie Ross closed out Hill's win for his second save in 10 days. Go get Ross, I guess.
Nationals OF Bryce Harper left Sunday's game after a collision that left him dizzy. Harper tested negative for a concussion, but his status for tonight is up in the air.
Phillies 2B Cesar Hernandez is probably done for the season after dislocating his left thumb.
The Cardinals hope to activate OF Matt Holliday and 1B Matt Adams later this week. However, manager Mike Matheny said that Holliday is "about 70, 80 percent," so don't expect him to play every day right away.
Here's an interesting FanGraphs article about J.A. Happ's surprising improvement as a Pirate. Happ is still owned in just 33.6 percent of FOXSports.com leagues, and will be on the mound again Tuesday against the Cubs. Happ is slated to start the second game of a doubleheader.
Astros OF Carlos Gomez (oblique) won't play Monday, and his status for the rest of the week is TBD.
Tigers SP Anibal Sanchez will come off the DL to start Wednesday, but is only expected to throw 45-50 pitches.
Mariners SP Taijuan Walker will get skipped after tonight's start against the Angels.
Today's streaming starter pick is Baltimore's Kevin Gausman (owned in 6.3 percent of FOXSports.com leagues) against the Red Sox. Gausman has been inconsistent, but he has 41 strikeouts against nine walks in 46 2/3 innings since the beginning of August.
DFS advice (based on 50/50 games, salaries from DraftKings): Clayton Kershaw is a -350 favorite and will cost you $15,500. If you use him, Gausman ($4,600) should be your SP2 ... Look to load up on Twins' RHB - Dozier, Sano, Hicks - against Tiger lefty Kyle Lobstein ... Orioles C Matt Wieters ($2,900) rejoined the lineup on Saturday after dealing with a wrist issue, and is at a nice price vs. rookie LHP Eduardo Rodriguez ... Giants 1B Brandon Belt ($4,300) has averaged 10 DK points over his last five games ... Rays 1B/2B Logan Forsythe ($3,500) has a .416 wOBA vs. LHP this season, and that's pretty awesome ... Teammate Evan Longoria ($3,800) is batting .393 with six homers in 61 career at bats vs. CC Sabathia ... Yankees SS Didi Gregorius ($2,800) is still hitting well enough to warrant your consideration against a mediocre righty ... Orioles OF Nolan Reimold ($2,600) is on fire, with 66 DK points in his last four games. He bats leadoff, too.
See you back here Wednesday morning.