MLB Quick Hits: Oh, baby! Greinke expected to miss Friday start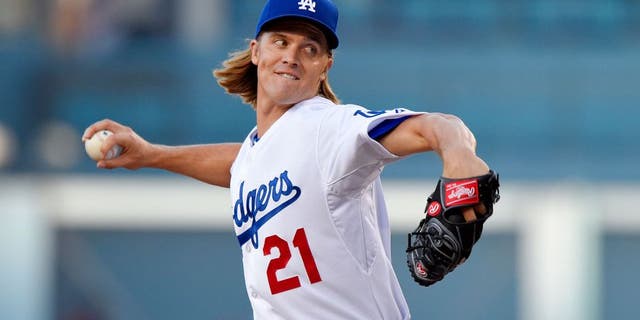 Dodgers SP Zack Greinke, who is on a streak of 987 consecutive scoreless innings, returned to Los Angeles for the birth of his first child and is expected to miss his Friday start. Long reliever Ian Thomas will fill in for Greinke on Friday, and manager Don Mattingly hopes that his co-ace will return to New York in time to start on Saturday. Greinke's fantasy owners should also hope that he's able to start this weekend, as an outing against the Mets could result in him allowing negative-10 runs. That can really help your ERA.
In other news ...
The A's traded SP Scott Kazmir to the Astros for a couple of prospects, one of whom is a catcher who might turn into a solid hitter. Kazmir will start Friday for the Astros, and is likely be replaced in the Oakland rotation by lefty Drew Pomeranz. Here's a link to FanGraphs' take on new A's prospects Jacob Nottingham and Daniel Mengden.
The Brewers dealt 3B Aramis Ramirez to the Pirates for minor-league reliever Yhonathan Barrios. Ramirez will play third base (with Jung Ho Kang at SS) until Jordy Mercer and Josh Harrison are healthy, probably in late August/early September. The uninspiring but moderately speedy Hernan Perez (21 SB at Triple A last season) takes over at the hot corner in Milwaukee.
Padres OF Justin Upton (oblique) missed another game on Thursday, but it sounds like he'll play tonight.
Still no Freddie Freeman for the Braves this weekend. He's targeting a July 30 return.
The Rockies are hinting, but not committing, that OF Corey Dickerson (foot) will return to the lineup this weekend.
Nick Tropeano made one scoreless start for the Angels in April, and was promptly sent back to the minors. After posting a 4.43 ERA at Triple A -- it's the Pacific Coast League, so cut him some slack -- Tropeano returns to the hill in Anaheim tonight. Tropeano whiffed 65 batters in 61 innings at Salt Lake, but he's not in an easy spot against the Rangers.
The Friday blog posts here will now include some free-agent recommendations, as my weekly Free Agent Frenzy article is being benched for the season. Here goes ... Marlins C J.T. Realmuto is owned in just 5.7 percent of FOXSports.com leagues, and is slashing .278/.304/.481 with a couple of homers this month. He's got four steals on the season, too ... Mitch Moreland is only 28.5 percent owned? Really? ... My man Rougned Odor is 17.4 percent owned, but that number should be 100. He's killing it this month (.355 BA, 3 HR, 12 RBI, 12 R), and has 11 homers with eight steals between the minors and majors this season ... Dodgers 3B Justin Turner is owned in just 28.3 percent of leagues. What the hell? ... Yes, you can still pick up Kyle Schwarber (39.7 percent owned), and he'll be catcher-eligible soon. He won't hit two homers every day, though ... Do you want to beat the rush on Mets OF prospect Michael Conforto (0.2 percent owned) in NL-only leagues, since his callup seems more likely every time his team has a bad hitting day? ... If you're not into streaming, go pick up Dodgers SP Mike Bolsinger (25.3 percent owned), who has a 2.79 ERA in 15 starts ... Mariners RP Carson Smith (12.1 percent owned) hasn't officially been named as his team's closer, but he's been handling the job well, and Fernando Rodney stinks ... Can I interest you in a non-closing reliever? Miami's Carter Capps (1 percent owned) has whiffed 20 batters in his last 10 innings, and has a 1.32 ERA on the season. I think his delivery should be illegal (watch gifs here), but the umps don't yet, so Capps can dominate for you.
Did you stream Ervin Santana on Thursday? If so, good for you! The weekend selections are: Cardinals' rookie lefty Tim Cooney (2.9 percent owned) against the Braves on Friday; Twins' southpaw Tommy Milone (12.1 percent owned) versus the Yankees on Saturday; and Phillies' rookie Aaron Nola (13.2 percent owned) at the strikeout-prone Cubs on Sunday.
Friday DFS advice (based on 50/50 games, salaries from DraftKings): I prefer Corey Kluber ($11,500) to the more expensive Max Scherzer and the slightly cheaper Chris Archer ... For a cheap SP2, Cooney ($6,500) is my guy ... Wilin Rosario is normally a great catcher play against lefties, but at home for $2,900 vs. Anthony DeSclafani, he makes sense ... Hey, it's Ryan Raburn ($2,200) versus a lefty day! ... Ian Desmond's DK points in his last four games: 19, 1, 19, 19. He's only $3,100 ... Another Nat to consider is 2B/3B Danny Espinosa ($3,000), who kills LHPs ... BvP alert: Evan Longoria ($3,200) is 15-for-40 with six homers against Chris Tillman.
See you back here Monday morning.