MLB Quick Hits: Cubs call up 2B Baez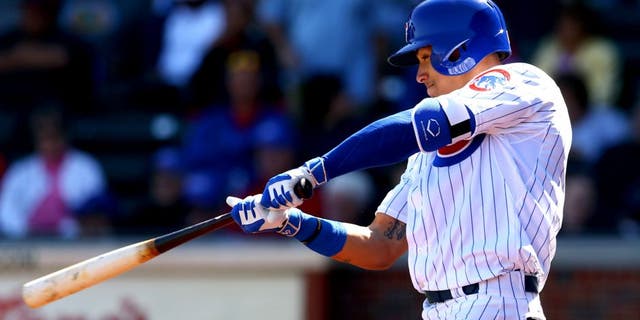 One of the eight zillion Sept. 1 roster expansion-related promotions was Cubs 2B Javier Baez, who batted seventh on Tuesday. A rough spring training, a broken finger and a death in the family contributed to Baez getting lost in the shuffle of Cubs' prospects this season, but he's cut down on his strikeouts, and in 70 Triple-A games in 2014 has batted .324 with 13 home runs and 17 stolen bases. Among middle infielders, Baez has elite power.
Baez started at the keystone a night after Starlin Castro committed three errors, but manager Joe Maddon "suggested his playing status is fluid," according to the Chicago Sun-Times. In a 12-team league, Baez's uncertain playing time makes him risky, but the September payoff could be big. In deeper formats, jump on him. Baez is owned in 24.3 percent of FOXSports.com leagues.
In other news ...
The bone bruise in Mark Teixeira's leg isn't healing, and he's expected to miss somewhere between two more weeks and the rest of the season. Cut him now and move on, fantasy owners. The Yankees are apparently debating the idea of starting Alex Rodriguez at first base against lefties, but whether or not that happens, it sounds like rookie Greg Bird will sit vs. southpaws.
If Hanley Ramirez (shoulder) plays again this season for the Red Sox, it will be at first base, as they've seen enough of him in left field. The Sox will mostly go with a Betts/JBJ/Rusney outfield, providing lots of defense that fantasy owners don't care about.
The Mets appear likely to start rookie lefty Steven Matz in place of Noah Syndergaard this weekend, and possibly shift to a six-man rotation after skipping Syndergaard.
The Royals will be without OF Alex Rios and RP Kelvin Herrera for awhile due to the chicken pox. It doesn't sound like any other Royals are infected. Rios' absence coincides with Alex Gordon's return from the DL.
Red Sox SP Rick Porcello struck out 13 Yankees on Tuesday, and has allowed one run in his last 15 innings. Two starts don't necessarily make a rebound, but if you'd like to take a shot at Porcello, he's owned in 27.1 percent of FOXSports.com leagues.
Daniel Hudson got his second save in 11 days on Tuesday for the D-backs. Closer Brad Ziegler is fatigued, but it doesn't sound like he's lost his job yet.
The Nationals expect to decide today if they'll skip Stephen Strasburg's Friday start.
Josh Hamilton will probably be limited to pinch-hitting duty for the rest of the season. It's been a nice run, but Hamilton is just about done as a fantasy-relevant player.
With Austin Jackson having been traded to the Cubs, look for Brad Miller to get plenty of starts in center field this month for the Mariners. Miller hasn't been bad this season, batting .249 with nine homers and 12 steals. If he has SS/OF eligibility next year, he'll be a bit more interesting.
Hector Olivera made his debut for the Braves on Tuesday, batting sixth and playing third base. Olivera will play regularly and is said to have a good bat - think .300 with 15-20 home runs - but he hit two homers in 139 plate appearances in the minors this season. Maybe there's still some rust to shake off.
Reminder: Marlins OF Giancarlo Stanton is targeting a Friday return from the DL.
There are four afternoon games on today's schedule, starting with Braves-Marlins at 12:10 p.m. ET. Set your lineups accordingly.
Today's preferred streaming options, in order, are Raisel Iglesias (owned in 32.8 percent of FOXSports.com leagues, at CHC) and Carlos Rodon (owned in 27.6 percent of FOXSports.com leagues, at MIN).
DFS advice (based on 50/50 games, night games only, salaries from DraftKings): Do you want to spend $14,600 on Clayton Kershaw, who has surpassed 31 DK points in seven of his last nine starts? If so, you'll need a cheap SP2 like Rodon ($7,500) or perhaps even Mike Leake ($6,900), who goes against Kershaw ... BvP alert: Mariners OF Franklin Gutierrez ($3,900) is 9-for-21 with three home runs against Scott Kazmir ... John Jaso ($2,700) might not be a power threat, but if you need to save money at catcher, he'll help ... Blue Jays 2B Ryan Goins ($2,500) has 59 DK points in his last four games. Yes, we know he bats ninth ... Twins SS/3B Eduardo Nunez ($2,700) has 16 DK points in each of his last two starts. If he plays, he's a solid option vs. Rodon ... Did you know that Andre Ethier ($2,800) has a .381 career wOBA vs. RHP? He faces Leake, who's just OK ... It's a mediocre starter night (Chase Anderson vs. Jon Gray) at Coors for the D-backs and Rockies.
See you back here tomorrow morning.