MLB Quick Hits: Brewers' Braun done for season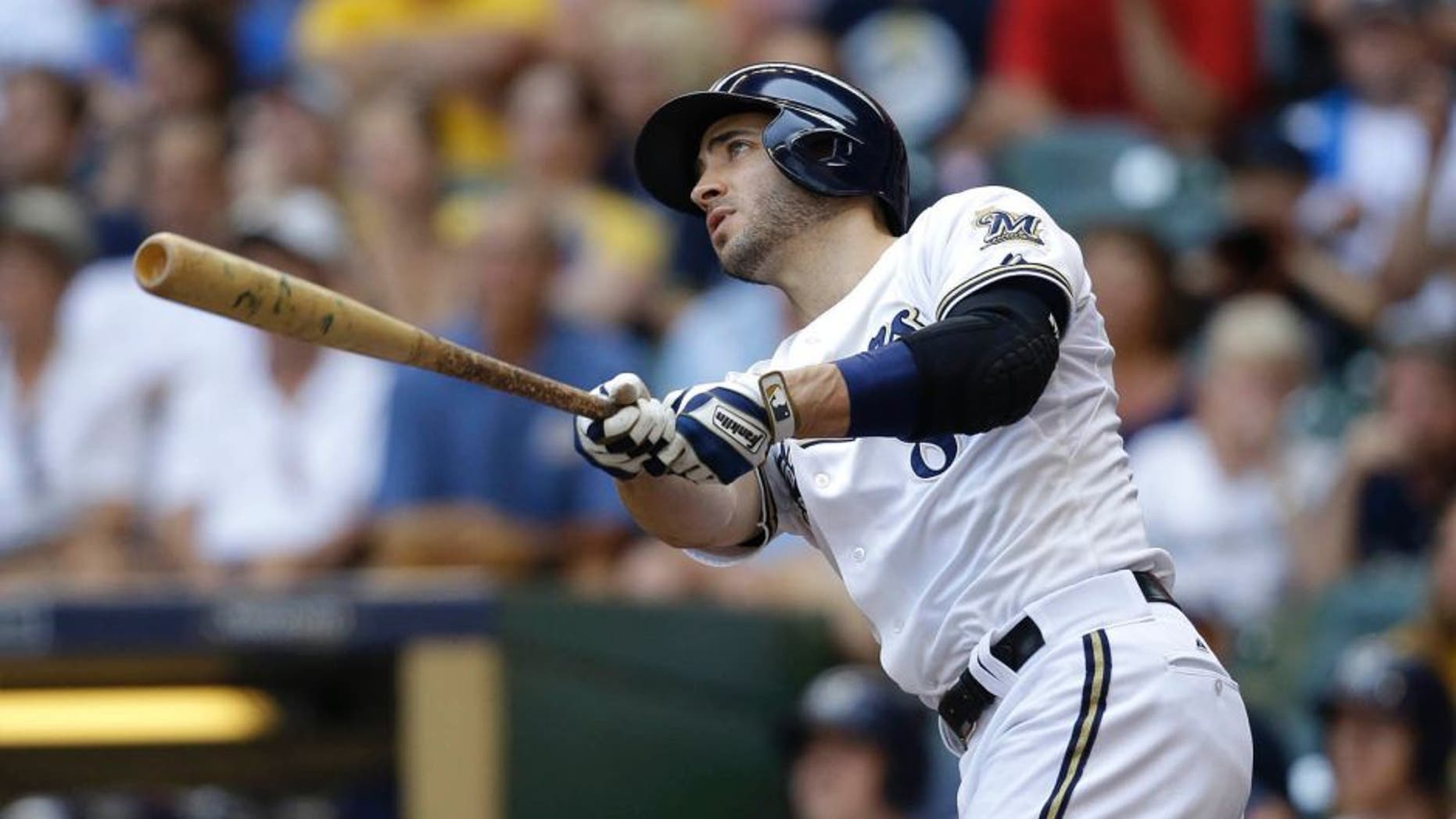 It's that time of year, folks. You're reading a lot of, "(Player X) has been shut down for the season due to (Injury Y)." It's no fun when you're battling for a fantasy championship, is it?
Today's biggest name in the Operation Shutdown game is Brewers OF Ryan Braun, who has a herniated disc in his back that will require offseason surgery. Braun batted .285 with 25 home runs, 84 RBI, 87 runs scored and 24 stolen bases, and those numbers will be difficult to replace over the season's final week. Braun's owners should consider Toronto's Kevin Pillar (owned in 27.2 percent of FOXSports.com leagues), who has a couple of home runs along with seven RBI, seven runs scored and seven stolen bases over the last two weeks. If you need to dig deeper, San Francisco's Jarrett Parker (3.3 percent owned) has five homers in his last four games. No, that's not a typo.
In other news ...
Angels' closer Huston Street is probably done for the season with a groin injury. The Orange County Register reports that Trevor Gott and Fernando Salas are "most likely to get closing opportunities" this week.
The Red Sox shut out the Orioles in three consecutive games over the weekend, behind starters Rich Hill, Craig Breslow and Henry Owens. The 23-year-old Owens has a 3.84 ERA over 10 starts, and should be considered in deeper mixed leagues for next season.
A's SP Sonny Gray left his Friday start due to hip tightness, and will be officially shut down today.
If you missed it, Cardinals SP Carlos Martinez is done for the season due to a shoulder strain. Tyler Lyons is expected to take Martinez's turn in the rotation on Wednesday.
In other Cardinals' news, C Yadier Molina will have his injured thumb re-examined today. Molina still might return before the end of the season, but you shouldn't count on it.
The Rockies aren't sure if SS Jose Reyes (Achilles) will play this week. I benched Reyes in a weekly NL-only league due to the uncertainty.
Braves 1B Freddie Freeman left Sunday's game with a sore right wrist, and is day-to-day. Don't get shut down, Freddie!
Dodgers 1B Adrian Gonzalez didn't play Saturday or Sunday because of a pinched nerve in his lower back. If you want a replacement for Freeman or Gonzalez in standard mixed leagues, Miami's red-hot Justin Bour is just 5.5 percent owned. Bour has 23 homers this season, and slugged five last week.
Best wishes to Royals SP Chris Young, who pitched five no-hit innings the day after his father died.
One more on the shutdown front: Reds SP Raisel Iglesias, who had a pretty good second half. Iglesias hasn't pitched since September 13 due to shoulder fatigue, but the Reds made things official on Sunday.
The Reds and Nats play at 3:05 p.m. ET today. Set your lineups and DVRs accordingly, in case there's a Papelbon-Harper rematch.
Today's streaming starter selection is Cubs SP Kyle Hendricks (14.5 percent owned) against the Royals. Hendricks has allowed 10 runs in 15 2/3 innings over his last three starts, with 18 strikeouts against two walks. Glass half full, right?
DFS advice (based on 50/50 games, salaries from DraftKings): Zack Greinke ($13,100) has averaged 25.1 DK points over his last 10 starts, and hasn't been below 17.3 in any of them. His floor is high ... Hendricks ($6,900) looks like a solid SP2 against a Royals team that might be on a bit of cruise control after clinching their division over the weekend ... J.A. Happ ($7,600) hasn't had a bad start in six weeks, and is an option if you don't want to pay for Greinke ... BvP alert: Pirates 2B Neil Walker ($3,100) is 14-for-38 with three homers against Lance Lynn ... Indians C Yan Gomes ($3,100) has averaged 9.2 DK points over his last five games ... Astros SS/3B Marwin Gonzalez ($2,700) has a .354 wOBA vs. LHP this season, and gets a mediocre one in Roenis Elias ... Yankees OF Chris Young has a .953 OPS, a .402 wOBA and seven homers in 144 at bats vs. LHP. To put that in context, Josh Donaldson has a .402 wOBA with a .951 OPS over the full season. Young and the Yankees face Eduardo Rodriguez at home tonight.
See you back here Wednesday morning.