Mizzou shows serious spunk in 83-82 OT loss to Xavier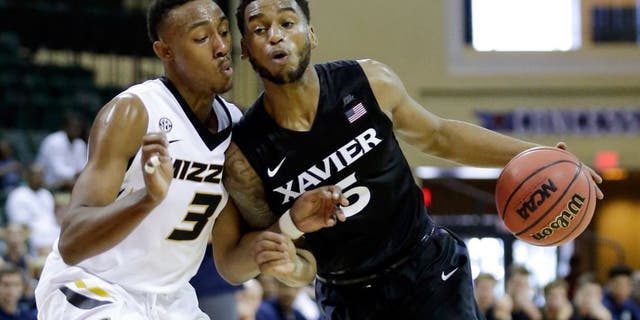 LAKE BUENA VISTA, Fla. -- The play J.P. Macura made with 1.7 seconds left won't show up in any boxscore, and certainly won't appear in any highlight video.
But it helped No. 11 Xavier escape and remain unbeaten.
Edmond Sumner's free throw with 0.3 seconds left in overtime gave the Musketeers an 83-82 win over Missouri in the opening round of the Tire Pros Invitational on Thursday. He was fouled after Xavier inbounded near midcourt, after a heady timeout that Macura called to give his team a chance to set something up at the end.
"He understands time and score and puts himself in positions to make hustle plays and plays that determine the outcome of a game," Xavier coach Chris Mack said. "It doesn't surprise me that he had presence of mind to call timeout that quickly."
Sumner was fouled by Missouri's Terrence Phillips as both went for the ball along the sideline on the deciding play. He missed the first one short, then rattled in the second for the win.
"I decided to call timeout because I didn't want us to just fire up a halfcourt shot," Macura said. "I thought we'd have better chances of making a shot if we got a timeout."
He was right, and the Musketeers -- who won a tournament at the Disney complex last year -- are now in the semifinals of this event. Sumner and Macura each scored 19 points for Xavier, which got 13 apiece from Trevon Bluiett and Sean O'Mara.
Frankie Hughes scored 24 points for Missouri (1-1), and Kevin Puryear finished with 22 points and 10 rebounds. Phillips scored seven of his 21 points in overtime for Missouri, which never got off a desperation shot after Sumner's deciding free throw.
"I think he was just being aggressive," Missouri coach Kim Anderson said. "I'm sure he'd love to take it back, but you know what? He made a lot of great plays to get us to where we were, so if it wasn't for that it wouldn't come down to that play."
Missouri led by 10 in the first half and held the lead most of the second half, but needed to scramble both late in regulation and then from an early five-point deficit in overtime. Missouri went on a 7-0 run late to grab the lead, but Macura made two free throws with 17.8 seconds remaining to tie the game for the 15th and final time.
"A great basketball game, first of all," Anderson said. "I thought our guys did a lot of great things and played one of the top 10 or 15 teams in the country toe-to-toe."
BIG PICTURE
Xavier: It was the second time in three games that the Musketeers were put to the test -- they beat Lehigh 84-81 to open the season last week. ... Xavier missed its last 12 3-pointers, shooting 2 for 22 in the game from long range.
Missouri: Hughes is averaging 23.5 points after two games. Only 10 Missouri players have managed to go their entire freshman season averaging more than 10 points. ... The Tigers were outrebounded 52-39.
HELLO, AGAIN
This is the third straight season that Xavier and Missouri have played.
Xavier won 74-58 at Missouri on Dec. 13, 2014, in the start of what was going to be a two-game series, and prevailed again at home 78-66 exactly one year before this meeting -- Nov. 17, 2015.
Missouri will be in that position with another non-conference foe later this season, when it meets Arizona for the third consecutive year.
UP NEXT
Missouri: Faces Davidson in the consolation semifinals Friday.
Xavier: Faces Clemson in the tournament semifinals Friday.