Mississippi State's Mullen botches domestic violence issue at SEC meetings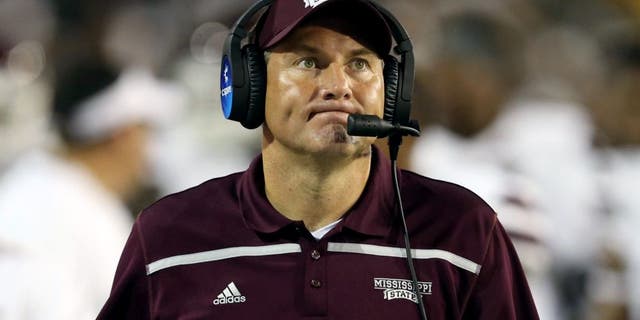 NEWYou can now listen to Fox News articles!
HOOVER, Ala. -- If you believe the SEC is a leader in dealing with the issue of domestic violence, you must not be listening to its words or watching its actions.
On Monday, SEC commissioner Greg Sankey made a point of saying his conference has been "a national leadership position on this issue," before acknowledging there is still more work to be done. Some of that work apparently includes working with his coaches on how they speak about these issues.
Yes, Sankey and the SEC deserve credit for being the first Power 5 conference for enacting legislation last year to keep its schools from accepting transfers with histories of domestic violence or sexual assault. That was a terrific first step. However, Sankey and the conference have fumbled the issue when it comes to incoming recruits -- especially five-star recruits, as is the case with Jeffery Simmons, the biggest recruit Dan Mullen has landed in his entire time at Mississippi State.
When pressed on the issue of the difference between transfers and freshman, Sankey offered up a flimsy answer: "I'm always cautious to people to be careful of judging one's character on 10 seconds of video," he said, despite knowing that so many life-altering bad actions have been made in those windows.
"Our working group spent a lot of time teal dealing with that. A couple of concerns that were consistently identified, which is what can you know? What can you learn if there's something particularly in one's juvenile past, and can you access information in a consistent way.
"When someone enrolls in college, they are generally an adult. You expect that you'll have access to more consistent information on which to base decisions. And so we as a group said let's go further on the transfer issue. They have been adults on the university campus, and that misbehavior is viewed as rising to a higher level of attention."
In Simmons' case, he was 18 when the incident occurred He turns 19 later this month. The other pertinent information in Simmons' case is a gruesome video of the star defensive lineman pummeling a woman on the ground.
After MSU announced that it was accepting Simmons, and this news came during the SEC meetings but after Mullen had left Destin, Fla., the school's AD Scott Stricklin called it "not acceptable," however MSU took him anyway -- but said the blue-chipper would have to sit out one game: their opener against South Alabama.
Mullen was asked about the program's mode of disciplining Simmons. He said he wasn't "involved much" in that process, adding that "It was a university decision, but I was just thrilled that we're having Jeffery as part of our family coming in."
It doesn't take much of a cynic to think he's thrilled because Simmons is considered a special talent, a 6-4, 310-pounder who can be a disruptive force for rival offenses.
Mullen's handling of an thorny subject in the main media room Tuesday was awkward. His handling of the Simmons issue in the next media session in a much smaller setting was shameful after SECCountry's Kyle Tucker asked him how he would feel if it was a member of his family that was on the ground being pummeled by Simmons.
"I don't know," Mullen replied, "I don't think it would be my family. I don't deal in hypotheticals, really, so, um ... but anybody, I mean, in the video, I don't know that my family would be in that situation, to be honest with you."
The response was just bizarre. Mullen had to know he was going to face these kinds of questions. Our society has come a long way in how it views such an ugly subject, and there needs to be more accountability from the leaders in college sports.
One thing we learned was Mullen's handling of these questions is probably why his school waited till after he left those meetings before releasing the news.