Miesha Tate: Ronda Rousey is still pouting about her loss to Holly Holm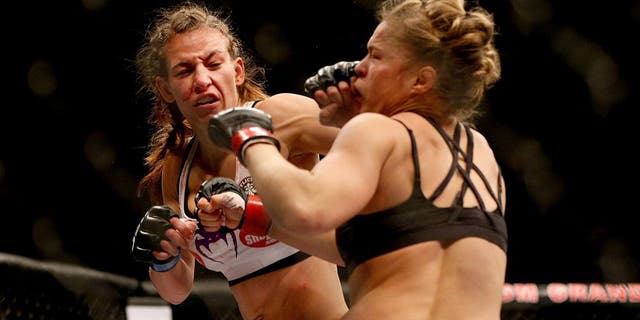 NEWYou can now listen to Fox News articles!
It's hard for Miesha Tate to talk about her upcoming fight with Amanda Nunes at UFC 200 without questions eventually drifting towards her heated rivalry with former champion Ronda Rousey.
Tate appeared on "The Conan O'Brien" show on Monday night -- the first major late night talk show appearance for the new bantamweight champion -- and she addressed the possibility of facing Rousey after UFC 200.
"Right now I'm really trying to stay focused on Amanda and I know everyone's so excited for that Rousey fight. I hope that's something that happens, but I don't want to overlook Amanda cause if I don't beat Amanda, there's no next," Tate said.
"Granted, I go out there and do that, I feel like I'm in a really good spot. I'm at the top of the world and I feel crazy possessive over (the title). That's my baby and I'm going to protect it."
Tate has stated numerous times in the past that she would be ultra confident for a rematch with Rousey despite two previous losses to the former champion.
According to Tate, the difference would be the momentum she's feeling after several big wins, including a victory to capture the women's bantamweight title, while Rousey has barely been seen or heard from after her knockout loss to Holly Holm last November.
"I'm at the best point in my career and she's at the worst," Tate said. "So I think I bring a level of confidence and I've been defeated before, but I've come back stronger for it. I question whether she will be able to do the same."
There have been a lot of questions surrounding Rousey's return to the Octagon following the loss to Holm at UFC 193.
Originally, Rousey was expected back at UFC 200 but then that plan fell apart. She was then rumored for UFC 205 in New York City, but just recently UFC president Dana White said he could only hope she would be back before the close of 2016.
Tate doesn't know for sure whether Rousey will come back or not, but she doubts the former champion will carry the same level of brash confidence she had while still undefeated and holding onto the UFC title.
I'm not saying she won't come back -- I just don't know if she'll come back the same. Cause she seems awfully pouty about the loss and it's like we've all had losses. -- Miesha Tate
"You either get up and get back on the horse and come back stronger for it or you sit out for over a year," Tate said.
"People want to call it trash (talking) but it's just me being honest."
If Tate gets past Nunes at UFC 200, a showdown with Rousey would certainly be big business but right now there's no telling when or if that fight might happen.
Rousey has made no public statement about her return to action other than saying that she was committed to returning one day to reclaim the gold that she lost. Outside of that, there's no timeline or specific date to expect Rousey's return to the UFC.