Midweek Stock Report: Some hot-hitting Brewers and hello, Hornibrook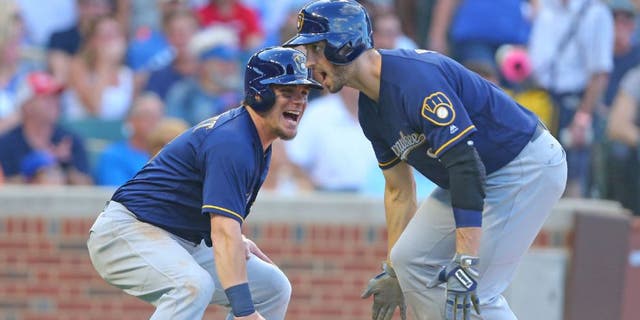 Every Wednesday, FOX Sports Wisconsin takes a look at which athletes' stock is trending up and whose is trending down.
In other words, who is making a meteoric rise, and who is quickly plummeting.
With that in mind, let's "take stock" of the current sports scene in Wisconsin, shall we?
Mike Daniels, Packers defensive tackle
There weren't a lot of positive performances in Green Bay's loss to Minnesota on Sunday night, but don't overlook Daniels. The fifth-year defensive lineman from Iowa is really coming into his own. Against Minnesota he had four tackles (that might not seem like a lot but the Packers only had 52 tackles and the high for the game was six), two tackles for loss (which included a sack) and four quarterback hurries. Daniels also played the most of any Green Bay defensive lineman. That four-year contract extension he signed last December is looking like a really good idea.
Ryan Braun, Brewers outfielder
In his last two games, Braun smashed three home runs against the Chicago Cubs, giving him 30 home runs in a season for the sixth time in his career -- no Brewers player has had as many 30 HR seasons (Braun broke a tie with Prince Fielder, who had five). Off the field. Braun became a dad for the second time as his wife Larisa gave birth to a boy, Greyson Joseph, on Tuesday.
Domingo Santana, Brewers outfielder
It took a while for Santana to get back in the groove following a long stint on the disabled list, but he's found his stroke in September. Overall in the month, he is batting 321/379/679 with five home runs and 11 RBI in 15 games. This past week, Santana batted .318, swatted a pair of homers to go with four doubles (good for a .773 slugging percentage) and drove in five runs.
Scooter Gennett, Brewers second baseman
Like Santana, Gennett has been raking in September. This past week he was 7 for 17 (.412) with four doubles and two home runs (a 1.000 slugging percentage) and seven RBI in just six games. Gennett is batting .320 with a .620 slugging percentage, 10 RBI and 11 runs.
Alex Hornibrook, Wisconsin quarterback
Looking for a little life in the offense, Badgers head coach Paul Chryst inserted redshirt freshman Hornibrook into the game in the third quarter against Georgia State. The quarterback led Wisconsin to scoring drives on three of his five possessions, with the others ending on an interception that wasn't Hornibrook's fault (went through hands of receiver) and the game ending (UW just ran out the clock). Hornibrook finished 8-of-12 passing for 122 yards with a touchdown and is expected to start Saturday in Wisconsin's Big Ten opener at Michigan State.
Damarious Randall, Green Bay cornerback
With Sam Shields out due to a concussion, it fell on Randall to cover Minnesota wide receiver Stefon Diggs. It did not go well. According to Pro Football Focus, Diggs had five catches on five targets for 134 yards and a touchdown when matched up against Randall, who overall allowed seven catches on eight target for 161 yards. Randall was PFF's lowest-graded defensive player in Week 2.
Corey Clement, Wisconsin running back
Clement missed another game -- that's 10 of the last 16 -- and is regarded as questionable for Saturday's game against Michigan State. Clement surely will be labeled as injury prone by NFL scouts, which won't help his cause come draft time. In the near-term, Wisconsin's run game is a shell of its normal self with Clement on the sideline. With a difficult stretch of schedule upcoming, the Badgers really need Clement healthy and on the field.
Jonathan Villar, Brewers infielder
Villar had just one hit in 19 at-bats last week; he's hitting just .175 in September. Also, the dream for the rare .400 babip season is all but over, as Villar has slipped to .377. It was fun while it lasted.
Keon Broxton, Brewers outfielder
Last week Broxton made out "up" portion on the stock report due to his continued scorching bat. He lands on the "down" side this week not because he slumped, but rather because he lost a battle with an outfield wall at Wrigley Field. Broxton's season came to an end after fracturing his wrist -- that ivy just doesn't provide passing -- meaning his feel-good story came to a close quicker than he would have liked.
Dave Heller is the author of the upcoming book Ken Williams: A Slugger in Ruth's Shadow as well as Facing Ted Williams Players From the Golden Age of Baseball Recall the Greatest Hitter Who Ever Lived and As Good As It Got: The 1944 St. Louis Browns