Midweek Stock Report: Delly's debut, Badgers LBs dominate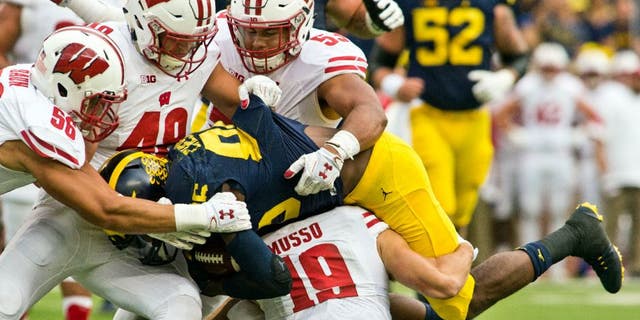 Every Wednesday, FOX Sports Wisconsin takes a look at which athletes' stock is trending up and whose is trending down.
In other words, who is heating up and who is cooling off.
With that in mind, let's take stock of the current Wisconsin sports scene.
Badgers linebackers
Even without an injured Vince Biegel, this group showed what it is capable of in a 14-7 loss at Michigan, Jack Cichy had a game-high 12 tackles and a half-sack as well as tipping a Wilton Speight pass in the third quarter that was intercepted by cornerback Derrick Tindal. T.J. Watt wasn't far behind, racking up 11 tackles with a sack and two tackles for loss. T.J. Edwards also had a double-digit tackle game, with 11, while junior Garret Dooley, who started for Biegel and entered with nine tackles in his career at Wisconsin, finished with seven tackles and a sack. There's definitely an argument to be made that this is the best linebacker corps in the country.
Matthew Dellavedova, Bucks guard
In his first game with Milwaukee -- albeit one that doesn't really count -- Delly demonstrated a little bit of what he brings to the Bucks, scoring 11 points -- while making 3 of 4 3-pointers -- with six assists in 24:21 of action. Dellavedova was a fan favorite in Cleveland. If he keeps this up, he'll definitely be one in Milwaukee, too.
Craig Counsell, Brewers manager
The Brewers' brass announced on Tuesday that Counsell's entire coaching staff with return for the 2017 season following his first campaign as the team's manager. Milwaukee managed 73 wins in 2016, while a number of prospects and new additions took major steps forward, including starting pitcher Junior Guerra, infielder Jonathan Villar and shortstop Orlando Arcia.
Jonathan Villar and Chris Carter, Brewers infielders
Carter finished the 2016 season tied for the National League lead in home runs with 41 becoming just the sixth Brewers player to lead a league in homers, joining Ryan Braun (2012), Prince Fielder (2007), Gorman Thomas (1982 and 1979) and George Scott (1975). Villar led the major leagues in stolen bases with 62, just the third time in franchise history that has been done (Scott Podsednik in 2004 and Tommy Harper of the Seattle Pilots in 1969).
Alex Hornibrook, Badgers quarterback
It didn't take long for the redshirt freshman's stock to do a 180. After playing well in victories over Georgia State and on the road against Michigan State, Hornibrook missed a couple of throws at Michigan and for the first time looked jittery in the pocket. He's only a freshman so these type of days (9 of 25 for 88 yards with a touchdown and three interceptions) are bound to happen. The question is can Hornibrook learn from it and bounce back? (More bad news -- No. 2 Ohio State is up next.)
Rashad Vaughn, Bucks guard
With Khris Middleton out, it is expected that Vaughn will get the first crack at the swingman's minutes. The big concern for Vaughn, though, is how much he struggled with his shot last season. One game in and it still a concern. Vaughn made shot just 1 of 7 from the field (1 of 5 from 3) in 21:40 of playing time. It's still early, of course, but it would be nice to see him find his stroke sooner rather than later.
Packers fans
No football to watch last Sunday and both the Vikings and Bears won in Week 4.