Midweek Stock Report: Brewers' Broxton scorching and welcome back, Jordy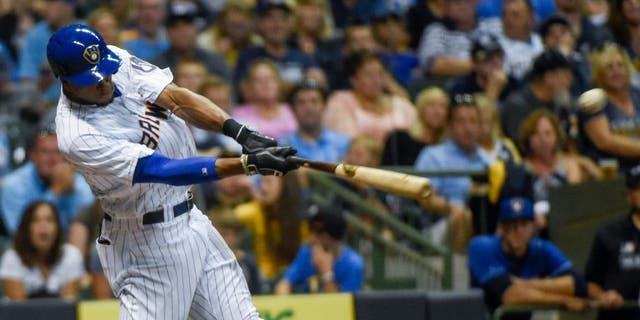 Every Wednesday, FOX Sports Wisconsin takes a look at which athletes' stock is trending up and whose is trending down.
In other words, who is making a meteoric rise, and who is quickly plummeting.
With that in mind, let's "take stock" of the current sports scene in Wisconsin, shall we?
Jordy Nelson, Packers wide receiver
Nelson played in his first game since tearing his ACL in the 2015 preseason and his first "real" game since the 2014 NFC Championship. Despite not playing in the preseason, he proceeded to appear in 52 of 64 plays and catch his first touchdown in 630 days. Welcome back, indeed.
Keon Broxton, Brewers outfielder
Talk about the tale of two halves. Broxton struggled -- understatement -- before the All-Star break during his time with the Brewers. But upon his recall after the All-Star Game, Broxton has a slash line of 301/408/541 with 15 steals in 43 games. His stellar play continued last week as he hit 273/360/545 with two homers. In 10 September games, Broxton is hitting 343/410/571. He is certainly keeping his name in the hat for playing time in 2017.
Greg Gard, Wisconsin head coach
It took a while for Gard to be named head coach of the Badgers after Bo Ryan stepped down, but Gard has shown to be the man for the job both on the court and in recruiting. Already with one of the top recruiting classes in the nation for 2017 (247 has UW at No. 5 in the nation, Rivals No. 10 and Scout No. 12), Gard and the Badgers got a verbal commitment from four-star shooting guard Tyler Herro of Whitnall HS in the Milwaukee area. Doesn't look like there be any dropoff for years to come in Madison.
Jazz Peavy, Wisconsin wide receiver
Peavy had his first career touchdown taken away by an, shall we say, interesting replay decision in last year's Northwestern game. Against Akron last Saturday, Peavy secured his first two (real) scores, while also posting highs in catches (7) and receiving yards (100). Having a dependable receiver like Peavy, along with Rob Wheelwright, will only make Wisconsin that much more dangerous.
Zach Davies, Brewers pitcher
Since a couple of rough starts in mid-August when he allowed 12 runs in nine innings, Davies has gotten back in the groove. Last week he held the Cardinals to one run in seven innings while walking just one and striking out seven, his fourth straight good start. In those four starts (two against St. Louis the other against Colorado and the Cubs), Davies has allowed 8 runs (7 earned) in 26 1/3 innings on just 23 hits with six walks and 27 strikeouts.
Packers 2016 draft picks not named Blake Martinez
While Martinez, a fourth-round pick, saw significant time at linebacker (he was in on 65 percent of the defensive plays), that can't be said for any of his classmates. Top pick Kenny Clark was on the field for only nine plays. Second-round pick Jason Spriggs was in on five plays on special teams. Third-rounder Kyler Fackrell and fourth-round pick Dean Lowry played seven snaps, even though the latter was listed as a starter on the depth chart. Fifth- and sixth-round choices Trevor Davis and Kyle Murphy were both inactive. Better days to come for those guys (at least hopefully).
Kirk Nieuwenhuis, Brewers outfielder
While Broxton keeps impressing, Nieuwenhuis is failing to take advantage of his opportunity. Last week he was just 1 for 12 with no walks and six strikeouts. In September, Nieuwenhuis is 4 for 24 with 12 Ks and no extra-base hits.
Dave Heller is the author of the upcoming book Ken Williams: A Slugger in Ruth's Shadow as well as Facing Ted Williams Players From the Golden Age of Baseball Recall the Greatest Hitter Who Ever Lived and As Good As It Got: The 1944 St. Louis Browns