Michelle Waterson: I'm going to submit Tecia Torres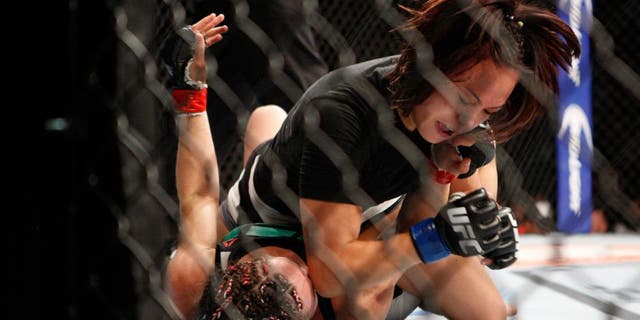 NEWYou can now listen to Fox News articles!
Michelle Waterson knows that she's in for a real fight Dec. 12 at UFC 194 when she takes on top strawweight contender Tecia Torres. "Tecia is ranked No. 5 for a reason," she recently told Submission Radio.
"She's young and she's eager and she's hungry, and she comes from a great camp. But for me, I feel like I perform better when I'm under pressure, and like I said, rise to the occasion when I'm faced with an opponent with such a skill level. I think that it makes me elevate my skill level."
Waterson made a successful UFC debut in July with a third-round submission win over Angela Magana. That got her back into the win column after her Dec. Invicta atomweight title loss.
Torres is undefeated in six fights as a professional and seven more prior to that as an amateur. She's won her first two UFC fights and hopes to get to the top of the 115 pound class contender's list.
Waterson wants to take Torres' place, there, of course. And, though she thinks highly of her opponent, Waterson believes strongly that she's going to walk away with a decisive win.
The Karate-based Waterson takes a great deal of confidence in her belief that she'll have a clear advantage on the mat against the "Tiny Tornado." "If she takes me down, she's getting submitted," the Albuquerque fighter said.
"As far as the ground goes, I do have the upper hand. And so I feel like when they matched Tecia with Angela Hill they thought it would be a great matchup because they both have a stand up background, and Tecia took advantage of the fact that it was MMA and took it to the ground.
"I just don't feel like Tecia's gonna do that. So I feel like I'll be able to dictate where I want the fight to go, whether it's standing or on the ground, and I think that's just something we're going to play with a little bit in the fight camp."