Michael Vick says kids can learn from Joe Mixons situation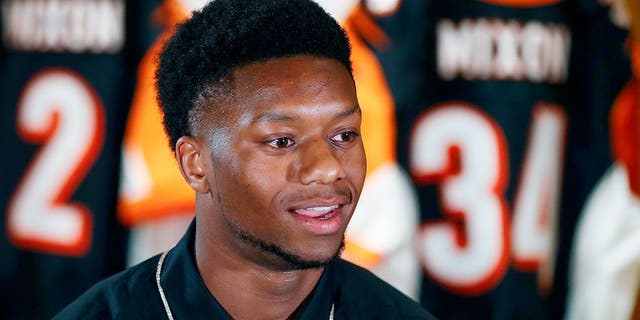 The Cincinnati Bengals took a big risk in the second round of the draft, selecting Joe Mixon out of Oklahoma. The pick was met with plenty of criticism due to Mixons character concerns, stemming from an incident in which he punched a woman, breaking four bones in her face.
The Bengals are giving him a second chance, as they often do with troubled players. Someone whos familiar with getting a second opportunity in the NFL is Michael Vick. He served 18 months in prison for dogfighting, only to return to the field in 2009 with the Eagles, and later with the Jets and Steelers.
He shared his thoughts on the Mixon situation, saying kids can learn from what happened to the new Bengals running back.
"Kids can use this as an example," Vick told NJ Advance Media recently. "Joe got anopportunity because he's an exceptional talent. Others don't get that opportunity."
AP
Vick would obviously never condone what Mixon did, but hopes he can learn from his situation and his mistake to take advantage of the second chance hes received.
"Joe's young, man, and he made a mistake. Let's be honest, you rarely see guys having encounters like that. It should never happen. I would never condone it. I don't think it's right at all, Vick said. But in terms of his football career, if he could go back and think about it before he actually made that gesture towards that girl, he wouldn't have done it. Not if he knew what he would be dealing with now. … I think he has learned from it. Hopefully, he's humbled by what happened to him."
The Bengals openly admitted that they took a risk on Mixon in the second round, knowing the criticism that would come along with the selection. Mixon himself has showed remorse for his wrongdoing, saying hes changed since the incident occurred in 2014.
He was suspended from the football team for all of 2015 and saw his draft stock plummet as a result. Mixon is a first-round talent, but he needs to prove he can be a good member of the community and change his image.