Michael Pineda, Yankees pitcher, suspended 10 games for pine tar incident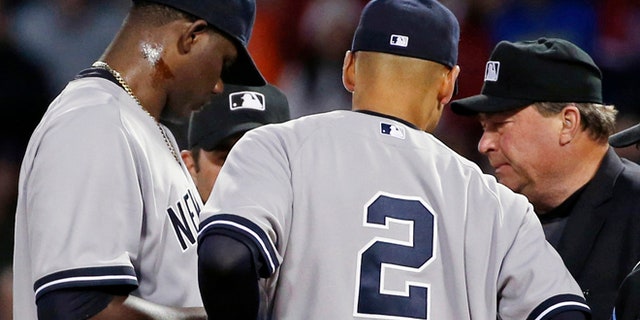 BOSTON – New York Yankees pitcher Michael Pineda was suspended for 10 games Thursday after being caught using pine tar to help him grip the ball.
The commissioner's office announced the penalty. The ban was to start for Thursday night's game in Boston unless Pineda appealed.
There was no immediate word on whether Pineda would challenge the suspension.
Pineda was ejected in the second inning of Wednesday night's 5-1 loss at Fenway Park after umpires found the pine tar on his neck.
After the game, Pineda admitted he had used the pine tar to help him hold the ball on a cool, windy night.
"I'll learn from this mistake," he said. "It won't happen again."
The ejection also set off a debate in the baseball world about pitchers who use pine tar, and whether it should be allowed in certain circumstances. Many former aces said they had done it, albeit in a more discreet manner.
Rule 8.02(b) prohibits pitchers from altering the ball to gain an unfair advantage, and forbids them from having a foreign substance on them or in their possession on the mound.
Pineda wasn't seen with the pine tar in the first inning, when the Red Sox roughed him up. Boston manager John Farrell asked plate umpire Gerry Davis to check Pineda after two fast outs the next inning.
Davis went to the mound, touched Pineda's neck and ejected him.
Earlier this month, Pineda pitched well against the Red Sox at Yankee Stadium. Television cameras showed a substance on his hand during that outing — Pineda said it was dirt, not pine tar.
Among other suspensions of pitchers for pine tar in the past decade, Tampa Bay's Joel Peralta was penalized eight games in 2012, the Angels' Brendan Donnelly 10 days in 2005 and St. Louis' Julian Tavarez 10 days in 2004. The suspensions of Donnelly and Tavarez were cut to eight days after they asked the players' association to appeal, and Peralta dropped his challenge with no reduction.