Michael Phelps celebrates secret wedding in Mexico, 4 months after tying the knot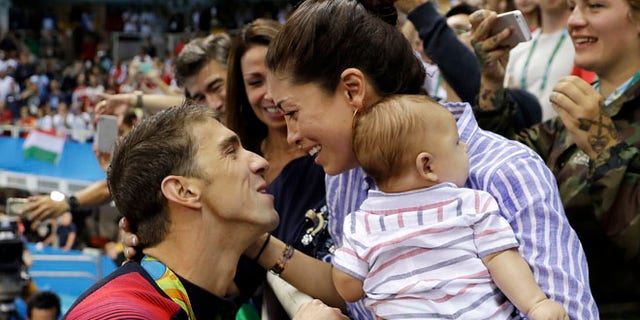 NEWYou can now listen to Fox News articles!
Olympic swimmer Michael Phelps and wife Nicole Johnson have celebrated their marriage four months after legally tying the knot with a wedding in Mexico.
The couple celebrated their marriage with a second ceremony in Cabo San Lucas over the weekend and some snapshots of their happy day.
The 23-time Olympic gold medalist shared an Instagram photo Sunday of him walking down the aisle with the former Miss California USA, captioned, "My best friend.... I love you!!"
Johnson also shared a picture of her walking with Phelps on a beach while dressed in a wedding gown.
Neither Phelps nor Johnson said where the ceremony took place, but several media outlets report it was in Cabo San Lucas, Mexico.
It was revealed last week that the couple legally got married in Arizona on June 13, and Phelps acknowledged that he had "been married for a while" in a Facebook Live video posted Thursday.
"I had to keep it secret from y'all. I had to keep it hush hush from you guys," Phelps said into the camera. "Nicole and I are married. We are officially married and now we are getting the chance to just kind of kick it [and] hang out now."
According to TMZ, who broke the news, the wedding was officiated by Phelps' agent and longtime friend Peter Carlisle.
Phelps and Johnson's son, Boomer, was born in May.
The Associated Press contributed to this report.