Michael Jordan-owned Charlotte Bobcats could become worst team in NBA history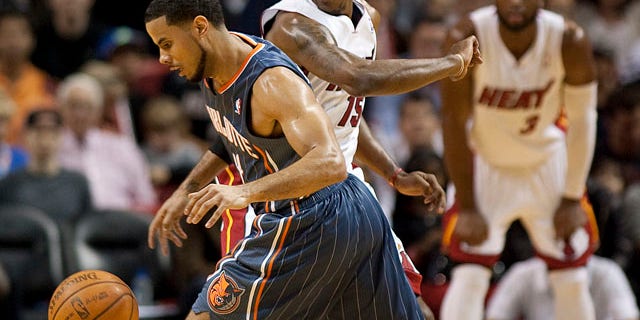 CHARLOTTE, N.C. – Michael Jordan, arguably the greatest NBA player ever, is poised to become the owner of the worst team in league history.
His embarrassingly bad Charlotte Bobcats have one more shot to avoid the title.
Heading into Thursday night's regular-season finale, the Bobcats are teetering on the verge of the worst winning percentage (.106) ever and could clinch the dubious distinction with a loss at home to the New York Knicks in the lockout-shortened season.
Charlotte is a woeful 7-58 and its record-setting futility would eclipse the 39-year-old mark held by the 1972-73 Philadelphia 76ers. That team finished 9-73 (.110) in a full regular season.
Jordan led Chicago to six NBA championships, but his Bobcats get no respect -- Charlotte has become the butt of jokes.
"It has been tough, but we are just trying to move forward," guard D.J. Augustin said. "Many people are laughing at us and making (the streak) as a joke, but we take it very seriously. We are just trying to stay positive and play hard until the end."
With a loss to the Knicks the Bobcats would finish the season with a 23-game losing streak -- ironically the same number Jordan wore with the Bulls. The streak is a franchise record, topping the 16-game skid from earlier in the season.
The NBA record is 26 straight losses set last season by the Cleveland Cavaliers.
Coach Paul Silas certainly would like to avoid the embarrassment of being known as the coach of the worst team ever.
"If we get a win it will be the best thing that has happened to us all season," Silas said.
While Jordan was known as an intense competitor on the court, his team hasn't been very competitive this season.
The Bobcats have lost 21 games by 20 or more points and nine by 30 points or more. Staggering numbers but not surprising considering Charlotte is last in the league in scoring and shooting percentage.
Jordan told the Charlotte Observer on Wednesday that he knew this was going to be a trying year, but didn't expect it would be this bad.
"But did we want to chase the most pingpong balls (in the May 30 draft lottery)? No way," Jordan told the newspaper. "Ever since I've owned the team I think we've made some very positive moves on the business side. We had to make a difficult decision to turn over the talent. This year the talent we had didn't respond, but that doesn't cause me to turn my back on the plan."
The top six players from the Bobcats' lone playoff team two season ago -- Stephen Jackson (San Antonio), Gerald Wallace (New Jersey), Raymond Felton (Portland), Boris Diaw (Sacramento), Nazr Mohammed (Oklahoma City) and Tyson Chandler (New York) -- all are gone, having either been traded or waived under Jordan's watch.
The Bobcats' current roster is full of inexperienced players.
"I keep reminding myself it's a young team," Silas said.
Jordan has asked fans to be patient. The Bobcats should be more than $20 million under the salary cap, which means they could make some noise in free agency.
They also have a 25 percent chance of landing the No. 1 pick in the draft, likely to be Kentucky's Anthony Davis.
Still, that means little to this group of players who are focused on avoiding being tagged as the worst team in NBA history.
Swingman Gerald Henderson called this year a learning process.
"Nobody in here is used to losing like we have lost this year," he said. "It just kind of humbles you and teaches you a lot about what it takes to be successful in this game. It also teaches you what it takes to have a good team in the NBA.
"Hopefully we will come out with a win" against New York.
The Knicks have already clinched a playoff spot and cannot enhance their seeding, so it's possible they may rest several starters against the Bobcats.
"If we play like we played (against Orlando in Wednesday night's 102-95 loss) I think we'll have a chance," Silas said.
Jordan doesn't seem to be taking the losing too hard.
He attended a Chicago Blackhawks playoff game on Monday night rather than watching his Bobcats play on the road at Washington.
Perhaps one of the NBA's greatest winners is tired of losing.