Michael Johnson: I can't wait for Nate Diaz to talk trash during our fight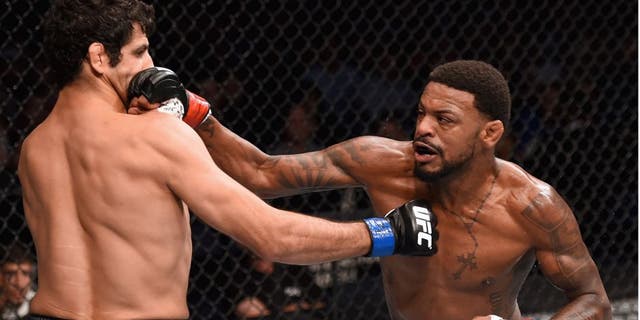 NEWYou can now listen to Fox News articles!
Michael Johnson gets a chance to get back on the lightweight title hunt Dec. 19 against a former championship challenger and one of the biggest names in the UFC: Nate Diaz. Diaz hasn't fought since Dec. 2014 when he lost a decision to now-champion Rafael dos Anjos.
Before that, it had been over a year since Diaz had fought, as he and the UFC were embroiled in contentious contract negotiations. As such, the Stockton fighter has lost a good deal of momentum.
Even so, Johnson knows that a fight against Diaz is a big one because his skills are universally respected. "Regardless of his ranking, Nate is still one of the best lightweights in the world," he told MMA Junkie recently.
"I'm not going to take that away from him. I'm just going to take his dignity away from him once we get in the cage."
That's a hefty goal for the Blackzilian team member, but Johnson knows he won't be intimidated or put on his heels by the notorious Diaz trash talk. In fact, the 29-year-old looks forward to Nate flapping his gums at him during their bout.
"He can't help but talk sh--," Johnson said of Diaz. "That's what he does. I don't have to hope that it's going to happen. I can't wait for him to start running his mouth."
Furthermore, Johnson promised he'll spit some back: "I'll egg him on a little bit."
Johnson fully expects to beat Diaz and then move onto a title bout in 2016. Later that same Dec. 19 night in Orlando on the UFC on FOX card, Donald "Cowboy" Cerrone will challenge dos Anjos for the 155 pound championship.
Dos Anjos looked dominant against Anthony Pettis, taking his title in March, but Johnson believes that "Cowboy" will get it done and walk away with the belt so Johnson can take him on next.
"I believe 'Cowboy' is going to take the title," Johnson said.
"I've trained with 'Cowboy.' People say he chokes in big fights, but I think he's on a momentum, and he's going to ride that wave. I think me and 'Cowboy' are going to have to fight for the title pretty soon."