Michael Bisping denies turning down fight with Georges St-Pierre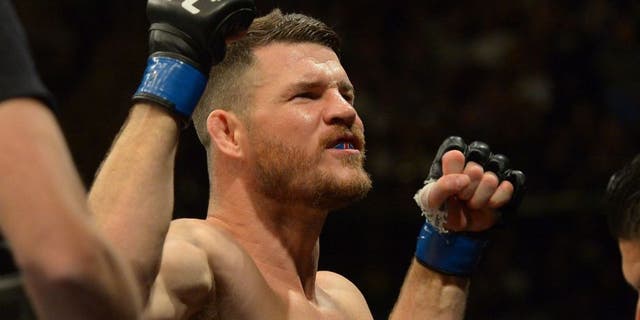 NEWYou can now listen to Fox News articles!
"No" isn't a word middleweight champion Michael Bisping uses very often.
He didn't say no when asked to fill in for Chris Weidman against Luke Rockhold at UFC 199 and even threw his hat in the ring to face Daniel Cormier at UFC 200. So when reports emerged that longtime boxing coach Freddie Roach said Bisping turned down a fight with former champ Georges St-Pierre, the Brit was understandably taken aback.
"I like that fight (Bisping vs. GSP), but Bisping said no ..." Roach told FightHubTV. "I don't know (why). I'm not part of his camp -- I hear things. But I know that that fight is not going to happen."
Upon hearing the news, Bisping quickly denied turning down the fight, calling it the "funniest (expletive)" he's ever heard.
Bisping actually mentioned to FOX Sports Live's Jay and Dan shortly after his title win over Rockhold that St-Pierre's camp had contacted him about a possible fight.
"Tell him to sign on the dotted line, just like (Dan) Henderson, if he wants to come out of retirement." Bisping said.
Bisping has been determined lately to take the fights that will garner the most interest from fans, and it gets no bigger than facing a returning GSP. But it doesn't appear the camps are even close to being on the same page about a potential matchup.