Michael Bisping blasts criticism over GSP fight while Conor McGregor is 'holding up two divisions'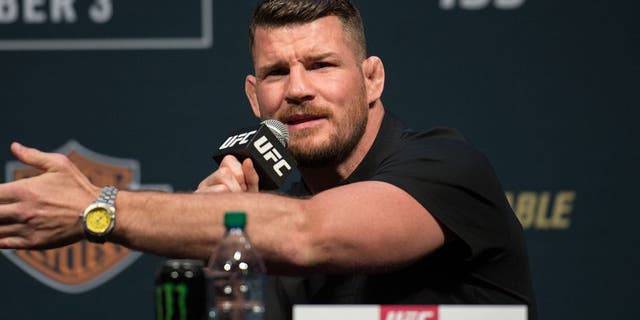 Michael Bisping has been fighting in the UFC for more than a decade, but he's yet to earn a million-dollar payday for any single bout he's had inside the Octagon.
That will all likely change when he faces Georges St-Pierre later this year when Bisping puts his middleweight title on the line against the former welterweight kingpin.
While it was St-Pierre who asked for the fight and the UFC who ultimately granted him the opportunity, Bisping has faced unrelenting criticism for accepting the matchup rather than facing a long list of contenders from the middleweight division.
Bisping responded during the latest episode of his "Believe You Me" podcast where he compared the blowback he's receiving for fighting St-Pierre versus the lack of criticism thrown towards Conor McGregor, who is currently pursuing a boxing match with Floyd Mayweather while the UFC lightweight division anxiously awaits his return.
"Whatever I do I get [expletive] off everybody. Conor McGregor can do no wrong. He is Jesus reincarnated," Bisping proclaimed. "He can walk on water. He can do whatever the [expletive] he wants. He can leave the sport of UFC and go chase a boxing match and that's still the best thing ever, holding up two divisions whilst he's at it.
"Me, Jesus Christ, all I try to do is get a big payday and I'm scum of the Earth. I am the devil."
WARNING EXPLICIT LANGUAGE
McGregor's absence already necessitated that the UFC move forward by crowning a new featherweight champion after taking the title away from him last year.
Meanwhile, the lightweight division was supposed to crown an interim champion this past March but the fight between Tony Ferguson and Khabib Nurmagomedov was canceled 24-hours away from the event.
Of course, Bisping isn't going to begrudge McGregor for going out and doing what's best for his career, but he can't help but get angry at the double standard that's seemingly set between the two of them.
As far as the other fighters in his own division complaining, Bisping also sent a message to them as well.
Fighters such as Yoel Romero, Luke Rockhold and others have not been happy that Bisping will likely sit out until the fall while waiting for St-Pierre to get ready for their fight as a long list of contenders continue to grow in the middleweight division who all want their shot at the title.
As upsetting as it might be, Bisping says it's time for all of them to get over it and move on because he's fighting St-Pierre next, and that's not going to change no matter how much any of them don't like it.
"Here's the thing, the top seven [fighters] are calling me out, whichever one of them, because they're all tough. They're all tough guys, let's be honest. They're all very, very good. Whichever one of them I pick, the other six are all going to [expletive] and whine and complain. So you can't win," Bisping said. "I'm fighting Georges St-Pierre, [expletive] deal with it. If you want to fight in the mean time, go ahead.
"Luke Rockhold's still talking [expletive], he hasn't put a glove on since I knocked him out in the first round. Yoel hasn't fought in a long time. If you're so good, continue to fight. When I didn't have a title shot, when I wasn't the champion and didn't get a title shot, I didn't whine and [expletive] and complain. I just got on with it and I kept fighting. I hoped and I always had that in my heart, I would keep fighting and keep doing what I can do and here I am. I got there in the end. So guys, stop whining, stop [expletive], just get on with it."