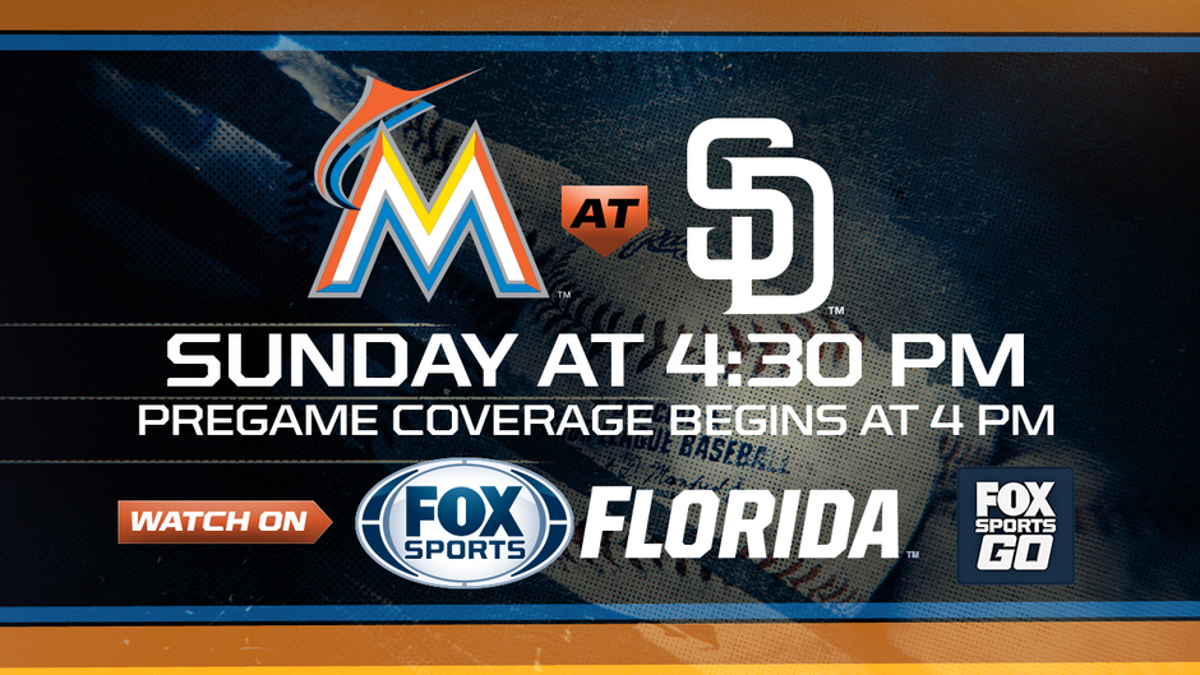 TV: FOX Sports Florida
TIME: Pregame coverage begins at 4 p.m.
SAN DIEGO -- Tom Koehler absorbed his rocky outing, just like every other Miami Marlins starter.
"It seems like all our guys have had one game that hasn't gone well," Marlins manager Don Mattingly said.
Koehler starts against the San Diego Padres in Sunday's series finale. The Padres counter with right-hander Luis Perdomo (0-0, 8.44) after losing Saturday's game to Miami 6-3 in 11 innings.
The Marlins hope Koehler (0-1, 5.40) finds his command again. The right-hander didn't exactly flood the zone with strikes in his previous outing as he walked five and allowed five runs and seven hits in Monday's loss to the Seattle Mariners.
"This last time out he just didn't have his breaking ball at all," Mattingly said. "That was a group where we wanted him to use his breaking ball, his offspeed, and he just couldn't seem to get ahead in the count.
"And when he was throwing his breaking ball, it was staying up a lot. It was just one of those games."
Mattingly expects Koehler, who beat the Padres last year in his only outing against them, to bounce back Sunday.
"Other than that (last start) he's been pretty good," Mattingly said. "But he's a guy that is always working so he is not going to be down over one start. He will be ready to go."
If the Padres don't go outside the zone, they could be in a good position. If Koehler doesn't go outside his comfort zone, Mattingly warns of trouble.
"Just like anyone else, you want him to be able to pitch ahead and use his breaking stuff," Mattingly said. "But he can't be afraid to use his fastball sometimes. Teams look at stuff, too, and you just can't be too reliant, too predictable."
What's a mystery is conjuring what the Padres will get from Perdomo. He was out for two weeks with a sore shoulder, but the Padres don't seem concerned.
"It was nothing more than he felt a little pinching in the back of his shoulder and he had never felt anything before," Padres manager Andy Green said. "It scared him and slowed him down.
"When we put him on the DL, with shoulders sometimes -- like last year with Tyson (Ross) -- sometimes you just don't know.
"This was more of a case, in my mind of a young kid, who had never felt anything in his life. He felt something very minor and paid attention to it and now he is going to be ready to pitch again. He is ready to go. He doesn't fell anything at all."
Perdomo showed off his heavy sinker in defeating the Marlins twice last year in his only two appearances against them.
"He pitched well," Green said. "He's just got to attack guys."
Sunday marks Perdomo's second start of the season. In the Padres' home opener on April 7, he was knocked around for five runs on seven hits in 5 1/3 innings against the Giants.