Miami looks to end 5-game losing streak vs. Florida State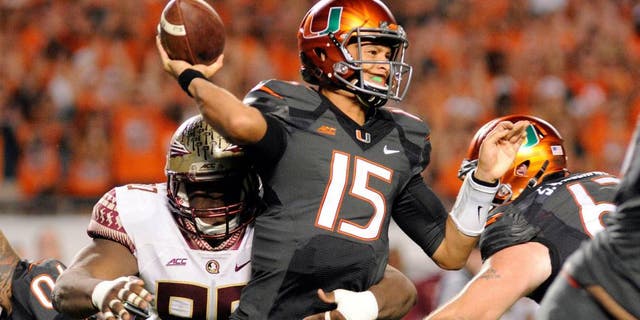 NEWYou can now listen to Fox News articles!
CORAL GABLES, Fla. (AP) -- Nobody on the Miami roster has ever beaten Florida State.
The Hurricanes are hoping to end a five-game losing streak against the 12th-ranked Seminoles on Saturday and avoid the longest losing streak against their rivals since losing seven straight from 1963-72.
"I've been here for two years and I haven't beaten them yet, so I've got to get them this year," said junior cornerback Artie Burns, who is tied for the team-lead with three interceptions.
Coach Al Golden, who hasn't beaten Florida State in four tries, had a message for his team ahead of the 60th meeting between the two schools.
"He said, 'It's enough. We've got to get this win in this rivalry game,'" Burns said.
Golden's team lost 30-26 in Miami Gardens last season as Miami native Dalvin Cook scored the game-winning touchdown with three minutes left in the game after the Hurricanes led 23-7 in the second quarter.
Miami (3-1, 0-0 ACC) is coming off a 34-23 loss at Cincinnati for their seventh loss in their last nine away from Sun Life Stadium. Criticism from the Miami fan base, former players, and some media has followed Golden, who is 31-23 in his fifth season at UM.
"I'm sure my coaches are tough, they can handle it and we can handle it," senior cornerback Tracy Howard said. "It is what it is. We still have got to go out there and perform, and they still have to go out there and call plays."
A win over Florida State (4-0, 2-0) could help.
"It'd be big," Golden said. "I thought we played with a lot confidence last year. We didn't finish. We left a lot of plays out there. I don't think you can carry anything forward but the experience. I think our guys that played in that game a year ago have to lead now. We have to learn a lot from what we did well and what we didn't do well.
"That's going to be critical that we have that experience, that we share that experience with the guys that haven't been in the game, and really just keep our focus on the game and not everything that surrounds it."
Miami has struggled to defeat quality opponents in Golden's tenure, going 0-12 against teams that finished ranked. Miami will be looking for its first win in Tallahassee since 2009.
The Hurricanes will rely on the leadership of sophomore quarterback Brad Kaaya, who will need to put his road struggles behind him. Kaaya is 2-6 as a starting quarterback away from home, averaging 238 passing yards with nine touchdowns and eight interceptions compared to a 7-2 mark at home with an average of 265 yards with 22 touchdowns and five interceptions.
"He's been motivating everybody," wide receiver Tyre Brady said. "He's keeping positive vibes around here. He's our leader."
Kaaya has help in the backfield with Joseph Yearby, who leads the team with 424 rushing yards and five total touchdowns. Both players will need to help the Hurricanes perform better on third down, where they rank next-to-last in the country at a 24.5 percent.
Following last year's loss, Miami dropped its next three games to end the season with a 6-7 record. With a full slate of ACC games following Saturday's game, the Hurricanes cannot afford similar results.
"I'm not thinking about losing," Brady said. "I'm thinking about getting this 'W.'"