Miami jury orders 'Canelo' Alvarez to pay $8.5M to Mexican promoter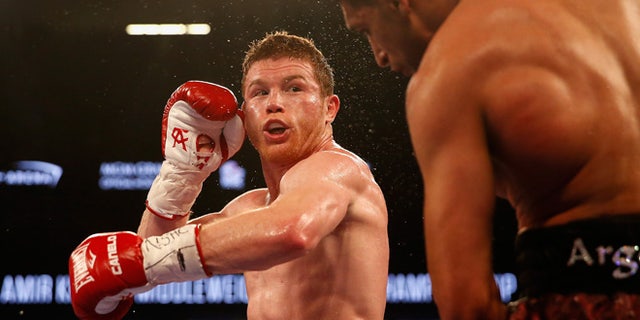 Mexican boxer Saúl 'Canelo' Alvarez has been ordered to pay more than $8.5 million in damages to a former promoter who accused him of breach of contract and unjust enrichment.
A jury in Florida's Miami-Dade circuit court ruled in favor of All-Star Boxing promoter, Felix "Tutico" Zabala Jr., who had contended in his lawsuit that he signed Alvarez to a four-year deal in 2008 and that Golden Boy Promotions – owned by legendary boxer Oscar de la Hoya – interfered with his contract with the current middleweight champion.
According to ESPN, the case took about five years to go to trial, however, the jury took only three hours to come to a decision on Monday that, while Alvarez and All-Star Boxing did not have a valid contract, it awarded Zabala damages.
"Maybe there was not a dead-on contract between them, but there was clearly a relationship that existed between Canelo and Zabala, and the jury felt it necessary to compensate Zabala for what he did for launching Canelo's career in the United States," Alex Brito, Zabala's attorney, told ESPN.com. "The jury made a determination of what the value was [of] what Tutico did for Canelo."
According to the report, Zabala brought Alvarez to the U.S. from Mexico to fight before the fighter joined Golden Boy and became a challenger for the middleweight title. Every time Alvarez fights today, it generates millions of dollars.
Zabala filed the lawsuit in 2011, and he sought as much as $159 million plus punitive damages, taking into account Alvarez's potential earning, but he is happy with the jury's decision.
"This case was about dignity and to create a precedent in the sport. I did it for my father's legacy, for my son who is coming up in the business and for all promoters," he told ESPN.com. "This is very momentous ... bottom line: We won an $8.5 million dollar verdict against Canelo Alvarez."
A Golden Boy spokesman said Canelo plans to appeal.
"We are extremely pleased that not only did the jury find that no contract ever existed between Canelo and All-Star Boxing, but [it] issued a judgment against All-Star Boxing," Golden Boy said in a statement. "Over the last five-plus years, many questioned why we wouldn't just settle the case before trial. The answer is simple: We would not be extorted. It was clear from the beginning that neither Canelo nor Golden Boy Promotions had acted inappropriately in any way. We are grateful that the jury was able to see that."
Like us on Facebook
Follow us on Twitter & Instagram