Miami Dolphins trade away alleged bullying victim Jonathan Martin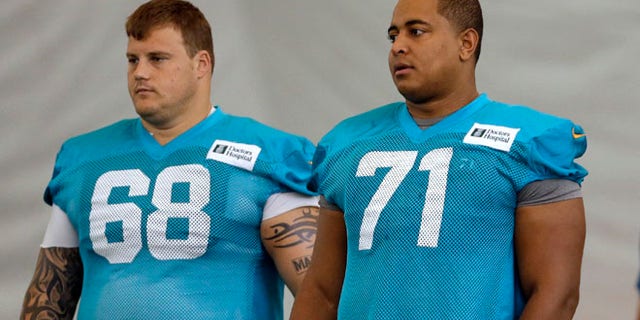 NEWYou can now listen to Fox News articles!
The Miami Dolphins announced Tuesday that they had traded Jonathan Martin, one of two former teammates at the center of the bullying scandal that cast a shadow over the team's 2013 season, to the San Francisco 49ers.
The Dolphins received a conditional draft pick from the 49ers in exchange for Martin, though the specific conditions were not disclosed. The 49ers said that Martin still had to pass a physical to complete the deal.
"Big news. ... Beyond Blessed ... Opportunities are few in the NFL... Can't wait to get to work #9erEmpire," Martin posted on Twitter. The trade reunites Martin with 49ers head coach Jim Harbaugh, who also coached Martin at Stanford.
"This is great for him to get back on the field and he's in Palo Alto right now. It couldn't be much better," Martin's agent, Ken Zuckerman, told the Associated Press in a phone interview. "I just think everyone wanted this to happen. Harbaugh knows Jonathan, I think the Dolphins were compensated and Jonathan wants to get back on the field. It's a good day."
Martin started seven games at tackle for the Dolphins in 2013, his second year in the league, before leaving the team in late October after what he claimed was repeated bullying at the hands of his teammates, particularly fellow offensive lineman Richie Incognito. Incognito was suspended for the final eight games of the season by the Dolphins and is not expected to play for the team again.
Martin's departure from the Dolphins had been expected. Owner Stephen Ross said in January that he didn't expect Martin to play for the team again.
"We feel that this move is in the best interests of all parties involved," Dolphins general manager Dennis Hickey told AP Tuesday. "We wish Jonathan well."
An investigation ordered by the NFL determined last month that Incognito and two other offensive linemen engaged in persistent harassment of Martin, another offensive lineman and an assistant trainer. After the report was released last month, the Dolphins fired offensive line coach Jim Turner and head athletic trainer Kevin O'Neill. Turner had completed his second season with the club, while O'Neill had been with the Dolphins for 18 years.
The investigation for the NFL found a pattern of harassment on the Dolphins, with Martin the primary target of vicious taunts and racist insults that occurred almost daily. The report said teammates threatened to rape Martin's sister, called him a long list of slurs and bullied him for not being "black enough." Martin is black and Incognito is white.
The troubled relationship between Martin and Incognito drew national scrutiny and stirred a debate about bullying. Martin said he tried to be friends with Incognito despite their diverse backgrounds.
Martin, 24, was a classics major at Stanford, while Incognito, 30, was kicked off his team at Nebraska and went on to develop a reputation as one of the NFL's dirtiest players.
Martin, who protected Andrew Luck's blind side at Stanford, was a second-round draft pick by Miami in 2012. He became a starter as a rookie but struggled at times while being shuffled between right and left tackle.
Last year he was part of a line that allowed a franchise-record 58 sacks. The Dolphins began revamping their line Tuesday by agreeing to terms with Pro Bowl left tackle Braden Albert.
Martin has two years remaining on his contract and has a base salary of $824,933 this year.
Pro Bowl center Mike Pouncey is the only offensive lineman involved in the bullying scandal still on Miami's roster.
Tuesday was the first day that NFL teams could sign free agents, as well as the first day that trades could be made. Incognito and guard John Jerry, who was also implicated in the report remained unsigned as of midnight Wednesday.
The Associated Press contributed to this report.