Miami, Chicago Gain Early Leads in NBA Playoff Quarterfinal Series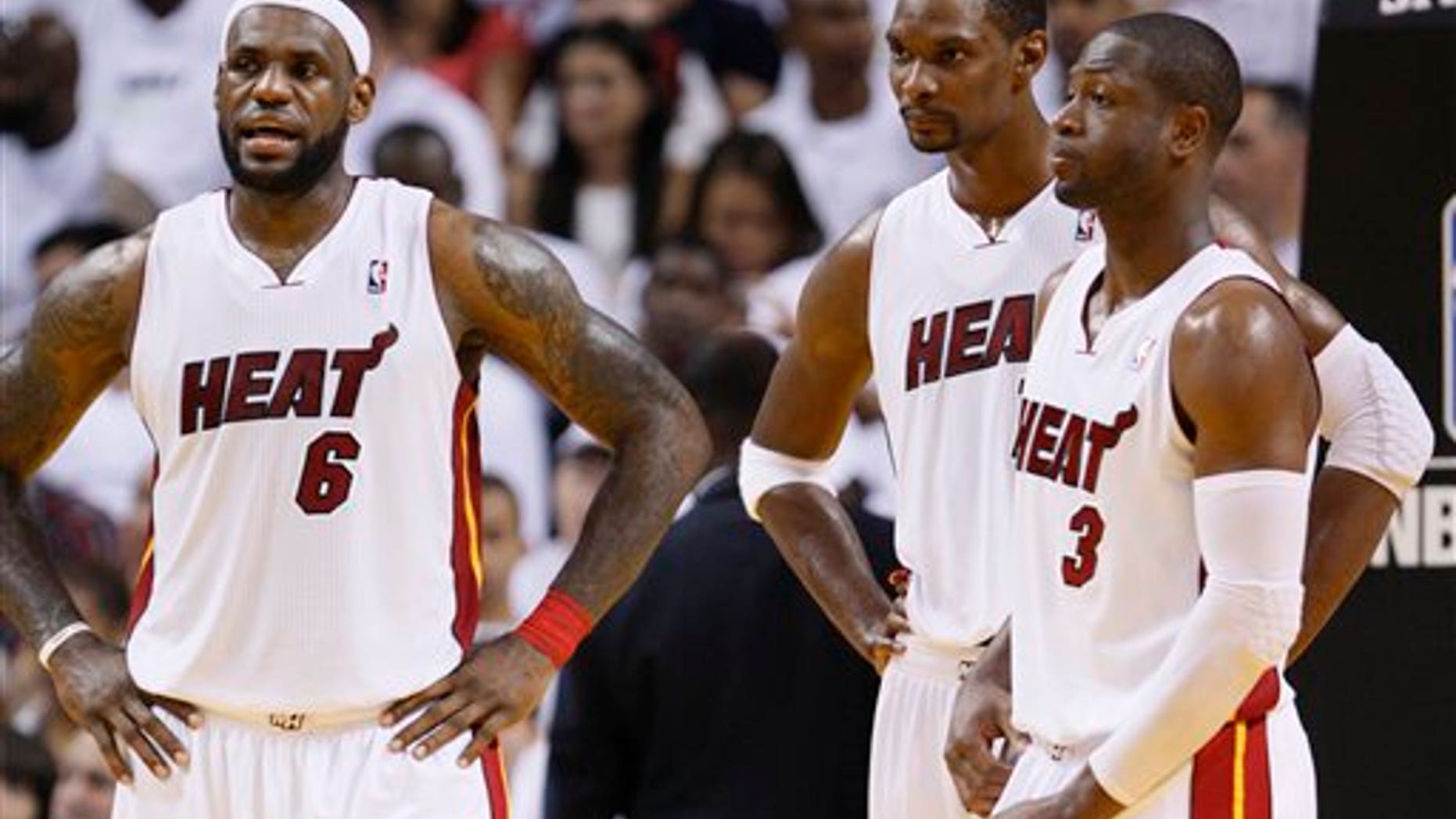 MIAMI — Chris Bosh and LeBron James watched from afar when Dwyane Wade controlled the final portions of games during the Miami Heat's championship run in 2006.
They got a closer look Saturday, when Wade helped save Miami from a Game 1 collapse.
Bosh had 25 points and 12 rebounds, James added 21 points and 14 rebounds, and Wade scored five of his 17 points in the final 1:34 as the Heat held off a huge Philadelphia comeback try and beat the 76ers 97-89 in the opener of their Eastern Conference quarterfinal series.
"The only number that matters right now is 1-0," Wade said. "That's all it's about."
Game 2 is Monday night.
Thaddeus Young had 20 points and 11 rebounds for the 76ers, while Jrue Holiday added 19 and Elton Brand finished with 17. It was the second time in 22 days that Philadelphia blew a big second-quarter lead in Miami: On March 25, the 76ers led by 16, and on Saturday, the margin was 14.
The Heat won both, and are now 4-0 against the 76ers this season.
"Second time in three weeks that we had a big lead and let it slip," Brand said. "Right now, it's the playoffs. Win these games or go home. So it's more of a discouraging feeling knowing that we could have won these games."
Also much like that March 25 game: Philadelphia gave itself a shot down the stretch.
The 76ers scored 12 straight points in the fourth quarter, closing to 88-87 — but never getting the lead back. Bosh made two free throws and Wade hit a tough bank shot to give Miami a five-point edge. And after Young scored Philadelphia's final points with 1:24 left, Wade sealed it with a pair of foul shots 14 seconds later.
"We'll take this first win," said Heat coach Erik Spoelstra, whose team has won 16 of its last 19 games overall. "Hopefully who we've been the last few weeks will be more who we'll be the rest of the series, particularly offensively. We were not very efficient tonight."
Wade, Bosh and James all were held under 50 percent shooting and Miami won anyway, in large part because the Heat held big edges in rebounding (52-39) and free throws.
Sixers coach Doug Collins spent much of Game 1 pointing out the game's free-throw discrepancy to the officiating crew — Miami finished 31 for 39, while Philadelphia was only 12 for 15.
Afterward, he craftily took the high road.
"I could," Collins said, when asked to explain the more-than-2-to-1 difference. "My grandkids would lose their college fund. So I'll have to dance around that one. I can't respond to that."
What was clear, however, was that Philadelphia's fouls in the second quarter helped change the game.
"It's kind of discouraging," Holiday said, "But at the same time, we know we just have to keep at it. ... Calls are made and we have to fight through that."
Just like the teams' last regular-season meeting on March 25, the 76ers came out flying. They made eight of their first 10 shots, eventually running out to a 25-11 lead. At period's end, it was still 31-19 Philadelphia, on 61 percent shooting compared to 32 percent by Miami.
Miami outscored Philadelphia 35-18 in the second quarter, and kept the lead — though far from easily — the rest of the way.
"No team is just going to lie down," Bosh said. "You're not going to play an 82-game season and work this hard just to lie down when you get there. They're a very gifted team. ... We do expect this series to have all close games. As long as we prepare for that and get that in our minds, we'll be fine."
Since the NBA went to best-of-seven opening rounds in 2003, No. 2 seeds that win Game 1 of their quarterfinal series have advanced 12 of 13 times, the lone exception being Dallas against San Antonio last year.
And when James and Wade get to enjoy 1-0 series leads, things tend to work out for them. The Heat have advanced all five times when taking a 1-0 lead with Wade on the team; the Cleveland Cavaliers won seven of eight series with James after winning Game 1s.
"It's the postseason," James said. "Just try to do whatever it takes to win."
Brand's rebound and short jumper with 7:58 left got Philadelphia within seven — the margin had been 16 late in the third quarter. And Wade went to the bench 38 seconds later with his fifth foul, but Miami stretched its cushion to 88-75 on a 3-pointer by James Jones, followed by James extending both arms skyward.
It was far from over, though Miami found a way to escape.
"It looked like they were going to run us out," Collins said. "But we fought back."
Rose, Bulls Rally Past Pacers 104-99 in Opener
CHICAGO — Never mind what everyone else was thinking, Derrick Rose insisted he didn't expect the Chicago Bulls to roll over the Indiana Pacers.
They certainly didn't in Game 1.
Rose scored 39 points and found Kyle Korver for a tiebreaking 3-pointer with 48 seconds left, helping top-seeded Chicago stage a late rally to beat the Pacers 104-99 in their playoff opener on Saturday.
"We knew it was going to be a hard game," Rose said. "From the beginning I guess we weren't prepared for it. Next time I think we'll be ready."
For the Pacers, the loss was tough to accept. They controlled most of the game, but couldn't put it away.
They'd make little runs, Chicago would come back, and the Pacers would pull ahead again. With Rose staring at them, Danny Granger never felt safe.
"With Derrick Rose on the other team? No," Granger said. "With Derrick Rose on the other team, no. It's like a crazy stalker ex-girlfriend. Everytime you tell her you don't want to talk to her, she'll show up at your door again."
Trailing 98-88 in the final period, the Bulls showed the resolve that carried them to a league-best 62-20 record, closing with a 16-1 run over the final 3:38.
Rose scored seven during the impressive finish, including a three-point play and a floater that tied it at 99 with 1:27 left. He then hit Korver with a cross-court pass for a 3 that gave the Bulls their first lead at 102-99.
Danny Granger then missed a 3 and Joakim Noah got the rebound. Rose eventually hit two free throws with 14.8 seconds remaining.
Game 2 in this best-of-7 series is Monday night at the United Center.
Rose again showed why he is an MVP favorite even though he was off target. He missed each of his nine 3-point attempts but made 19 of 21 at the foul line and finished with six rebounds and six assists.
Luol Deng added 18 points and Korver finished with 13, no shot bigger than that 3.
Rose said an open 3 is "like a layup" for Korver, who credited the dynamic point guard for finding him.
"Derrick made a great read," Korver said. "If my man helps, he's going to kick it out to me. If he doesn't help, he's going to drive into the lane. That's why it's set up that way."
Granger led Indiana with 24 points, and Tyler Hansbrough shook off an elbow from Kurt Thomas to finish with 22. Darren Collison scored 17, but had just two in the second half, and the Pacers came up just short in their first playoff game in five years.
Even so, they gave the Bulls all they could handle.
With the Pacers leading by 10, Deng hit two free throws with 3:28 remaining to start the comeback. Noah followed with a tip-in and dunk to make it a four-point game, and the Bulls were on their way.
Exactly how far they'll go remains to be seen, but they're certainly aiming high after securing home-court advantage throughout the playoffs. They won nine straight and 21 of 23 down the stretch, and anything less than a big run would be a big disappointment.
Meanwhile, the Pacers will try to shake this one off and figure out how a game that looked so promising ended in defeat.
"We put forth a good effort, but who cares?" Granger said. "It's 0-1."
The Pacers were concerned late in the third quarter when Hansbrough was elbowed by Thomas as he was trying to rebound a miss by Rose. Hansbrough stayed down for several minutes and, still woozy, had to take a seat in the tunnel.
He eventually walked to the locker room on his own power. He returned with 5:33 remaining, and it looked as if he might lead the Pacers to a win.
Instead, the Bulls came surging back, erasing that deficit after Hansbrough hit back-to-back jumpers and converted a three-point play to make it 98-88. Now, they can breathe a little easier after a hard, physical game.
"Right now I'm feeling good and can't wait to go eat," Rose said.
For Indiana?
"This one hurts real bad," Roy Hibbert said.