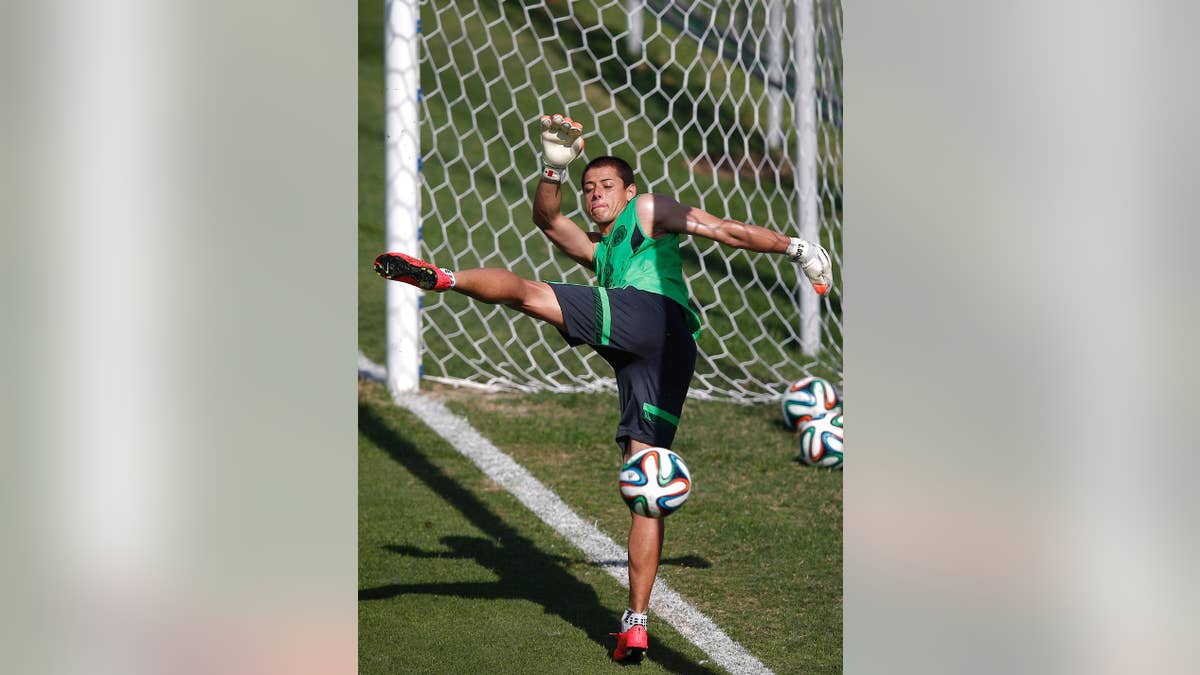 SAO PAULO – Mexico owes its place at the World Cup to an injury-time comeback by the United States. Cameroon needed a last-minute loan to end a player strike over bonuses and put the squad on a plane to Brazil.
However rocky their roads to the World Cup, both are here now and mindful of the desperate need to start well when they meet in Group A on Friday. Brazil and Croatia loom later.
Without a crucial equalizer by Graham Zusi, which was followed by a winner from Aron Johannsson in a remarkable 3-2 victory over Panama in qualifying last year, Mexico would have missed out on the sport's showcase event for the first time since 1990.
The U.S. saved its neighbor with the late win, sending Olympic champion Mexico and not Panama to the final playoffs and ultimately to Brazil. So, this World Cup feels like a bonus that should be seized on for some of the Mexican players.
"This is my first and probably my last World Cup so you can bet that I will give my all to make history with this team," said 30-year-old striker Oribe Peralta, the hero when Mexico beat Neymar's Brazil in the Olympic final in London two years ago.
For Cameroon, bonus has been a bad word recently.
The West Africans also left it late to get to the World Cup, with the squad's arrival delayed by a day after players initially refused to get on a plane in a dispute over their bonus payments for the tournament. The Cameroon Football Federation borrowed money to increase the bonuses, it said, and the team boarded for Brazil.
Little was expected from either at this World Cup, but opening with a win at Estadio das Dunas in the northeastern city of Natal would change the outlook.
Mexico is under Miguel Herrera, a coach at his first international tournament and the fourth national team manager in four years. El Tri is also without starting midfielders Juan Carlos Medina and Luis Montes, who were both lost to injuries sustained in preparation for the World Cup and "very valuable players," according to Herrera.
Mexico has never gone further than the round of 16 at a tournament outside its own borders, so a place in the quarterfinals in Brazil would be progress and history.
"Our goal is to reach the fifth match at least," Herrera said.
Manchester United's Javier Hernandez looks set to start on the bench against Cameroon, with Peralta and Villarreal's Giovani Dos Santos likely to play up front in Mexico's 5-3-2 formation. Rafael Marquez, the 35-year-old central defender at his fourth World Cup, anchors the team.
Cameroon's Indomitable Lions have been anything but since they shocked the world by beating defending champion Argentina in the opening game of the 1990 World Cup and making it to the quarterfinals. The team has a dismal record of winning just a single game in the four World Cups it has played since.
Cameroon has a solid spine, with goalkeeper Charles Itandje, Barcelona midfielder Alex Song and Chelsea striker Samuel Eto'o. Forward Eric Choupo-Moting of Germany's Mainz has a growing reputation, but the temperament of the group will be tested by the bonus saga, even if they are shrugging it off.
"There's no point making such a big fuss out of the whole thing," Cameroon coach Volker Finke told a television station in Germany. "It's really not as big as it has been made out."
___
Associated Press writer Carlos Rodriguez contributed to this story from Santos, Brazil.