Mexico City Grand Prix could give Nico Rosberg his first Formula One crown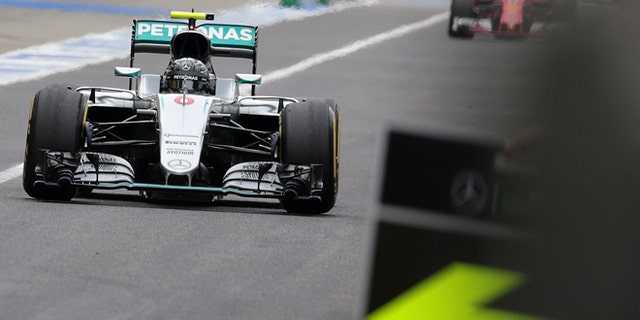 NEWYou can now listen to Fox News articles!
MEXICO CITY (AP) – Nico Rosberg is back where his Formula One championship chase run effectively began, knowing he is well on his way to his first career title if he gets another win in Mexico.
The Autodromo Hermanos Rodriguez is where Rosberg rebounded from a devastating loss in Texas in 2015 to start a run of seven consecutive wins into the start of 2016. His early run of dominance and a season of problems for Mercedes teammate Lewis Hamilton have Rosberg sitting on a comfortable lead with just three races left.
Rosberg will start Sunday in Mexico City with a 26-point lead over Hamilton. Even if Hamilton wins out, Rosberg can claim the title with two second-place finishes and a third.
Get a win, however, and he can all but claim his crown.
"It is a childhood dream. But that's where my thoughts about it end for now. I have to win (in Mexico) first," Rosberg said Thursday.
Rosberg dominated in Mexico last year, claiming the pole position and coasting to an easy win before donning a giant black sombrero for the obligatory podium champagne. Many questioned whether Hamilton had simply packed it in after winning the season championship a week earlier.
But Rosberg was clearly focused on the future and seemed like a different driver after Mexico. The racer who seemed to crack under the pressure of title chases kept winning into 2016 and the German has never let up. And if he can win just one more race this season, he'll join Hamilton, Michael Schumacher and Sebastian Vettel as the only drivers with 10 or more victories in a single year.
Hamilton's window to a third straight season championship and fourth overall is closing fast. He won the U.S. Grand Prix last week and has vowed he'll pursue Rosberg to the end.
If Rosberg is feeling pressure to close it out Hamilton quickly, he doesn't show it.
Smiling and cracking a joke in the weekly driver's news conference Thursday, Rosberg said the team dynamic has been good between crews and drivers.
That hasn't always been the case over the previous two seasons when a boyhood friendship between Rosberg and Hamilton fractured. Rosberg called the personal rivarly "intense" but said it has taken on an "easy-going side" of late.
"I think everybody is thrilled to be in the battle. It's not something I think about too much. I try to do my thing and get the best possible result," Rosberg said.
Rosberg dismissed recent comments by Formula One commercial boss Bernie Ecclestone that he lacks Hamilton's charisma and would be a boring champion.
"I'm here to win races," Rosberg said. "I like to focus on the people who really support me."
The Mexican Grand Prix is a return to home for Force India's Sergio Pérez, who was cheered by adoring crowds last year, and Haas F1's Esteban Gutiérrez, who was in the Ferrari paddock as a reserve driver.
Gutiérrez is under extra pressure to perform. He was introduced as a Haas driver during the Mexico race week last season, but hasn't scored any of the team's 29 points this season. Haas F1 owner Gene Haas and team principal Guenther Steiner have not committed to keeping their driver lineup of Gutiérrez and Romain Grosjean together in 2017.
Gutiérrez said he has "options" for his future and has set a deadline of the next two weeks to stay or move on.
Pérez will stay with Force India in 2017. Force India stands fourth in the team championship and Pérez noted driver slots of the teams in front, Mercedes, Red Bull and Ferrari, are locked up.
"I felt like moving was going to be sideways or backward. Going on to a next generation of cars, my best future is staying where I am ... I want to be loyal to them," Pérez said.