Mexican coach of Japanese national squad fired over match-fixing allegations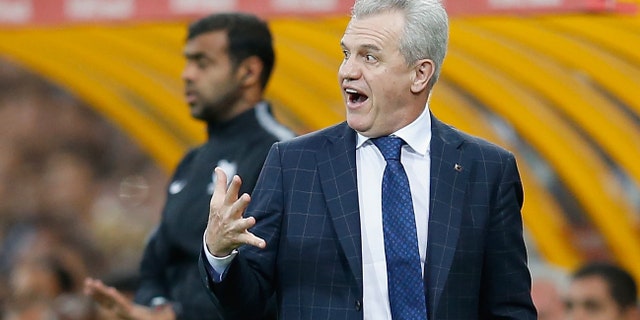 NEWYou can now listen to Fox News articles!
TOKYO (AP) – Japan coach Javier Aguirre was fired on Tuesday over concerns that allegations of his involvement in match-fixing could interfere with the Asian nation qualifying for the 2018 World Cup.
Aguirre agreed it was unavoidable, Japan Football Association (JFA) president Kuniya Daini said at a news conference
Former Mexico coach Aguirre became embroiled in a massive match-fixing probe in the Spanish league. Aguirre denies any wrongdoing.
"What we had to consider the most was the impact on the Japanese team," Daini said. "With a criminal complaint accepted, he would have to respond to an investigation, he would be possibly indicted, and then may have to go to court."
Daini supported Aguirre after Japan was eliminated in the quarterfinals of the Asian Cup, saying he was pleased with the team's progress. But the prospect of legal problems made the JFA reconsider.
"We needed to avoid any risk of this affecting (the team) in the Asian preliminary (World Cup qualifiers)," Daini said. "So we have reached a decision to cancel our contract with coach Aguirre."
The Mexican-born Aguirre was hired in August to replace Alberto Zaccheroni of Italy.
The JFA said it will move quickly to find a replacement, hopefully before the team plays several matches in late March.
"I was very happy to have worked in Japan," Aguirre said in a statement released by the JFA. "I want to wish the team and the supporters the best of luck."
Spanish media reports say authorities in Spain are moving to prosecute Aguirre and about 30 others on suspicion of fixing a league game against Levante when Aguirre managed the Zaragoza club in May 2011. Zaragoza won 2-1 at Levante, saving the club from relegation.