Mets downplay Harvey's tardiness to workout: 'Who really cares?'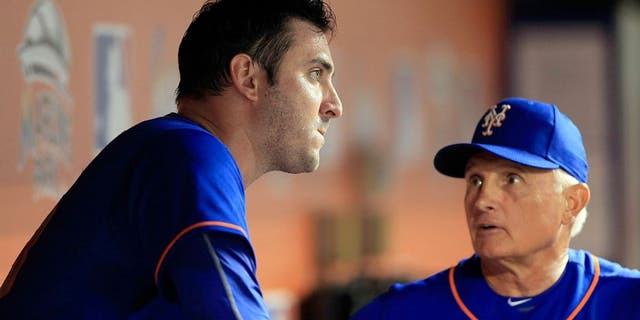 NEWYou can now listen to Fox News articles!
Matt Harvey caused quite a ruckus in the media Tuesday when he showed up late to a mandatory team workout, but the Mets are eager to put the distraction behind them and focus on their upcoming NLDS matchup against the Dodgers.
"We had a little setback, a little bit of a problem, a little bit of a distraction," manager Terry Collins said. "On an off-day, who really cares? We're going to make sure Matt gets to the plane today and gets on board. He'll be with us [Thursday] at the workout. I think."
Harvey showed up over an hour late to the Mets' workout on Tuesday, adding more fodder to what has been a controversial season for the ace.
Despite Harvey's faux pas, Collins downplayed the significance of the incident.
"It's not big to us," he said. "It's not major news to us. We handle that kind of stuff in-house. I know you guys have never done anything wrong, ever. You've never been late to anything. It just happens once in a while. Why he wasn't here? I don't care. The only thing I care about is he wasn't here, so that I've got to worry about and that I've got to take care of. And I have."
Although captain David Wright appeared irked by Harvey's unpunctuality, veteran outfielder Curtis Granderson let the incident slide, noting that he, too, has shown up late to team events.
"First and foremost, he was here," Granderson said. "He was just late. We all have been late at some point in time. I was late in spring training. You get a chance to talk to your guys, the coaching staff, the front office -- you apologize for your actions. He still got his work done. He didn't want to throw and he didn't. He wanted to run, he got that in. He was still able to accomplish everything he wanted to, just an hour later. That's all it was.
"I don't think anybody on the team has looked at it more than that. Obviously on the outside everybody is going to say any and everything about it. Regardless, he's going to be ready to play for us."
In an effort to conserve Harvey's arm, the Mets have tabbed him for a Game 3 start. Reigning NL Rookie of the Year Jacob deGrom will face Dodgers ace Clayton Kershaw in Game 1 on Friday, and rookie Noah Syndergaard will square off against Cy Young candidate Zack Greinke on Saturday in Game 2.