'Mentally tough' Pujols ties Manny Ramirez on all-time list with home run No. 555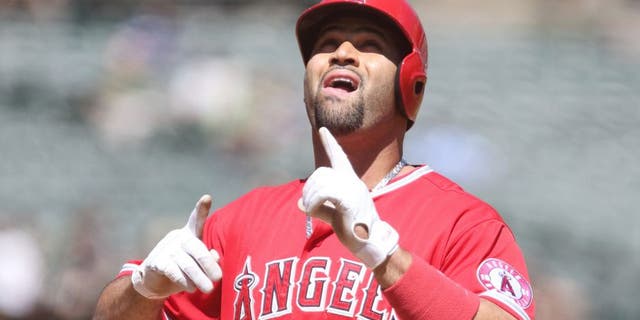 On Wednesday afternoon, the Los Angeles Angels turned the tables on Oakland Athletics ace Sonny Gray, blitzing him for six runs - two of them coming on Albert Pujols' line drive homer that barely cleared the left field wall.
For Pujols, it was home run No. 555 of his illustrious career, tying him with Manny Ramirez for 14th on the all-time list. He's now hitting .249/.309/.495 on the year with 35 home runs and 80 runs batted in.
After the game, the 35-year-old Pujols - who usually doesn't like to talk about personal accomplishments - discussed his latest milestone with MLB.com's Alden Gonzalez. Specifically, Pujols addressed his injury history and how most of the other players on the all-time home run list were slowed by various setbacks later in their careers: "The guys who had great success in their careers, sooner or later, because of injuries, they slow down," Pujols told Gonzalez. "I'm really mentally tough, and I try to stay focused on the things that I can do. I know how to play hurt -- I've played hurt probably half of my career -- and I know how to control myself when I'm hurt. But it's hard. Trust me, it hasn't been what I'd love to be in this organization. But hopefully I still have a lot of years left. Winning a championship here would be huge for this organization."
Gonzalez notes that Pujols brought up NBA legends Michael Jordan and Kobe Bryant to illustrate his point of age taking its toll on previously elite athletes before touching the subject of retirement (something he says he's asked frequently these days).
About that, Pujols offered this up: "People ask me all the time when I'm going to retire. I'm like, 'You know what, I'm just going to play one year at a time. I think this game will let you know. I don't think you retire yourself; I think the game lets you know when it's time for you to walk out. When that time comes -- I hope it doesn't come soon -- that's the time that I can walk out. But right now, I feel really good, I feel healthy. I worked my butt off this offseason; I'm going to work my butt off again."