Megatron visits Revis Island: Darrelle Revis embraces challenge of covering Calvin Johnson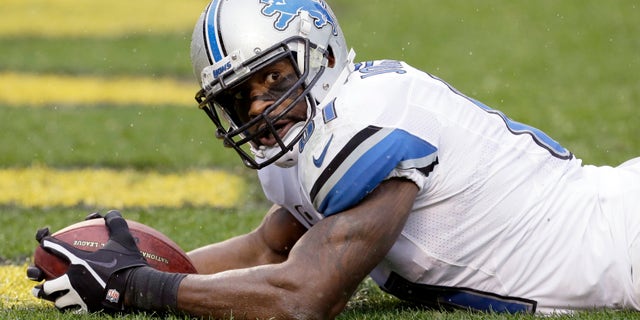 TAMPA, Fla. – Darrelle Revis relishes the challenge of covering the NFL's top receivers, so he's especially looking forward to a matchup against Calvin Johnson.
The players, generally regarded as the best at their positions, meet Sunday when Revis' Tampa Bay Buccaneers visit the Detroit Lions.
The cornerback who trademarked the phrase "Revis Island" — a nickname he was given because of his ability to leave opposing receivers stranded in man-to-man coverage — anticipates the receiver known as "Megatron" will be motivated to face him, too.
Johnson has 59 receptions for a league-leading 1,083 yards and 11 touchdowns. He's averaging just over 120 yards receiving per game, also tops in the league.
"I think everybody has a chip on their shoulder each week, just going out and playing and trying to compete," Revis said.
"When you match up the best against the best, it's probably a little bit more chip on your shoulder because at the end of the game you want to get the best of that person," the seventh-year pro added. "I'm sure Calvin feels the same way. We'll see. It'll be fun."
The stars have faced each other once before, three years ago when Revis was with the New York Jets. Johnson had one catch for 13 yards and was only targeted four times as Detroit lost 23-20 in overtime.
"One thing I do know from that game is he does a good job of playing the ball," Johnson said. "He's one of those corners who gets his head around and looks at the ball real well, and that's something that a lot of corners don't have. That's what makes him so good."
At 5-foot-11, 198 pounds, Revis yields quite a bit in size to Johnson, who's listed at 6-5, 236 pounds.
That doesn't concern the three-time All-Pro cornerback, who was traded to the Bucs last spring. He sat the preseason while recovering from knee surgery and has progressively regained his form during the regular season.
"My thought is always just to be physical with them," Revis said. "They're big guys. I feel no receiver wants to get jammed or pressed at the line, so just be physical with those guys and match what they bring to the table."
The Lions, fourth in the league in total offense, are hardly a one-man show.
Matthew Stafford is among the NFL's passing leaders, Reggie Bush has made a difference in the offense and Brandon Pettigrew is having another fine season, too.
"We've got to be aware of all those guys," Revis said. "Reggie's been playing well this year. Pettigrew, he's been playing well, too. I think it starts and stops with Stafford. We've just got to put pressure on him and get a hand in his face and rattle him a little bit."
Tampa Bay's secondary will be without safety Dashon Goldson, who will be serving a one-game suspension for a hit on Atlanta's Roddy White during last week's 41-28 victory over the Falcons, the second straight for the Bucs following an 0-8 start.
Revis and Johnson aren't the only players eagerly anticipating the matchup between two of the game's premier players at their positions.
"It's kind of the unstoppable force against the immovable object kind of thing. (No.) 24 can stop anybody and 81 can't be stopped by anybody," Bucs defensive tackle Gerald McCoy said, referencing their jersey numbers. "It's going to be fun to see. I hate that I won't get to see it because I'll be pass-rushing. But I will watch it on tape."
Even Tampa Bay coach Greg Schiano is intrigued.
"You're talking about two of the best that ever played their position in all of football," Schiano said. "The fan in me has to step away and say we have to make sure we do everything we can to put our 11 guys — all 11 — in the best position to defend their whole offense."
___
AP NFL website: www.pro32.ap.org