McElwain has lots of respect for two-time SEC East champs Missouri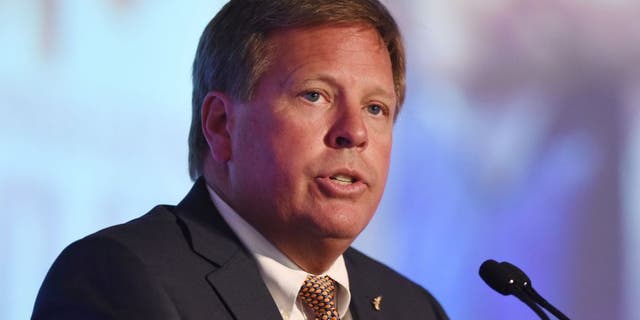 NEWYou can now listen to Fox News articles!
Florida has aspirations of ultimately winning the SEC East Division. If its to take that title, it'll have to topple the two-time defending division champion in Missouri.
The Tigers have the No. 8 overall defense in the country, and possess elite talent at every level of the unit. The dynamic duo of defensive end Charles Harris and linebacker Kentrell Brothers is among the best defensive one-two punch in the conference.
At Jim McElwain's Monday press conference, he spoke glowingly about Missouri's ability to play on the both sides of the ball. He was particularly effusive in his praise of Mizzou's freshman quarterback Drew Lock.
"Offensively, they get the ball out quick. They don't allow a bunch of sacks, because of how they get it out and how they play quickly," said McElwain. "The way [Lock] commands on knowing where to go with it, is a credit to what they do offensively."
As mentioned above, Missouri possesses a very good defense. It'll be up to the Florida offensive line to give quarterback Will Grier time to deliver the football down the field. The matchup pitting Florida's offensive line versus Missouri's defensive line could be a telling point as to how this game will turn out.
"Defensively, just look at the statistics. That should tell you something," said McElwain. "They're a top-10 defense in the country. They're a team that thrives on ten negative plays a game, getting the ball back. They're really good up front with size and speed...experienced at the places they need to be experienced at."
Lastly, McElwain commented on what's made Missouri a consistent and successful football program within the division over the course of the last few years.
"This is a team that plays the way you're supposed to play," said McElwain. "They take care of football offensively, they get ball back on defense, their red zone efficiency is fantastic when you see the amount of times they're down there and not giving up touchdowns. That's impressive."