Mayweather tuning up for next fight by throwing jabs back at Rousey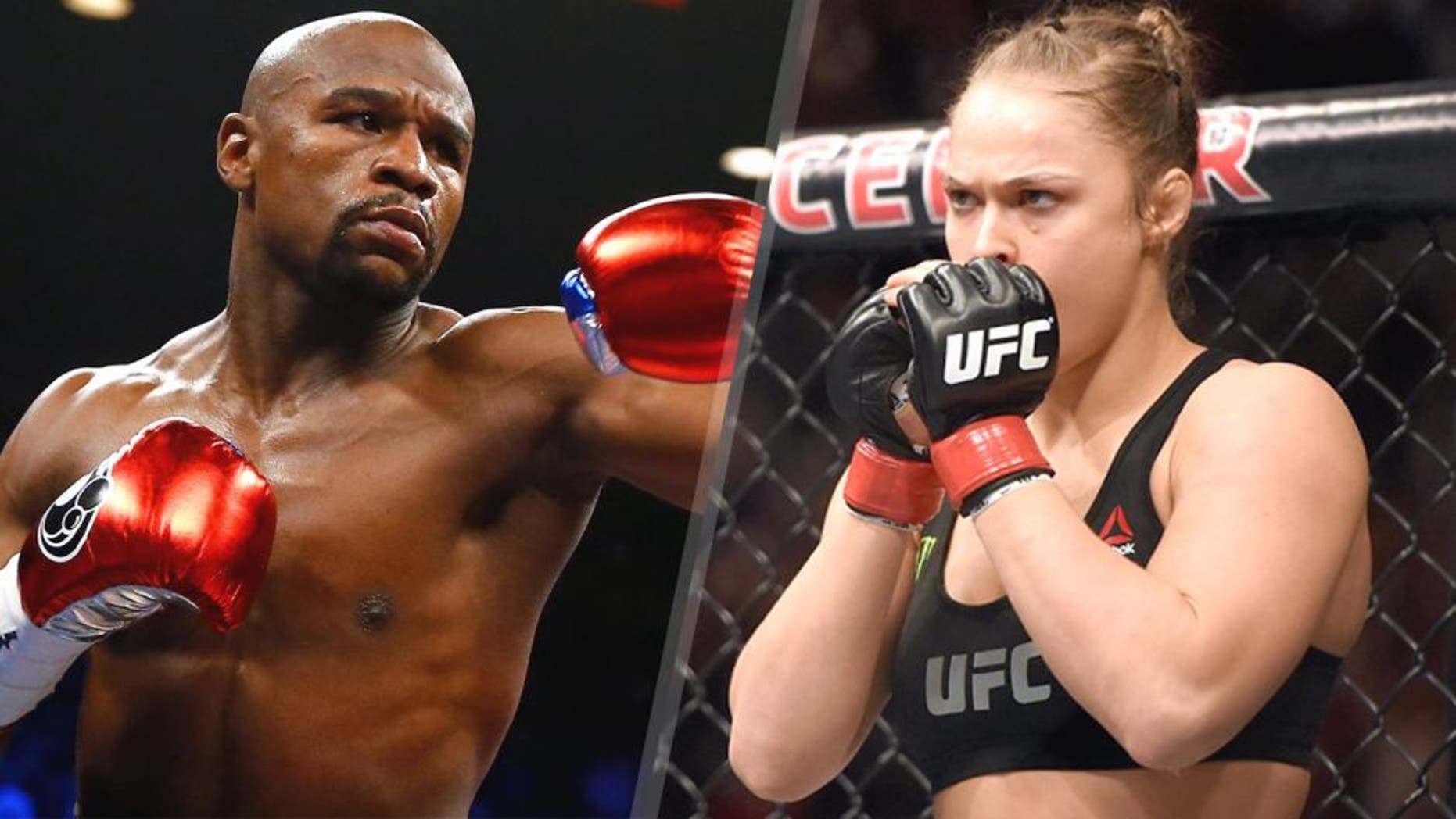 This may be Ronda Rousey's year, with the UFC star reaching new heights while beating opponents in stunning fashion.
But boxing's biggest star, Floyd Mayweather Jr., isn't giving up the spotlight without a fight.
Mayweather tuned up for his next fight Thursday night by throwing some verbal jabs back at Rousey, who called him out at the ESPYs last month.
Rousey beat Mayweather for Fighter of the Year, then took aim at both his record of domestic violence and his previous claim that he didn't know who Rousey was.
"I wonder how Floyd feels being beat by a woman for once," Rousey said. "I'd like to see you pretend to not know who I am now."
Thursday night on "SportsCenter," Mayweather was asked to respond.
The cagey fighter first explained away Rousey's attitude by again asserting that "a while back I never knew who Ronda Rousey was," then offered congratulations to Rousey for her victory at the ESPYs.
"I've won six or seven ESPYs for Fighter of the Year," Mayweather added slyly.
Asked what he thought of Rousey's personal attack on him, Mayweather answered in a typical "Money" manner.
"I've yet to see any MMA fighter or other boxer make over $300 million in 36 minutes," Mayweather said dismissively. "When she can do that then call me."
While Rousey's raking in the praise for her dominant victories, Mayweather still is suffering from public backlash after his hyped fight with Manny Pacquiao fell short of fans' expectations -- while making Mayweather's richest payday -- and now is trying to sell his underwhelming fight against Andre Berto on Sept. 12.
Mayweather denied that Berto is as big an underdog as Las Vegas is making him out to be, giving him odds of 10 to 1, or maybe even 5 to 1. Money May praised Berto and predicted the two-time welterweight champ would push him to the limit, while taking a shot at his last opponent at the same time.
"Manny Pacquiao wasn't able to bring the best out of me," Mayweather said.
Asked if this really would be his last fight, Mayweather at first ducked the question like a punch, replying "As of right now." When pressed, though, he insisted he's hanging up the gloves.
"I don't plan on fighting anymore," he said.