Mayweather TKOs McGregor in 10th round
Saturday's well-hyped fight between Floyd Mayweather Jr. and Conor McGregor may well have lived up to the advance billing.
Mayweather defeated McGregor when the referee ended the bout in the 10th of 12 possible rounds in Las Vegas.
"I guaranteed everybody this fight wouldn't go the distance," Mayweather told the New York Daily News. "He's a lot better than I thought he was he used a lot of angles. … That was our game plan was to take our time … let him shoot all his heavy shots early."
The most unusual megafight in years went longer and was more competitive than many expected when an unbeaten, five-division world champion boxer took on a mixed martial artist making his pro boxing debut.
While McGregor (0-1) had the T-Mobile Arena crowd behind his improbable quest, Mayweather (50-0) survived a rough beginning and gradually took control. He brutalized McGregor in the 10th, landing numerous shots and chasing McGregor around the ring until referee Robert Byrd saved the Irishman and stopped the fight.

The start of the fight was delayed while Showtime PPV consulted with various TV systems around the country and tried to resolve some transmission issues.
That was according to a Showtime spokesman, who said the fight would be delayed "a little bit."
Conor McGregor was calm and confident in his televised pre-fight interview, telling Showtime's Jim Gray that he would "paint a beautiful picture" in his fight against heavily favored Mayweather.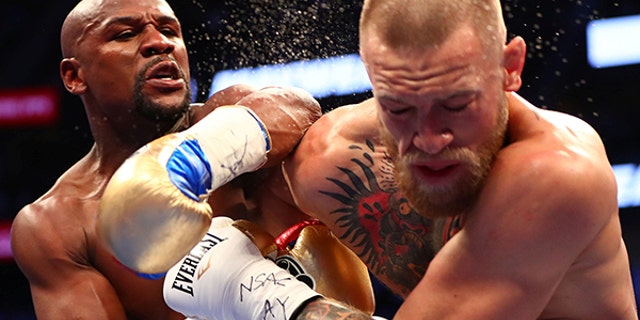 "I'm going to go out and be myself -- free, spontaneous, creative -- and paint a beautiful picture," he said. "I see me truly outclassing this man and putting him to sleep."
McGregor said he thought he weighed "about 170" pounds after rehydrating from Friday's weigh-in, where he was 153. Mayweather weighed in at 149 1/2.
Mayweather was guaranteed $100 million for his night's work, and could make double that if the pay-per-view buys were as strong as expected. McGregor's guarantee with the Nevada State Athletic Commission was $30 million.
Ticket prices ranged from $2,500 to $10,000.
Bookies had faced taking a big loss because McGregor tickets outnumbered Mayweather tickets by as much as 18-1 at some books. But the big bets started coming in Thursday on Mayweather and at the William Hill chain of sports books 74 percent of the money on straight bets was on Mayweather.
There were a handful of million-dollar bets on Mayweather, with three coming in just hours before the fight. The biggest reported bet on McGregor was $100,000.
The fight was shaping up to be the biggest bet fight ever, breaking the mark of about $50 million set in Mayweather's win over Manny Pacquiao in 2015.
The Associated Press contributed reporting to this story.