Mattingly says he's happy with Dodgers as Marlins rumors circulate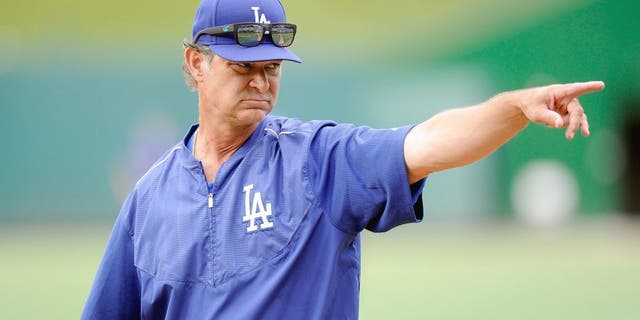 Don Mattingly and the Los Angeles Dodgers are in the thick of the pennant race, yet a report surfaced Wednesday that another team might be interested in snatching him up as their manager.
According to a CBS Sports report, the Miami Marlins, who are reportedly planning to reinsert manager Dan Jennings back into their front office, have their sights set on Mattingly as a prime candidate to become their next manager.
When asked if he had heard of the report, Mattingly revealed that his son, Preston, had informed him of it.
"He's the one that keeps me informed about anything that's going on," Mattingly said.
As for the content of the report, Mattingly assured that he's happy at his current post with the Dodgers and doesn't think much of the Marlins' reported interest in him.
"I have no idea where that comes from," he said of the report. "I'm happy. I'm not worried about anything as far as that goes. I'm happy where I'm at. I like being here. I feel like I'm a Dodger."
While the Dodgers have struggled to make deep postseason runs under Mattingly, he is on the cusp of leading the team to its third-consecutive postseason berth, a feat that has never been achieved in Dodgers franchise history.
Not during the tenure of beloved manager Tommy Lasorda, nor in the days of Sandy Koufax and Don Drysdale, when Los Angeles won two World Series titles in three years.
As Mattingly prepares the Dodgers to achieve that illustrious feat, he reassures he's unfazed by potential distractions like Wednesday's report.
"It's not going to be a disruption, I promise you," Mattingly said.
(h/t ESPN, Los Angeles Times)