Matt Kenseth leads 1-2-3 qualifying sweep for Joe Gibbs Racing at MIS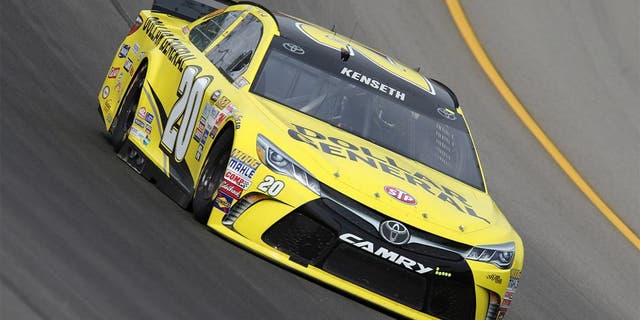 The Joe Gibbs Racing squadron continued its torrid pace Friday afternoon, as Matt Kenseth won the pole for Sunday's Pure Michigan 400 NASCAR Sprint Cup Series race at Michigan International Speedway.
JGR drivers swept the top three qualifying spots in their Toyotas, as they put a serious hurting on the field in the Irish Hills of Michigan.
Kenseth, the last qualifier to go out, took the No. 1 spot with a wide-open lap of 197.488 miles per hour. That allowed Kenseth to eclipse teammate Denny Hamlin, who moments earlier had run 196.990 mph, good enough to claim the outside pole.
Carl Edwards qualified third in another JGR Toyota, followed by Austin Dillon in a Richard Childress Racing Chevrolet and Tony Stewart in a Stewart-Haas Racing Chevy.
Kyle Busch was sixth in the fourth and final JGR entry, while Hendrick Motorsports teammates Jimmie Johnson and Dale Earnhardt Jr. qualified eighth and ninth, respectively.
The pole was third of the year and 16th in 567 career starts for Kenseth, the 2003 Sprint Cup champion.
Asked if the thought the team would sweep the top three spots, Kenseth laughed. "Maybe the 1-2-3, but I didn't think I'd be one of the three," said Kenseth."
Kenseth said the lap posted by Hamlin was a challenge. "Denny put up such a fast lap, I got into (Turn) 3 and I was bound and determined I was going to make it wide open," said Kenseth. "And I had the first half of the corner. It was the second half that was starting to get exciting and I got sliding up the track and bogged down a little bit, so I wasn't sure I was going to have it (the pole)."
But Kenseth held on in an impressive display of speed. Hamlin said he wasn't upset at narrowly missing the pole.
"It just comes down to an arms race, making sure you have a fast car and a big engine," said Hamlin. "These guys have done a great job giving us fast cars."
As for Edwards, who was fastest in the day's lone practice, he was philosophical. "Being upset about third is nice," he said.
With a new, high-drag aerodynamic package similar to what was used in last month's Brickyard 400, NASCAR opted for two rounds of single-car qualifying, rather than the typical group qualifying.
This time out, qualifying speeds were down dramatically from the record 206.558 mph set by Jeff Gordon last year in this race.
JGR drivers swept the top four qualifying positions in the opening round, with Kenseth, the winner two weeks ago at Pocono, atop the speed charts with a lap of 195.988 mph. In the last seven races, JGR drivers have won five times and finished second once.
Among the drivers who failed to advance to Round 2 were 2012 Cup champ Brad Keselowski (14th), June Michigan winner Kurt Busch (16th), defending race winner Jeff Gordon (21st) and Danica Patrick (23rd).
The only driver who didn't qualify was Reed Sorenson.