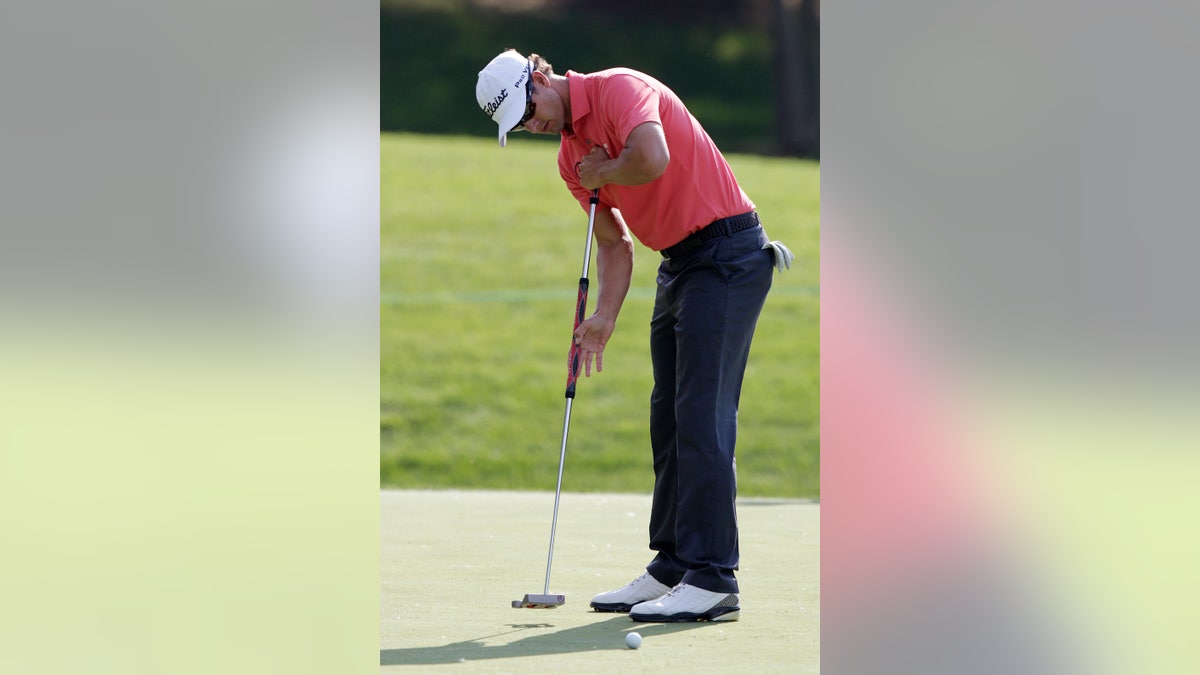 DUBLIN, Ohio – Adam Scott wants to make it perfectly clear that he isn't suing the PGA Tour.
Scott, the Australian who used the anchored putting stroke to win the Masters in April, is part of a group that has retained a lawyer to look into the situation. Hiring legal representation, he said Wednesday on the eve of the Memorial Tournament, was just a way of not being left out of the loop.
"My intention is just to get all the information given to me possible from the PGA Tour," he said. "And just really, for me, like anyone else in a business, to have some professional guidance on this issue."
The two governing bodies of the sport, the U.S. Golf Association and The Royal & Ancient Golf Club, have outlawed the anchored putting stroke used by four of the last six major champions. The rule takes effect in 2016 prohibiting players from anchoring a club against their bodies. Those two groups have urged the PGA Tour to join them so that the sport is played under one set of rules.
Scott is just trying to protect himself.
"I don't think I have the ability to get that (information) or ask the right questions, necessarily. I'm not a lawyer. And that's not my area of expertise," he said. "So I just want to get that information and make sure that my views are expressed to the Tour and that's that. There's no intention of filing suit or making problems."
Vijay Singh has sued the PGA Tour for exposing him to "public humiliation and ridicule" during a 12-week investigation into his use of deer antler spray, a substance that was on the tour's list of banned substances. The tour subsequently dropped its case against him and Singh filed the lawsuit later.
Addressing the issue of the banned putting motion, Scott said he was only trying to level the playing field.
"This is a business and I'm treating it professionally and I have professional counsel to do that," he said. "I'm sure the tour has professional counsel when they make decisions about things or the USGA or R&A, for that matter. They wouldn't do this without professional help either, so that's all it is."
___
WHERE'S TIGER? Many golf fans, conditioned by the emphasis placed on winning major championships, might not be fully aware that Tiger Woods has won four times in seven PGA Tour starts this season. That is a remarkable winning percentage for a tour player.
Davis Love III said people need to appreciate of just how good he has been.
"People say, 'What's the matter with Tiger?' Nothing's the matter with him. As long as he plays, he wins," Love said Wednesday during preparations for the Memorial Tournament. "When he was out for 6 months at a time, he didn't have a chance to win. But when he's been playing, he consistently wins one out of every four times he plays."
Or, of course, even more often than that.
Woods is rested after taking time off — he was spotted water skiing with his kids and Olympic kiing star Lindsey Vonn — and ready to defend his title at the Muirfield Village layout where he has won a record five times.
"It's been a nice two weeks off, and now it's time to get out and play and come to an event that I've always loved playing," he said.
Woods said he's in a good place with his swing.
"I feel comfortable with the motion I'm making," he said, his cap pulled down low over his eyes. "All the stretches where I've played well for a few years, I just felt good about what I was able to do as far as my misses and being able to fit it on the fly. ... I have a better understanding of how to make adjustments. That's huge."
Rory McIlroy, No. 2 in the world rankings and a spot behind Woods, believes Woods is far and away the favorite at the Memorial.
"Most golf courses set up well for Tiger Woods, I guess," McIlroy said, grinning. "The guy is good wherever he goes and plays. It's not like he goes to the same course and wins. He can win anywhere."
Love believes that superstars raise the bar so high that they are victimized when they are merely great and not in the stratosphere in their accomplishments.
"We expect too much as fans out of Tiger, like we expected too much out of Michael Jordan," the veteran said. "Like Michael should make every jump shot at the end of the game or something's wrong. They do it so many times they raise people's expectations. In the same respect, you don't give them enough credit because people think, 'Well, Tiger hasn't won the last three weeks. What's the matter with Tiger?' Well, odds are, the fourth week he's going to win."
Woods is now 37 years old. He has won 14 majors — granted, none since the 2008 U.S. Open — and has 78 career PGA Tour victories. In addition to the humiliating series of affairs that ruined his marriage and changed how many think of him, he's also has had four surgeries on his left knee.
Time wears down everyone, even one of the greatest golfers ever.
"You can tell when he walks, he's not Tiger — we're not what we were when we came out on tour, none of us," Love said. "I don't think we give him enough credit for how consistent he's been."
Yet Woods sounds as if he's at a peak.
"What you're seeing more this year is that I've gotten more precise," he said. "I've been able to work on the other parts of my game and made them strengths."
___
FLOYD IS HONORED: Raymond Floyd, who won four major championships and 22 PGA Tour titles, is the latest player or contributor added to the list of honorees of the Memorial Tournament.
Floyd was introduced during a special ceremony Wednesday on the driving range at Muirfield Village.
His voice breaking, the 70-year-old credited his wife of 39 years, Maria, for making him a better person and player.
"I would not be here without her," he said.
It was Maria, dying of cancer, who had prompted him to accept the honor when tournament founder Jack Nicklaus first called him a year ago.
After a parade of people recited his accomplishments and told stories about him, Floyd said, "I never knew I was this good. I'm humbled to be in such company."
Past Memorial Tournament honorees also include Tom Watson, Nancy Lopez, Seve Ballesteros, JoAnne Carner, Lee Trevino, Payne Stewart, Sam Snead, Walter Hagen, Gary Player, Ben Hogan, Bobby Jones, Arnold Palmer and Nicklaus.
Nicklaus was asked to reminisce about playing against Floyd.
"What I always remember about Raymond is his competitiveness," he said. "When he got in contention, generally speaking, he won."
___
SPREADING THE LOVE: U.S. Presidents Cup captain Fred Couples has tapped one of his best friends, Davis Love III, as one of his assistants for this fall's team competition at Muirfield Village.
Both Love and Couples are playing in the Memorial this week, also at Muirfield. Love said he was surprised to join Jay Haas on Couples' staff.
"I really actually wasn't expecting it because we hadn't talked about it," Love said. "To be around a team again so soon is really great for me, because we had a great experience for two years. It would be nice to jump right back in and let him make the speeches."
Love was captain of the U.S. Ryder Cup team last fall which built a gaping 10-6 lead heading into the final day but then lost eight singles matches and tied one to lose, 14½ to 13½. The victory was Europe's fifth in the last six matches.
The 49-year-old Love can't wait to get back into a team competition, but would prefer to do it as a player. He had surgery on his neck in February and didn't play until The Players Championship earlier this month.
Love said he preferred to be in a support role on the team.
"I'll be the behind-the-scenes golf-cart charger or whatever," he said.
Love holds a 16-8-5 record in Presidents Cup play, including a 5-2-1 mark when teamed with Couples.
"He is one of my closest friends," Couples said in announcing the decision.
The Presidents Cup will be played Oct. 3-6.
Love said he would like nothing more than to someday be in charge of the American side.
"I would love to do it," he said. "Hopefully down the road a Presidents Cup captaincy will come up. It would be fun."
The International team is led by captain Nick Price, with assistants Shigeki Maruyama, Mark McNulty and Tony Johnstone.
___
DIVOTS: The Muirfield Village grille room is famous for its milkshakes. At least two players could be spotted, on a sunny day with temperatures in the high 90s, sipped on shakes in between shots on the range. ... Daniel Summerhays, who finished tied for fourth behind Tiger Woods a year ago at the Memorial, took the place of Robert Garrigus, whose wife is expecting. ... Lucas Glover is a father for the first time. His wife gave birth to a daughter two weeks ago named Lucille.
___
Follow Rusty Miller on Twitter: http://www.twitter.com/RustyMillerAP