Masters 2015: Despite pressure, amateur Matias Dominguez says he's 'really calm'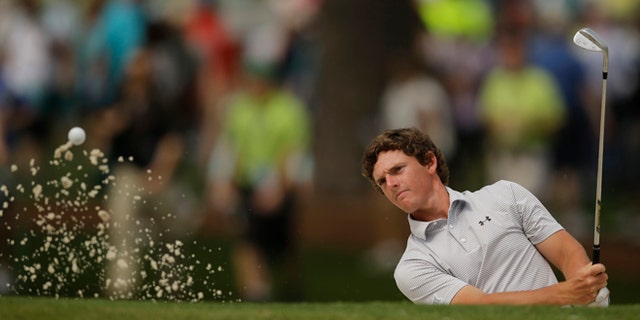 AUGUSTA, Ga. (AP) – It didn't take Matías Domínguez long to enjoy some of the perks of playing in the Masters.
A bed in the Crow's Nest just a stroll up the stairs from the first tee. And some of the best swag in golf.
"I already got my shirts and everything," Domínguez said, laughing. "I might be wearing some with the tournament, we don't know, but for sure I'll be taking everything out of the Crow's Next. Security is going to have to stop me."
Domínguez will tee off Thursday with little chance of competing in the Masters, not unlike the six other amateurs in the field. He qualified by winning the Inaugural 2015 Latin America Amateur Championship in Argentina, earning a spot in the Masters as well as invitations to the final preliminary qualifying in the U.S. Open and U.S. Amateur championships.
But it's the chance to play the Masters that figures to be the adventure of a lifetime for the Chilean who plays college golf at Texas Tech.
"You hear a lot of things about how is the Masters going to be like, but nothing was even close," Domínguez said. "As soon as I stepped here this Monday morning, there were crowds everywhere. Everyone is excited and it's been lots of fun."
Domínguez played in a college event at College Station, Texas, then took the Sunday flight from Houston loaded with PGA Tour players to Augusta.
"We were at the airport with coach saying, look, here is this guy or that guy, there's players all over the place," he said. "They are all really nice people and I'm glad I can meet them personally."
The 22-year-old first played golf at the age of 5, but didn't take the sport seriously until he was a teenager because his friends played. Golf, he said, is not a major sport in Chile, though one of his countrymen, Enrique Orellana, played 51 years ago on an invitation.
Orellana gave Domínguez some advice a few months ago about playing in the Masters.
"He said, 'Try to enjoy it and have fun. Just try to learn the most out of it. You're going to be put in positions where you've never been before, and the most you learn out of it is the best you're going to be through it,'" Domínguez said.
Domínguez came to Augusta National in February to play a few practice rounds and prepare as well as he could. He knows he'll have first tee jitters, but is otherwise taking the whole experience in stride.
"Surprisingly, I'm really calm," he said Monday. "But I know down the road here in one or two days, I'm going to get a little more excited. But I'm really looking forward to play good golf, because I've been preparing really well and really confident on what I've been doing."