Martinez at home behind the plate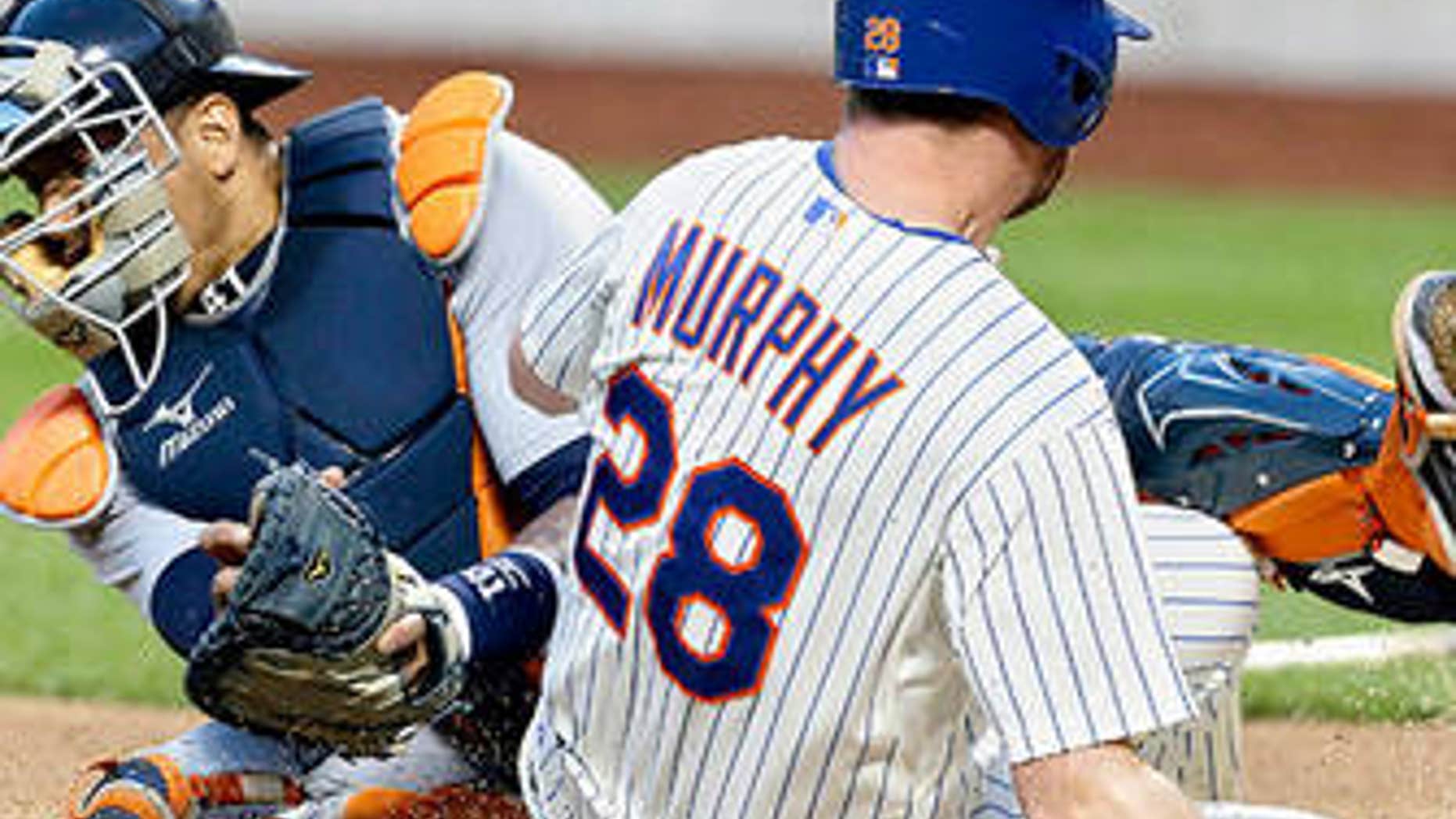 DETROIT – Victor Martinez was finished as a catcher. The microfracture surgery on his left knee said so. The Detroit Tigers all but officially said so. It became an accepted truth: Martinez, 34, would be strictly a designated hitter and occasional first baseman during the last two seasons of his contract with the Tigers.
That changed Friday at Citi Field, when Martinez put on shin guards in a game at any level for the first time since Aug. 4, 2011. Martinez has made four All-Star teams as a catcher. He's a 10-year veteran, but this felt like his major league debut.
"It was that special," he would say later.
Respected umpire Jim Joyce was working the plate that night, and Martinez kept turning to him for reassurance.
"Every three innings, I was asking how I was doing," Martinez recalled Monday. "He kept telling me I was doing great. He was seeing every pitch. That's something I want to make sure, that I give a good look to the umpire. Jim's a guy who has been (in baseball) for a long, long time. He'll take care of me, and I'll take care of him. I always try my best to keep the umpires away from the ball, from getting hit."
The quotation is filled with baseball subtlety -- not a surprise, considering Martinez's reputation around the majors as a conscientious practitioner of the game. Martinez missed the entire 2012 season because of the lengthy, arduous rehabilitation from the knee surgery, but he hasn't lost his mastery of baseball nuance -- particularly with a bat in his hands.
It's easy to overlook Martinez in the Tigers' powerful lineup, his turn at bat coming after the Miguel Cabrera Triple Crown Watch and Prince Fielder's big-swinging show. Comparisons are impossible to avoid given that the three hit in the same group during batting practice.
"I feel like I'm a Little League hitter," Martinez said with a laugh. "A lot of times, Miggy hits first, then Prince. Prince hits a ball 500 feet. Then I come in and bunt."
Martinez started slowly this season, with his OPS stuck on .627 at the end of June. His legs weren't under him. Now they are. Martinez, at .366, has the American League's best batting average in the second half among hitters with at least 100 plate appearances. He had four hits Monday against Oakland. Long one of the top switch hitters in baseball, Martinez crushed a home run from the right side and came within a foot of doing the same left-handed. When A's manager Bob Melvin was asked whether it appears Martinez is back, he sighed and smiled. "Unfortunately," Melvin said, "it does."
Martinez said he's not sure how many times per week he will be able to catch, but even part-time duty will help the Tigers as starter Alex Avila works his way back from a concussion. In the Tigers' best-case scenario, Leyland could consider starting Martinez behind the plate against a National League opponent in the World Series.
Such a possibility seemed remote after Martinez sustained the knee injury in a workout before the 2012 season. Of his conversation with renowned surgeon Richard Steadman, Martinez said, "I told the doctor, 'I don't know if I'm going to be able to catch again. I just want to make sure I can squat for my kids and play with them. He told me, 'You're going to have a brand-new knee, and you're going to be able to do the things you used to do before.' "
Even as uncertainty persisted about Martinez's health, the Tigers knew exactly what to expect from him in the clubhouse. He's not the public face of the team but may well be its metronome -- a man who prepares quietly and diligently except when it's time to blast music before and after games, as the unofficial locker room sound system deejay. He pulls from a diverse playlist -- Latin, hip-hop and country, out of respect to the varied tastes of his teammates.
Martinez is among 12 Latin American-born players on the Tigers' roster; the other 13 are from the United States. In that way, the beats are a metaphor for what Martinez said is a conscious effort to ensure the players' different backgrounds are represented.
"I think about that a little bit," he said. "I know how it is. Sometimes, (teams) just put on one kind of music. Some people like it. Some people don't like it. I want to make sure everybody's together. Everybody gets a little bit of everything. We go from there."
Manager Jim Leyland loathes talking about team chemistry, but he acknowledges the professional "tone" set by Martinez and fellow veteran Torii Hunter, who signed with the Tigers as a free agent last November.
Martinez and Hunter are two of the most respected players in baseball. They have something else in common: On a team that won the AL pennant last year before being swept by San Francisco, they are among a small group of current Detroit players who haven't appeared in a World Series game.
Martinez made it to Game 7 of the ALCS with Cleveland in 2007, then Game 6 with Detroit four years later. Backed by the AL's top pitching staff, with Cabrera on the verge of making history again, this might be Martinez's best chance at baseball's ultimate prize.
"We make sure the young kids understand," he said. "For us, honestly, (our goal) is not just to make it there. We have a big goal. We have to make the young kids understand what we're all about. It's not to make the playoffs. We have a lot of work to do."
To understand why someone with a $50 million contract remains so deeply appreciative of this opportunity, you must know his story.
Martinez was born and raised in Ciudad Bolivar, Venezuela, and signed with the Cleveland Indians on July 15, 1996. I once asked Martinez why he chose the Indians. He told me they were the only team to offer a contract.
"It's like the old saying," Martinez said. "If you see the bus coming through, you'd better hop on there because you don't know if it's coming back."
Many elite Venezuelan prospects sign with major league teams when they are 16. Beyond that age, teams tend to lose interest. Martinez was only several months shy of his 18th birthday when he joined the Indians.
"To be very honest, I barely signed," Martinez told me two years ago. "It was getting late. I signed at 17. If I get to 18, I (had) no chance ... If you get to 18, sadly, you're done. There's a lot of talent (in Venezuela) that doesn't even get a chance to touch a professional baseball field."
Martinez grew up poor, on a diet that included little more than rice. His father died when he was 6. His mother worked as a nurse to support her four children. Martinez said he used his $8,000 signing bonus from the Indians to fix his mother's car and buy clothes for his siblings.
Martinez originally signed as a shortstop. He shared the dream of so many Venezuelan boys, who wish to the play the position of Luis Aparicio, Dave Concepción and Omar Vizquel. But Martinez kept growing, and soon the Indians decided to move him behind the plate. He was devastated.
Martinez called home and told his mother he was ready to quit. She pleaded with him to stay, to give catching a chance, to understand that he had left Venezuela without finishing high school and had no opportunities there.
So, Martinez stayed. He caught in the minors. He caught for Cleveland. He caught for Boston. He caught for Detroit. Now, despite considerable odds against him, he is catching again. The position Victor Martinez never wanted to play represents one of his greatest triumphs. And when he crouched behind home plate again last week, his 8-year-old son, Victor Jose, was there to see it.
"I never had a chance to be with my dad when I lost him," Martinez said. "I want to make sure I spend as much time as I can with my son. I can't really explain to you what kind of feeling it was. He told me the other day, 'I've got my iPad and my (PlayStation) Vita, and I didn't even use it because I was watching Daddy play catcher again.' "