Marlins won't negotiate with Jose Fernandez's agent Scott Boras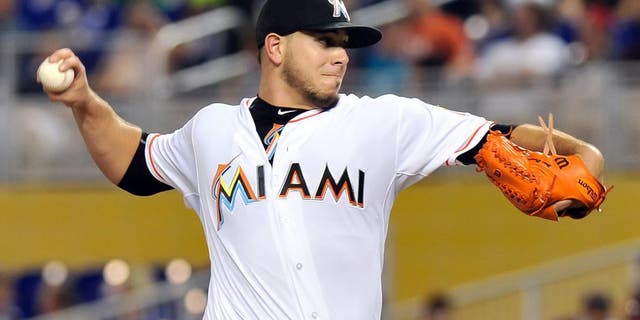 MIAMI (AP) -- The Miami Marlins' feud with agent Scott Boras escalated Wednesday, and the team said he'll be left out of any future talks regarding ace Jose Fernandez's contract or workload.
Team president David Samson pledged to exclude Boras after the agent complained about the Marlins' handling of another one of his clients, outfielder Marcell Ozuna. The dispute reduces the already slim likelihood the Marlins will sign Fernandez to a long-term deal.
An exchange of barbs began with Boras criticizing the Marlins for demoting Ozuna to Triple-A last year when he was in a 1-for-36 slump. The comments brought an angry response from Samson.
"My strong suggestion to Mr. Boras is that instead of resting on his 5 percent that he collects from his stable of players, he write a check and buy a team," Samson said. "Then he would have the opportunity to run a team that he claims to be so able to do. Until that time, he is in no position to comment how any Major League Baseball team is operated."
Boras, speaking at the general managers' meetings in Boca Raton, questioned the Marlins' motivation for sending Ozuna to the minors. The lost service time prevented Ozuna from becoming eligible for salary arbitration this offseason.
"He's a lifetime .265 hitter, and I can find you 30 players in the major leagues that went 1 for 36 some time in their career, and they did not get sent to the minor leagues," Boras said. "When you do those things, it sends a message to players, sends a message to the locker room and sends a message to everyone that looks at the organization that there is a calculus going on that is beyond performance."
Samson responded: "Every decision we make is based on the best interests of the team, and always has been."
Ozuna is believed to be on the trading block.
Regarding Fernandez, the Marlins have never been optimistic about reaching a long-term deal. The right-hander, who came back this year from Tommy John surgery, rejected a long-term offer before the season, Samson said.
Boras was outspoken this year regarding the Mets' use of pitcher Matt Harvey, another client who was coming back from Tommy John surgery. The Marlins don't plan to consult Boras regarding Fernandez's 2016 workload.
"He will not be involved in any discussion as it relates to Jose Fernandez," Samson said. "We will be in touch with the doctors and Jose as we formulate a plan."
Fernandez, who made $651,000 in 2015, is arbitration-eligible for the first time this offseason. He can become a free agent after the 2018 season.
Baseball's collective bargaining agreement says a player may designate an agent to assist him in contract negotiations, and a team may not negotiate with an agent other than the designated agent.