Marlins pitcher Jose Fernandez, 2 others killed in Miami boat crash
Miami Marlins ace pitcher Jose Fernandez was killed Sunday morning after a boat crash in Miami Beach, the team announced.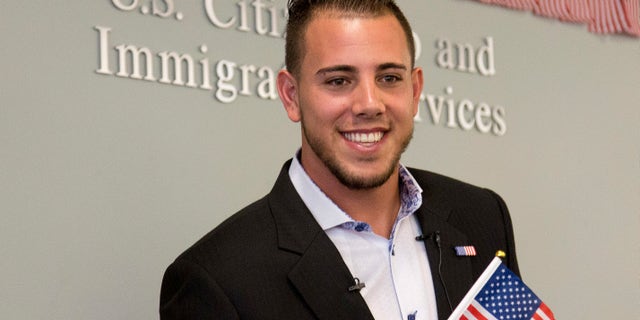 The 24-year-old Fernandez was one of three people killed in the early morning accident.
"The Miami Marlins organization is devastated by the tragic loss of Jose Fernandez," a team statement said. "Our thoughts and prayers are with his family at this very difficult time."
Fernandez posted a photo of his girlfriend sporting a "baby bump" on his Instagram page last week, announcing that the couple were expecting their first child.
"I'm so glad you came into my life," Fernandez wrote in that post. "I'm ready for where this journey is gonna take us together."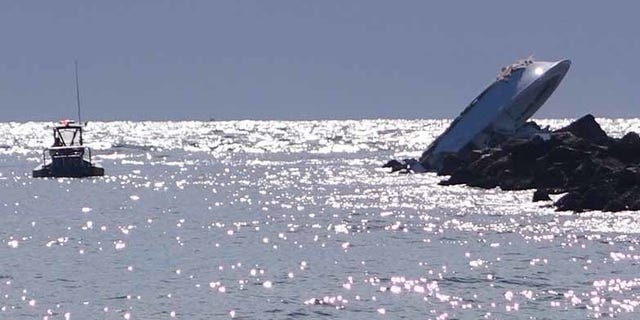 Marlins manager Don Mattingly was in tears and visibly shaken during a Sunday afternoon news conference.
"I see such a little boy," Mattingly said. "The way he played, there was just joy with him when he played."
When leaving the news conference, leftfielder Christian Yellich and second baseman Dee Gordon wrapped their arms around each other and walked out somberly with other team members. Earlier, Gordon had walked out to the mound at Marlins Park, where the grounds crew had painted a "16" -- Fernandez's number -- and placed a Marlins cap. Gordon stood looking at the tribute before kneeling down in a moment of silent reflection.
"Sadly, the brightest lights are often the ones that extinguish the fastest," Marlins owner Jeffrey Loria said in a statement.

Sunday's game between the Marlins and the Atlanta Braves in Miami was cancelled after the death of the star right hander. MLB announced a moment of silence would be held for Fernandez before each game on Sunday.
"All of baseball is shocked and saddened by the sudden passing of Miami Marlins pitcher Jose Fernandez," MLB commissioner Rob Manfred said in a statement. "He was one of our game's great young stars who made a dramatic impact on and off the field since his debut in 2013. Our thoughts and prayers are with his family, the Miami Marlins organization and all of the people he touched in his life."
Chief Petty Officer Nyxolyno Cangemi told The Associated Press that a Coast Guard patrol boat spotted an overturned boat at 3:30 a.m. on a jetty near Government Cut. The bodies were discovered a short time later. Officials said no one was wearing a life vest.
Because the boat was on a jetty, the Coast Guard notified Miami-Dade police, which turned the investigation over to the Florida Fish and Wildlife Conservation Commission.
Fernandez was on a 32-foot vessel that had a "severe impact" with the jetty, said Lorenzo Veloz of the Fish Commission.
Veloz said the boat was found upside down. Two bodies were found under the vessel and one was found in the water by divers. The boat was traveling full speed and was demolished.
There was no evidence of alcohol or illegal substances being a factor in the crash.
The names of the other two individuals are being withheld pending notification of relatives, the Coast Guard said.
"It does appear that speed was involved due to the impact and the severity of it," Veloz said. "It does appear to be that they were coming at full speed when they encountered the jetty, and the accident happened."
The boat was owned by a friend of Fernandez's, Veloz said.
"It does pertain to a friend of Jose who is very well connected with several Marlins players and I have stopped that boat before for safety inspections with other Marlins players on board," Veloz said. "We know that this boat knows the area. We just can't answer why this happened."
City of Miami Fire-Rescue workers were seen carrying bodies, draped and on stretchers, at the Coast Guard station after sunrise Sunday.
Fernandez was born in Cuba and he attempted to defect three times before finally reaching the U.S. in 2007 with his mother.
Marlins Team President David Samson recalled a common refrain Fernandez would utter to those who were born in the U.S.: "You were born into freedom, you don't understand freedom."
During his journey at sea, Fernandez's mom, Maritza, fell off the boat. Fernandez dove into the ocean to save her.
"I dove to help a person not thinking who that person was," Fernandez told The Miami Herald in 2013. "Imagine when I realized it was my own mother. If that does not leave a mark on you for the rest of your life, I don't know what will."
He played in just 27 games in the minor leagues, reaching the Single-A level in 2012 before he was selected to the Marlins' Opening Day roster in 2013 at the age of 20.
In 76 career games, Fernandez was 38-17 with a 2.43 ERA and 589 strikeouts in 471 1/3 innings.
A two-time All-Star, Fernandez won the National League Rookie of the Year award in 2013. He appeared headed for another stellar season in 2014, but after eight starts his year was derailed when it was revealed Fernandez would need Tommy John surgery. He returned from the procedure to make 11 starts in 2015.
Fernandez was 16-8 with a 2.86 ERA and an MLB-best 12.6 strikeouts per nine innings in 2016. He was considered a strong contender for the NL Cy Young Award.
Fernandez's final game was Sept. 20 in Miami against the NL East division champion Washington Nationals. He pitched eight shutout innings, allowing just three hits and striking out 12. It was his ninth game of the season with at least 11 strikeouts. He was due to pitch Monday against the New York Mets.
Fernandez's death was not the first time an MLB pitcher died during a boating mishap. In 1993, two Cleveland Indians pitchers – Steve Olin, 27, and Tim Crews, 31 – were killed in a boating accident on Little Lake Nellie in Clermont, Fla., The Plain Dealer reported. Bobby Ojeda, a third Indians pitcher, suffered serious scalp injuries, but lived.
The Associated Press contributed to this report.