Marlins fall short of snapping Pirates winning streak, lose 5-2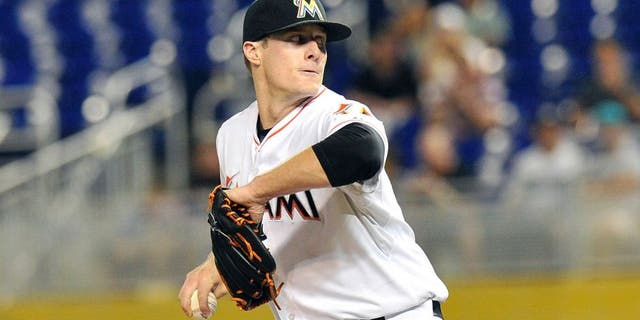 MIAMI (AP) -- J.A. Happ pitched six scoreless innings, extending a streak of strong starts for the Pittsburgh Pirates in a 5-2 win over the Miami Marlins on Monday night.
Pittsburgh starters have thrown 19 1-3 consecutive scoreless innings, and Happ (2-1) has allowed one earned run in his past 17 1-3 innings.
The Pirates won for the sixth time in seven games to climb a season-high 27 games above .500. They have won five consecutive road games since Aug. 13, and they're 4-0 this year against Miami.
Gregory Polanco had a season-high four hits and drove in a run. Andrew McCutchen hit a two-out, two-run double in the third, and Neil Walker contributed a sacrifice fly in the seventh.
The Pirates were fortunate to escape serious injury against the Marlins' wild relief corps. Erik Cordier was ejected after he hit Sean Rodriguez -- the only batter he faced -- in the left hand. Starling Marte was hit in the arm an inning earlier, and Francisco Cervelli twice ducked out of the way of high, inside pitches.
Marlins manager Dan Jennings argued about Cordier's ejection while Rodriguez grinned as he walked to first base.
Happ, making his fourth start since being acquired from Seattle, gave up four hits and a walk. Even major league batting leader Dee Gordon was off balance, going 0 for 3 vs. the left-hander.
The Marlins' scoreless streak reached 21 consecutive innings before they scored in the seventh against Jared Hughes on J.T. Realmuto's RBI groundout.
Tom Koehler (8-12) allowed two runs in six innings. He lost his sixth start in a row, and against the Pirates he fell to 0-4 in four career starts.
Mark Melancon came on with two on and none out in the ninth and faced only two batters to earn his 40th save, most in the majors.
Pittsburgh won despite going 3 for 17 with runners in scoring position.
TRAINER'S ROOM
Pirates: SS Jordy Mercer made his first start since landing on the DL on July 19 due to a sprained left knee. He went 1 for 4. ... RHP A.J. Burnett, who hasn't pitched since July 30 due to a strained flexor tendon in his right elbow, is scheduled to throw a bullpen session on Tuesday. "If he proves he's healthy, (his return) could come sooner rather than later," manager Clint Hurdle said. "There is an intense `want to,' and he is being smart and listening to the right guys on the `how to.'"
Marlins: LF Christian Yelich (bruised right knee) targeted Tuesday to return from the DL. On Monday, Yelich shagged fly balls for the first time since his injury.
UP NEXT
In the second of a four-game series at the Marlins, Pittsburgh will start RHP Charlie Morton (8-4. 4.06 ERA). The Pirates have won each of the past five games Morton has started. The Marlins will go with LHP Brad Hand, whose 7-20 career record as a starter is the worst among active pitchers, according to STATS. He's 3-2 this year.