Marlins After Pujols to Complete Big 3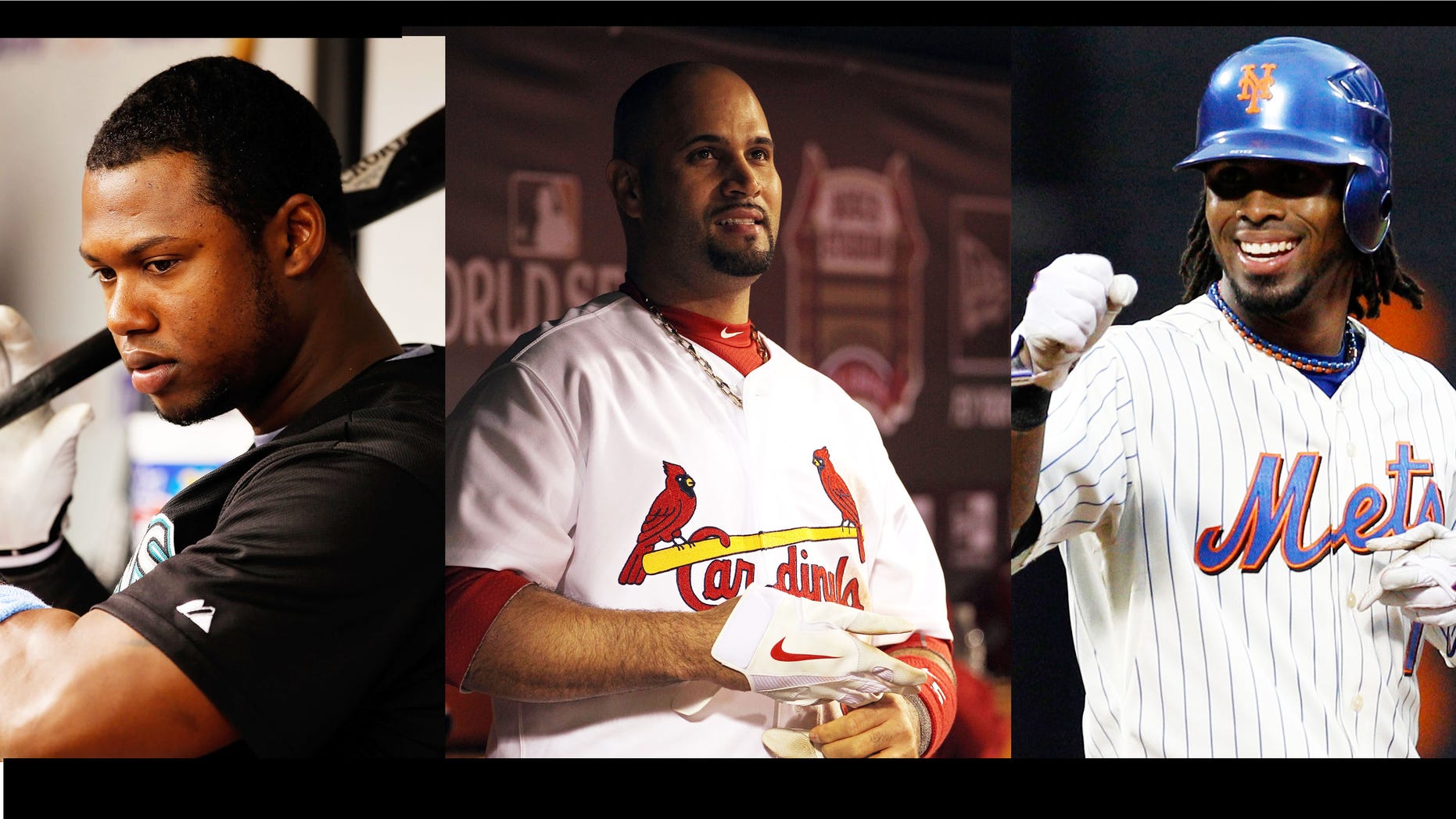 These are not the same little low-budget Marlins anymore.
The Miami Marlins seem to be taking a page out of the Miami Heat playbook as the team makes a serious run at acquiring their own dynamic trio in the hopes of becoming baseball's Big Fish.
Just as the Heat acquired Chris Bosh and Lebron James to compliment hometown hero Dwayne Wade, to become a serious championship contender overnight, the Marlins have acquired José Reyes to compliment hometown talent Hanley Ramírez and are now in hot pursuit of Albert Pujols in a bid to become a serious contender in their own right.
"I want our team to be important," owner Jeffrey Loria said Monday as the winter meetings opened. "It's an energy city, and I think that's one of the things that brings the players there. They see the energy."
Making the first big splashes, the Marlins completed a $27 million, three-year contract with Heath Bell a day after reaching a preliminary agreement on a $106 million, six-year deal with Reyes. Who will be the next big name migrating to South Florida: Pujols? C.J. Wilson? Mark Buehrle?
Pujols, who already has toured the new ballpark, would join Ramírez, Reyes, Mike Stanton and Logan Morrison in the batting order — if the three-time NL MVP is willing to leave the St. Louis Cardinals, the only major league team he's played for.
"One big hitter?" Loria said out loud, his 2003 World Series ring flashing from his hand. "Well, I don't know about that, but there's a possibility of another player or two we're looking at."
Morrison, among others, was wondering.
"Just out of surgery. Everything went well," he wrote on Twitter after a minor knee operation, adding: "Have we signed Pujols yet??"
On the mound, Wilson or Buehrle could be added to a rotation that includes Josh Johnson (if healthy), Ricky Nolasco, Anibal Sánchez and Chris Volstad. While the Marlins are being aggressive, traditional big spenders such as the New York Yankees and Boston Red Sox are moving cautiously, both with free agents and in the trade market.
"This isn't the old seat-of-the-pants, you know, get drunk in the lobby and write names on a napkin type," Yankees general manager Brian Cashman said shortly after arriving at the meetings. "You won't conduct business that way anymore. They just don't."
As the four-day swap session began, the first piece of formal business was the annual meeting of the Hall of Fame Veterans Committee, which elected late Chicago Cubs third baseman Ron Santo. He'll be inducted in Cooperstown on July 22, along with any players elected by members of the Baseball Writers' Association of America on Jan. 9.
Pujols and Prince Fielder are the big bats on the market, and it remains unclear whether Pujols is willing to leave the World Series champions, where he's joined Stan Musial as a franchise icon.
"I always use the word hopeful," Cardinals chairman Bill DeWitt Jr. said. "I think it's presumptive to say that I'm optimistic because we obviously have continuing discussions and have a good dialogue going."
No longer watching players such as Josh Beckett and Miguel Cabrera getting hooked by other teams, the Marlins now have the bait to attract baseball's best. They drew a major league-low 1.52 million fans to Sun Life Stadium, also home to the NFL's Miami Dolphins, last season. But Loria expects his team will draw 2.5 million to 3 million at the new ballpark.
"When you have a ballpark that seats 78,000, there's no great demand — and in the middle of nowhere in a football-configured stadium," he said. "But with a ballpark half the size of that and a baseball-only ballpark, you create a different kind of experience and we've seen it in our sales already."
The rest of baseball has taken notice of a team that hopes to overtake Philadelphia and Atlanta in the NL East.
"Good for the Marlins. I'm happy for them, and it's something, of course, I'd like to see happen for us. But in the meantime, you can't cry about it," said Tampa Bay manager Joe Maddon, whose team and Oakland are the last two trying to get new ballparks.
Calling Reyes an "exciting young man" and Wilson a "very intelligent and very interesting guy," Loria said he thinks the Marlins can become a consistent winner in their retractable-roof ballpark, not far from downtown Miami.
"With the roster that we have and the things we hope we can do, the outlook is very good," he said. "I'm not going to make any predictions. But we certainly want to be in position to compete seriously."
While the Marlins are poaching, other teams want to retain their stars. Texas may want Wilson back after he helped it come within one strike of the team's first World Series title.
"We basically felt they were going to test the market and we'd circle back to each other," general manager Jon Daniels said.
The Mets, plunging to losing records in all three seasons at Citi Field and plagued by losses from the Bernard Madoff Ponzi scheme, are cutting payroll from the $140 million range in 2008 and 2009 to about $100 million next year. General manager Sandy Alderson said the team lost $70 million but wouldn't say whether it was all this year.
"When I took the job, my understanding was the payroll was not at a sustainable level, that it would have to come down somewhat," he said. "Perhaps it's had to come down a little more than I would have expected."
Reyes returns to Citi Field when the Marlins visit April 24. He'll be in their new uniforms with garish colors.
"Well, I was a little surprised they had that much money to burn," Mets manager Terry Collins said.
SEC Probes Financing of New Marlins stadium
The Securities and Exchange Commission is investigating the financing of the Miami Marlins' new downtown stadium.
SEC subpoenas to the city and Miami-Dade County are seeking a long list of documents and records, including those involving meetings and communications between government officials and executives with the Marlins and Major League Baseball.
The executives include baseball commissioner Bud Selig, ex-MLB president Robert DuPuy, Marlins owner Jeffrey Loria and the team's president, David Samson. Copies of the subpoenas, dated last week, were provided Monday by city and county officials to The Associated Press.
"We are trying to determine whether there have been any violations of federal securities laws," SEC Senior Counsel Drew Panahi said in a letter accompanying the county subpoena. "The investigation and the subpoena do not mean that we have concluded that Miami-Dade County or anyone else has broken the law."
The $634 million retractable-roof stadium, set to open for the 2012 season, has been controversial from the start because more than three-fourths of its costs are being borne by taxpayers. More recently, Miami city officials raised concerns about having to pay the county $2 million in property taxes for adjacent parking garages operated by the Marlins.
The 37,000-seat stadium is ushering in a new era for the Marlins, who changed their name and uniforms and have been on a spending spree for high-level free agents including ex-New York Mets shortstop José Reyes and new closer Heath Bell. The Marlins are also pursuing St. Louis Cardinals superstar Albert Pujols.
City and county officials said they would cooperate in the SEC probe, which requires documents to be turned over Jan. 6. It wasn't immediately clear Monday if the Marlins also had received a subpoena; the team issued a statement saying it was aware of those received by the city and county.
At baseball's winter meetings in Dallas, Loria said the team will "work with the SEC and help them in any way possible. It's an ongoing matter. We're there to be helpful, but I don't really want to make any futher comments about it."
The parking garage tax issue is specifically mentioned by the SEC. Investigators also want records about the Marlins' ability to contribute to the stadium complex's financing, the team's revenues and profitability, and whether any Marlins employees gave "any payments, loans, campaign contributions or any offers of anything of value" to city, county or state government officials.
The SEC also wants detailed information about the bonds used to finance the stadium and whether investors might have been misled.
Not all SEC investigations end in enforcement actions, but enforcement actions typically end in settlements that can include fines and other penalties. Investigators can refer individuals or companies to the Justice Department for potential criminal prosecution.
The Marlins prevailed in a 2008 legal challenge to the financing plan mounted by billionaire Miami car dealer and former Philadelphia Eagles owner Norman Braman, who called it a colossal taxpayer rip-off. Braman then led a successful recall election campaign in March that unseated Carlos Alvarez as the county's mayor.
Based on reporting by the Associated Press.
Follow us on twitter.com/foxnewslatino
Like us at facebook.com/foxnewslatino