Mariano Rivera Gets 602 to Become All-Time Saves Leader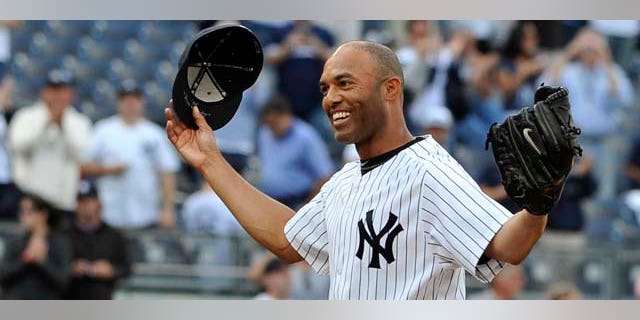 As if there was ever a question about who the greatest relief pitcher of all time was, Mariano Rivera erased all doubt Monday afternoon – the New York Yankees future Hall of Fame closer became the all-time saves leader by earning career save 602.
The 41-year-old Rivera notched the milestone save, surpassing Trevor Hoffman, at Yankee Stadium by closing out the Minnesota Twins. And Rivera, who remains one of the best closers in baseball, earned the save in the same way he has countless times over his 17-year career – with a strikeout.
"I have a lot of friends and families and I appreciate them. The whole organization my whole teammates have been a pillar for me," Rivera told the YES Network after the game.
The Yankees beat the Twins 6-4 to remain in first place. The win puts them 5 1/2 games ahead of the second-place Boston Red Sox in the American League East.
Rivera, who has 1,108 career strikeouts, remains a dominant force. His 43 saves rank second in the American League to only the Tigers' Jose Valverde.
A 12-time All-Star, Rivera, who hails from Panama, has a career 2.22 ERA. He has 42 career postseason saves, too, with a 0.71 ERA.
True to form, Rivera thanked teammates and fans, and cited his faith in helping him achieve the accomplishment.
"I always have to talk about God because that the most important thing in my life. Yes, there have been bumps in the road, but God gave me the strength," the Yankees' legend said.
With fans standing and cheering from his first pitch in the ninth, Rivers retired Trevor Plouffe, Michael Cuddyer and Chris Parmelee to end it. Parmelee looked at strike three as the stadium roared in approval. Fellow Panamanian fans wave their native flags as the Yankees embraced Rivera on the mound.
"A lot of fellow Panamanians are here, and it's great," he said. "The fans here, have been tremendous and I thank God for that."
Follow us on twitter.com/foxnewslatino
Like us at facebook.com/foxnewslatino