Marcus Mariota reaches pair of milestones in Titans' loss to Colts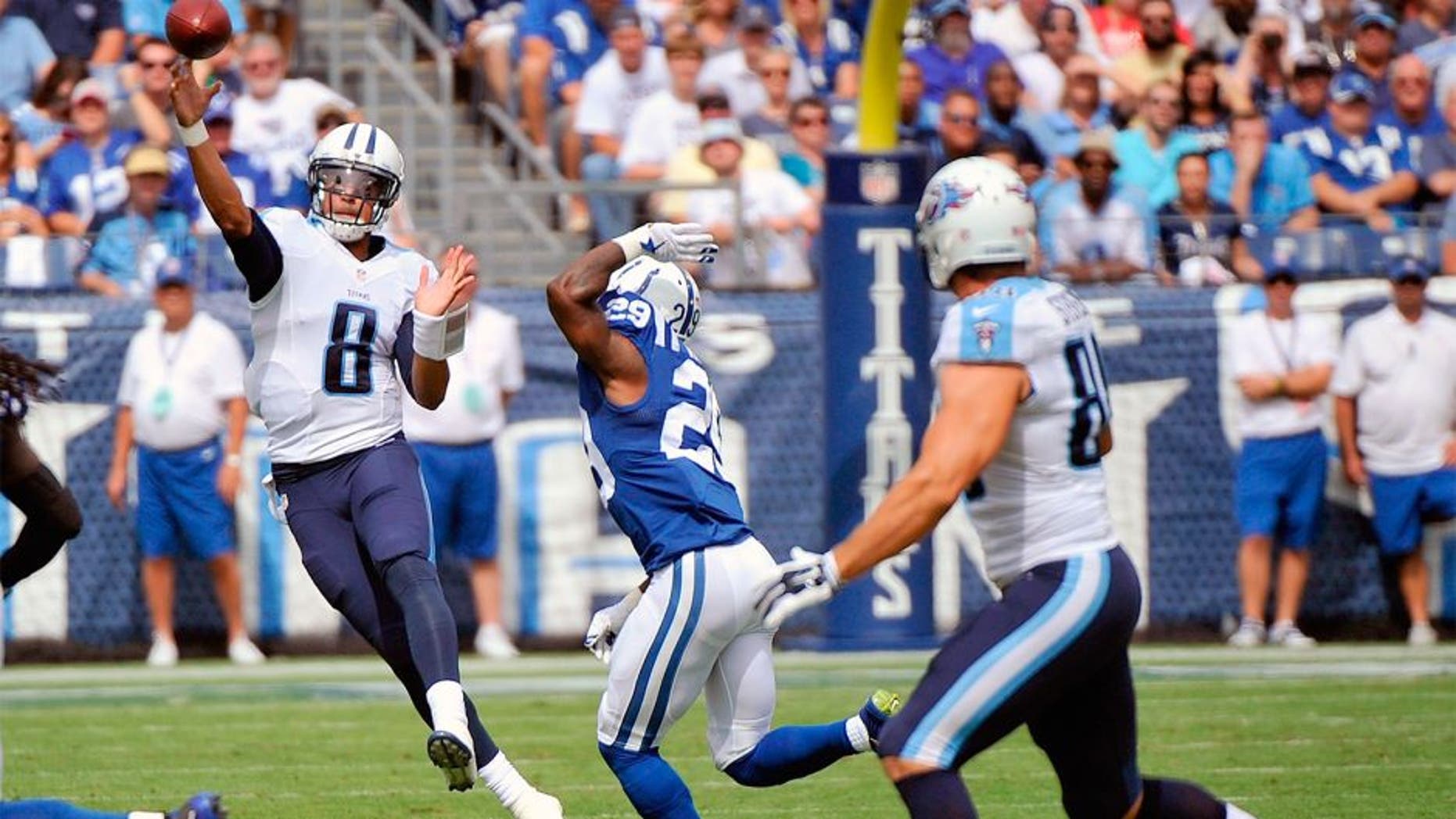 While the Tennessee Titans came up short in Sunday's 35-33 loss to the Indianapolis Colts, the game marked another standout performance from rookie quarterback Marcus Mariota.
Mariota, the second overall pick in last April's NFL draft, set the Titans' single-game franchise mark for passing yards by a rookie, with 367 yards in the loss. With his two touchdowns, he also became the second player in league history to throw eight touchdowns in his first three NFL starts, joining former Washington Redskins quarterback Mark Rypien.
"That young man has a lot of character,'' Tennessee guard Byron Bell said of Mariota, per the team's official website. "He gave us a fighting chance, and we all gave ourselves a fighting chance. He is going to be one of the top quarterbacks in the league one day and he continues to prove it."
Despite the milestones, Mariota said he was more concerned with the fact the Titans were unable to come away with the win. The Colts have beaten the Titans 13 of the last 14 meetings.
"I felt the coaches did a great job calling the plays,'' Mariota said. "Myself, I've got to do a better job of executing them."
While Mariota was hard on himself, his head coach, Ken Whisenhunt, said he was pleased with the the young quarterback's performance. Mariota led the team on a scoring drive with less than a minute to go that pulled the Titans within two points.
"I know he did a tremendous amount of good things. He took us on a two-minute drive to score to tie it up. I mean, one of the questions you have about a quarterback is, "Can he do that?,'' Whisenhunt said. "He certainly made some good throws and some good plays there. If you wipe out everything else and say you've got two minutes to score a touchdown in a critical situation, he handled himself very well.
"Are there other things that we can all work on? Sure. He's a young quarterback. He's just like our tackle, just like our fullback, just like our receiver -- we're experiencing things for the first time in situations like that and they'll be better the next time around."
Mariota agreed, saying the team would be able to draw some important lessons from the game.
"You learn from this and the fact that we fought all the way through, that we had an opportunity to win, just proves to the guys that we should have confidence in every single game," Mariota said. "When it gets close, not to press, just finish. I think we've learned that and we'll move forward."