Marc Gasol puts on a show to lead Grizzlies past Knicks 103-95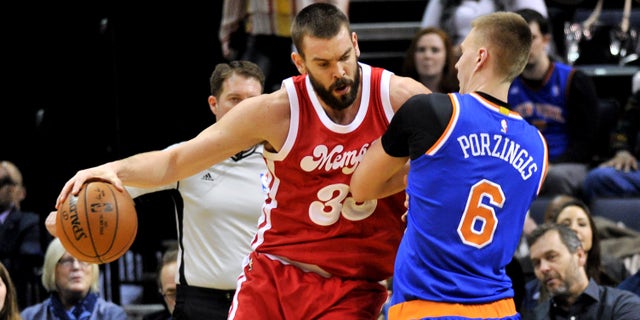 MEMPHIS, Tenn. (AP) – Grizzlies forward Matt Barnes and Knicks coach Derek Fisher stayed away from each other while Marc Gasol put on a show.
Gasol scored 37 points to help Memphis beat New York 103-95 on Saturday night in the first game between the teams since the NBA suspended Barnes for two games for his fight with Fisher in October.
Barnes finished with two points and nine rebounds in 26 minutes. It looked as if Barnes and Fisher never said anything to each other, and they never got closer than a few feet from each other during Memphis' fourth win in five games.
Kristaps Porzingis led the Knicks with 17 points, while Kyle O'Quinn added 15 points, missing only one of his six shots. Derrick Williams had 13 points.
The Knicks played without leading scorer Carmelo Anthony, who missed his second straight game with sprained right ankle.
The league announced last month it was suspending Barnes for two games without pay for what it said was a "physical altercation" with Fisher and for "threatening" the coach in October. The NBA investigated the incident in Redondo Beach, California, between Barnes and Fisher — former teammates with the Los Angeles Lakers from 2010-12.
A person with knowledge of the situation told The Associated Press in October the incident occurred while Fisher attended a gathering at the home of Barnes' estranged wife, Gloria Govan. The person spoke on condition of anonymity because no details were publicly released.
In the days preceding Saturday's game, Barnes said he didn't plan to say anything to Fisher because "he'll just run and tell." He went on to say he was sure they would cross paths again after Barnes retired.
Before tip-off, Fisher steered clear of questions, saying he would only talk basketball. By the end of the night, Barnes' postgame comments were similar.
"I don't care about talking about him. Let's talk about the game," Barnes said.
Gasol was 15 for 29 from the field. He also had eight rebounds.
"He's got to be like that every night," Barnes said. "Marc's one of the best centers in the league. We go as he goes."
Memphis coach Dave Joerger added: "The tone of (Gasol's) body was: 'I'm going to score until you stop me.'"
Jeff Green scored 18 points for Memphis, and Zach Randolph had 14. Mario Chalmers finished with 12 points.
The Knicks closed to 77-75 in the fourth when O'Quinn scored inside. But Memphis responded with a 17-4 run, opening a 94-79 lead on Chalmers' 3-pointer with 3:24 left.
New York made one more push with a 9-1 spurt, but the rally fizzled.
"We couldn't make enough winning plays in the fourth quarter essentially," Fisher said.
He added that early foul trouble for Knicks center Robin Lopez posed a problem for guarding Gasol.
"Marc's an All-Star," Fisher said. "He had a good night, but I don't think he beat us by himself."
TIP-INS
Knicks: Porzingis, who was listed as questionable with a sore right shoulder, played 28-plus minutes. ... The Knicks were 5 of 20 from 3-point range.
Grizzlies: Memphis wore its throwback Memphis Sounds uniforms, a nod to the city's last American Basketball Association franchise. ... Gasol's 37 points were one short of his career-high 38 this season against the New Orleans Pelicans on Dec. 1.
FAST START
Porzingis scored 10 points in the first quarter.
"They started playing Zach Randolph. He was all over me," Porzingis said. "He just wasn't worrying about anything else. Just sticking to me like glue."
NOT SO FAST
After a fourth-quarter review led officials to call for a jump ball, Fisher tried to insert Portzingis into the game. But official Ron Garretson said the 7-foot-3 rookie could come in, but not to jump. Fisher quietly sent Porzingis back to the bench.
UP NEXT
Knicks: Host Philadelphia on Monday.
Grizzlies: Host New Orleans on Monday.
Like us on Facebook
Follow us on Twitter & Instagram