Marc-Andre Fleury throws shade at Matt Niskanen with equipment tweak following Crosby injury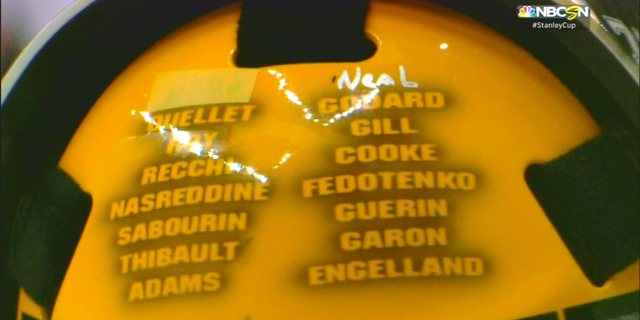 Capitals defenseman Matt Niskanen is not very popular in the Penguins' locker room right now.
That's because Niskanen is the guy who handed Sidney Crosby yet another concussion during Monday's Game 3 with a cross-check to the head, knocking the Pens' captain out of action indefinitely.It was a controversial hit, but Niskanen maintains that he had no intent to injure on the bang-bang play.
Still, not everyone is buying it.
One guy who seems particularly displeased with Niskanen is his former Penguins teammate, goaltender Marc-Andre Fleury. The netminder pays tribute to several current and former Pittsburgh teammates on the backplate of his mask. Niskanen, who played with the Penguins from 2010-2014, is one of those names…even if his name seems to be a handwritten addition.
But prior to Wednesday's Game 4 in Pittsburgh, there was a slight alteration made to Fleury's mask. Niskanen's name appeared to be covered with tape.
Ouch. Do you taste that? That seems to be some salt.
It's clearly a personal thing for Fleury, as he clearly doesn't cover the name of every dirty player on his list of honorees. (See: Cooke, Matt.) Fleury and Crosby are great friends both on and off the ice -- they've played together ever since Crosby entered the league in 2005 -- and he clearly wants his budhealthy again.
AP | Copyright The Associated Press. All rights reserved.