Manziel: Height matters; Browns coaches: No it doesn't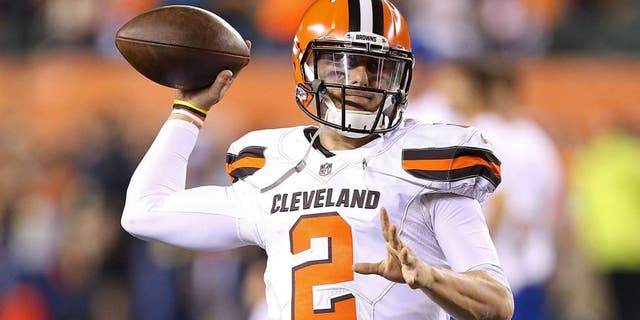 Browns quarterback Johnny Manziel can't use his height as an excuse for missing open receivers. Andy Lyons Andy Lyons/Getty Images
If Browns quarterback Johnny Manziel is selling his lack of height as a reason for his lack of progress, his coaches aren't buying.
A day after Manziel said he has had trouble seeing open receivers because of his shorter 6-foot stature, head coach Mike Pettine and offensive coordinator John DeFilippo said height, or lack thereof, is no excuse.
"There's other quarterbacks in this league that are his size and are having some success," DeFilippo said per ESPN.com.
Manziel conceded that he took off running prematurely instead of hitting open receivers several times in his start last Thursday in Cincinnati. The tall defensive ends for the Bengals -- Carlos Dunlap (6-foot-6) and Michael Johnson (6-foot-7) had something to do with that.
"I'm not going to be able to sit there like some of these taller quarterbacks in the league and just be able to see everything happen as it plays on," Manziel said. "I'm going to have to make a faith throw, knowing that, hey, this guy's here and this guy went there."
Pettine cited stars Drew Brees (also listed at 6-foot) and Russell Wilson (5-foot-11) as quarterbacks who have overcome physical limitations.
"Any quarterback who's in that position has to learn it," Pettine said. "Sometimes the only way to learn it is the live reps and get a sense of the game, and when you get a chance to get to the film and say, 'Wow, that guy is wide-open and I didn't see him.'"