Manziel domestic incident being investigated by NFL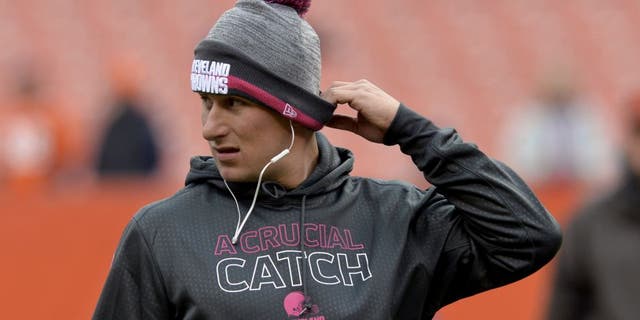 BEREA, Ohio -- Browns coach Mike Pettine said Johnny Manziel was active for Sunday's game because the team was satisfied with its investigation into the quarterback's domestic incident last week.
The former Heisman Trophy winner was questioned by Avon, Ohio, police after Manziel got into an argument with his girlfriend, Colleen Crowley. She told police that Manziel was physical with her during their disagreement.
Pettine disputed that the Browns gave Manziel a free pass by having him available to play against Denver.
"We've dealt with it, it's not like we ignored it," Pettine said.
Pettine said the NFL is doing its own inquiry of Manziel's incident, which began on an interstate highway and ended on a gravel driveway. Pettine does not have a timetable on when the league will have a decision.
It's not yet known if Manziel, who spent 70 days in a rehab facility this past offseason for an unspecified addiction, is in the league's substance abuse program. If Manziel violated terms of his program, he could face fines and suspensions.
Pettine, the second-year coach, bristled at the idea that there is no accountability with his players for their actions.
"I'm not of the mind that all discipline has to be public," Pettine said. "If you think we're turning a cheek to it and ignoring it, you'd be dead wrong."
Pettine would not say if the Browns have considered trading Manziel, a first-round draft pick in 2014.
On Monday, Avon Police released a dash-cam video and 9-1-1 emergency calls from the roadside incident. Manziel, who admitted to police that he drank alcohol earlier in the day before his argument with Crowley, was not arrested.
Browns linebacker Karlos Dansby said Manziel has not become a distraction to the team and he sympathizes with him living in the spotlight, saying he "is a prisoner of his own success."