Many of fantasy baseball's most coveted pitchers struggled in 2016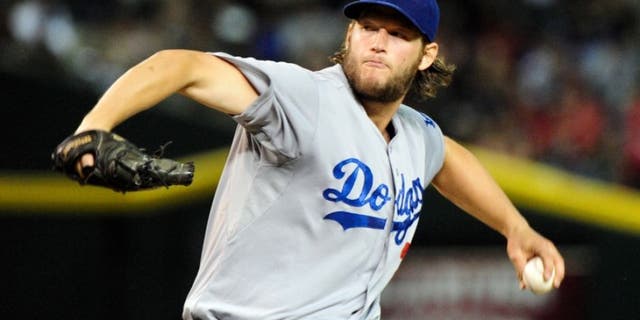 Not sure how you've fared, but my teams struggled mightily with pitching this season. A Harvey here, some Cole sprinkled in there, all mixed with a huge serving of creamed Strasburg. We always tend to overreact based on results of the previous season, and this year was no different. The universal mantra of the 2016 draft season was to lock in stud aces in at least two of your first five picks. It was almost insane to do otherwise among high-stakes NFBC leagues during March drafts. In fact, anchor SPs were pushed higher than ever before, many of us fighting to snag two within our first three picks – especially in 15-team leagues.
Look where that got us.
Looking at the top-26 starting pitchers drafted (all among the top-100 picks overall), it probably wouldn't shock you if I told you exactly half either busted, got injured or failed to come close to their draft-day value. Here's the list:
Clayton Kershaw (debatable of course, but injury takes him out of first-round value), Matt Harvey, Zack Greinke, Jacob deGrom, Gerrit Cole, Carlos Carrasco, Chris Archer, Felix Hernandez, Sonny Gray, Adam Wainwright, Danny Salazar, Tyson Ross and Marcus Stroman.
Fifty percent is a bit higher of a rate at which the top-26 starting pitchers failed to reach value in 2015, but it shouldn't be all that shocking. We've learned from a BaseballHQ study, that the last few years, the rate of first-rounders who have failed to reach value is about 40 percent. Many times, players' ADP's shoot up artificially simply based on their previous season's performances (i.e., Carlos Correa), and there is always a high degree of volatility in drafts each and every season.
If you flip the analysis around, that means half of the top-26 starting pitchers drafted in March actually earned or exceeded their draft day value. We just have a unique cast of characters who have joined the party.
Below is the list of top-25 SPs through 24 weeks, based on the standard four roto categories (W, ERA, WHIP, K). We see that Scherzer, Lester, Bumgarner, Sale, Kluber, Fernandez, Arrieta, Syndergaard, Price, Strasburg and Hamels all made the cut, though re-arranged in a different order.
| | | | | |
| --- | --- | --- | --- | --- |
| YTD RANK | PITCHER | TEAM | ADP ROUND | ADP OVERALL |
| 1 | Max Scherzer | WAS | 2 | 15 |
| 2 | Jon Lester | CHC | 6 | 61 |
| 3 | Kyle Hendricks | CHC | 17 | 214 |
| 4 | Rick Porcello | BOS | 27 | 326 |
| 5 | Madison Bumgarner | SF | 3 | 28 |
| 6 | Chris Sale | CHW | 2 | 24 |
| 7 | Corey Kluber | CLE | 4 | 37 |
| 8 | Justin Verlander | DET | 11 | 137 |
| 9 | Jose Fernandez | MIA | 3 | 33 |
| 10 | Jake Arrieta | CHC | 2 | 22 |
| 11 | Johnny Cueto | SF | 6 | 72 |
| 12 | Noah Syndergaard | NYM | 4 | 44 |
| 13 | J.A. Happ | TOR | 27 | 330 |
| 14 | Kenta Maeda | LAD | 15 | 184 |
| 15 | Masahiro Tanaka | NYY | 11 | 121 |
| 16 | David Price | DET | 3 | 35 |
| 17 | Tanner Roark | WAS | N/A | FAAB |
| 18 | Danny Duffy | KC | N/A | FAAB |
| 19 | Jose Quintana | CHW | 13 | 166 |
| 20 | Carlos Martinez | STL | 8 | 101 |
| 21 | John Lackey | CHC | 15 | 187 |
| 22 | Stephen Strasburg | WAS | 3 | 38 |
| 23 | Aaron Sanchez | TOR | 27 | 332 |
| 24 | Cole Hamels | TEX | 6 | 74 |
| 25 | Jeremy Hellickson | PHI | N/A | FAAB |
Sure, Cy Young candidate Kyle Hendricks is a huge surprise this year. After all, he was a late-teens fantasy pick this spring and was not a monster prospect in the minor leagues. He heads into Week 25 with 15 wins, an ERA around 2.00 and a mind-blowing 0.96 WHIP. In hindsight, perhaps we should have paid closer attention. Hendricks had an above-average strikeouts-per-nine of 8.4 last season and walked slightly more than two batters per nine. Moreover, Hendricks had a large variance between his 3.95 ERA and 3.25 xFIP and was going to throw every fifth day for a Cubs team that was expected to have a top-three offense in baseball this season (run support, baby). Hindsight is, of course, 20-20, but it's just one example where digging into the peripherals and potential opportunity was warranted during draft prep season.
We also had three pitchers who were undrafted altogether this season. Two (Duffy and Roark) pitch half their games in great hurler-friendly parks, and Hellickson was a pitcher with a history of prior success who was able to harness his control of years past. It also didn't hurt that nearly 25 percent of his starts came against a Marlins team that he dominated this season (3-1 with a .217 oBA in six starts).
Looking a bit beyond the top 25, we had other starting pitchers with decent histories of success who came back onto the relevance radar. Guys like Ian Kennedy, Dan Straily and Jake Odorizzi. Of course, we can't forget about 36-year-old Rich Hill, who likely would be a top-five guy this season if it weren't for that darn blister. Hill has pitched more than 100 innings, sporting a 2.06 ERA, a 0.96 WHIP and a 29.7 percent strikeout rate. The main takeaway is that we didn't miss the mark on our "drafting aces early" theory. There are so many ways to skin the draft cat. We'll always have pundits who counter the early SP strategy by quipping "hey, you can always find great pitchers late, just look at Hendricks!" Sure, you can find them late. But you have to unearth those exact gems, which is easier said than done. The key is to start researching now so that we're properly equipped and don't join the over-reactors club in March by waiting several rounds to draft our first starting pitcher. There will be new strategies brought into the mix every season, but there's no right or wrong way to go about it. No matter what round we're in, when considering starting pitchers we always have to keep skill, health and opportunity at the top of the mind.
RISERS
Brandon Drury (OF, ARI)
Arguably baseball's hottest hitter at the moment, Drury was one of the popular Week 25 waiver wire adds for those looking for some late-season offensive magic. Last week, Drury hit 14 for 28 (.500) with four homers and 10 runs scored, also drawing six walks. Just five months prior, Drury was in the midst of such a stellar hot streak, folks opted to bid on him over teammate Jake Lamb. Lamb had a fantastic breakout season, but has stunk since the break (.203/.276/.401). Drury has clearly been playing better ball recently. Drury is slugging .750 this month and is just five homers short of the 20-homer mark. He is unlikely to get there, but it could happen if he stays hot. It will be interesting to see how the outfield shakes out for the Diamondbacks next year with Drury, A.J. Pollock, Yasmany Tomas and David Peralta in the mix. Peralta has had problems staying healthy, as has Pollock. Drury can play third base and second base, as well. He will be a deserving middle-round target next season regardless.
Khris Davis (OF, OAK)
Sometimes power is power no matter what stadium you're in. Remember the universal analysis when Davis was traded to the A's? We were to expect a big drop in home runs and RBI since he was moving from one of baseball's best hitters parks to one of the worst. Well, Davis has crushed 40 homers on the year, tied for third in baseball. And almost half (19) were mashed right there at O.Co. Davis is hitting .239 at home compared to .257 on the road. We're all well aware that plate discipline has never been his strong suit. Speaking of, Davis' strikeout rate is up there at 27 percent, and he's seen a significant drop in his walk-rate – from just over 10 percent last season to about six percent this season. Davis is up there (top 20 overall) on the exit velocity leaderboard, averaging 92.6 mph, tied with fellow low-BA masher, Chris Carter. Davis will see a massive bump up the ADP next season, easily drafted within the first 50 picks. Even with the potential harm in the BA category.
Evan Longoria (3B, TB)
Only the draft contrarians saw this one coming. Longoria was an afterthought this spring. A former first-round fantasy pick who never actually reached first-round value. Thrice bitten, four times shy. He was the "OK, he's fallen far enough, I'll take him" pick, dropping all the way to the 10th round in NFBC drafts. Fast forward six months and Longoria is concluding what will be his best all-around season since 2013. His 35 home runs are a career high, and his .255 ISO is just short of his personal best, which came in his rookie season. Longoria has been better on the road, hitting nearly 30 points better average-wise and 60 points better slugging. Sixteen of his 35 homers have come at home, and that also is a career high. Longo is 30, but appears to be in the prime of his career and not slowing anytime soon. He will receive a bit more respect next season and likely fall in around a fifth- or sixth-round pick next season.
Chad Bettis (SP, COL)
It's quite interesting how much attention Rockies' starters are getting this season. It's actually their best rotation in recent memory. Second-year stud Jon Gray just set the club's single-game strikeout record with 16. Tyler Anderson boasts a 3.10 home ERA while veteran Tyler Chatwood is rocking a sub-2.00 road ERA. Lately, Bettis has been putting in work. In three September starts, Bettis racked up two wins with a 15:2 K:BB ratio. His ratios are fairly nasty (not in a good way), posting a 4.79 ERA and a 1.51 WHIP. But he's 5-1 with a 3.48 since the break. His nine percent swinging-strike rate is actually down from the 11.5 percent that he averaged in June and July combined, so that's a little concerning. Bettis maintained a strong 54 percent groundball rate over his last five starts. But then we look at an unsustainable .144 BABIP this month, for which we should grow a bit more alarmed. Bettis only has two starts remaining and since they are at Dodgers and vs. Brewers, he's probably one to avoid. He's a streamer who could end up blowing up in your face. But hey, great job those last three starts.
Tyler Anderson (SP, COL)
Yet another fantasy relevant Rockies' starting pitcher, Anderson has been a pleasant surprise off the waiver wire this season. As previously mentioned, Anderson has incredibly maintained an ERA around 3.00 at Coors Field over 11 starts. The 22 percent strikeout rate is above average. Anywhere between 20 to 25 percent next season would be a reasonable expectation. His 3.52 xFIP is a touch lower than his 3.65 ERA, and it's worth mentioning so we don't jump to the conclusions about him being too lucky this year. He was, after all, a first-round draft pick in 2011. Anderson isn't overpowering, clocking right around 91 mph on his fastball. He mixes that in with a curveball and a changeup, which is about all he needs to garner the results he has this season. Unfortunately, he had a rough one last week (nine hits, five earned runs in 4.1 innings), though it came against the D-backs in Chase Field. Prior to that start, Anderson managed just two strikeouts against the Giants, but went nearly eight innings against the Giants. Monday night was yet another doozy, managing seven strikeouts as his Rockies beat the Cardinals at Coors Field. He's an intriguing name to consider for next season's drafts.
Taijuan Walker (SP, SEA)
Walker has been one my biggest personal disappointments this season. I heavily targeted him and had many shares, so you can understand why I'm left feeling empty side. Worst of all, I benched Walker for his 11-strikeout shutout last week as I'm sure many others did who were afraid of a blowup. We know that Walker got off to an incredible start (2-0, 9.0 K/9, 1.44 ERA in four April starts) and had a rough stretch before an injury took him down for the count for a month in July. Walker returned Aug. 6 and proceeded to get crushed in five consecutive starts. Walker credits his shutout last week to a change in his mechanics. It involves a different leg kick and more hip turn that helps him use his legs more in his release. Walker pitched better than his boxscore would indicate Monday against the Blue Jays, and he'll have two more starts in each of the upcoming weekends. Closing out the season strong will go a long way toward our confidence in drafting him next season. Even if he stumbles the next two weeks, I'm still a believer and intend to invest in 2017.
Honorable Mentions: Scooter Gennett (2B, MLW), Joey Wendle (2B, OAK), Jean Segura (2B, ARI), Jon Lester (SP, CHC), Kenta Maeda (SP, LAD), James Paxton (SP, SEA)
FALLERS
Salvador Perez (C, KC)
Perez is still one of the league's most reliable hitters at his position, but it's been a rough season. He's incredibly durable, playing through a quad injury early in the summer and now dealing with a wrist contusion, missing almost no action since aggravating it. Perez is just one homer short of his career-high 21 homers from last season, but the rest isn't trending in the right direction. His 21 percent strikeout rate is by far the highest of his career. He continues to rarely draw a walk (3.9 percent walk rate) and has been a batting average liability at .247. Perez will need a bit of hot streak to reach 70 RBI for the fourth consecutive season. When preparing for next season's drafts, just keep in mind the injuries he's been playing through and note that he's still just 26. Although there are a few negative signs, I wouldn't discount him too much for next season based on his 2016 numbers. Twenty-homer catchers don't grow on trees. That said, I'd rather pick up Rockies' catcher Tom Murphy and play him for these last two weeks noting that Perez's wrist injury is likely affecting his hitting.
Stephen Piscotty (OF, STL)
We can't really complain about Piscotty's recent performance when you consider the fact that he was a 15th/16th round fantasy pick in 12-teamers (190 ADP) this spring. If you're disappointed with his numbers overall, perhaps you're a bit early on his official breakout. Or much more likely, what you're seeing is what you'll get. Piscotty is hitting .272 with 21 HR, 81 RBI, 80 R and seven stolen bases. Great numbers overall, except for perhaps the batting average because we know he's capable of hitting .300 someday soon. Also, perhaps we're expecting more because he hits third in his team's lineup. After all, Piscotty did hit .295 before the break. Since then, a .243 BA, but the power is up. He's hit nearly the same number of homers (11 before the break, 10 after) but in 120 less plate-appearances. His wOBA against southpaws this season is a sterling .424. He's just got some progress to make against righties. Last week was one of his roughest of the season as he managed just four hits on 24 at-bats with one run and one RBI. What I'm doing here is sneakily putting him down as a faller so I can reverse-jinx him into a productive Week 25. There's so much to look forward to with the 25-year old. And just so we're clear, yes, Randal Grichuk has more power, but I'd draft Piscotty way ahead of Grichuk 10 times out of 10.
Yu Darvish (SP, TEX)
Darvish's journey since returning from Tommy John in late May has been a mixed bag, but mostly good. His strikeout rate is up there, right around his career rate, which is slightly over 30 percent. His 7.9 percent walk rate would actually be the lowest of his career, albeit in limited starts. If not for two September bumps, we'd probably have no reason to complain. Darvish was rocked in his first start of the month, allowing five earned runs and walking three against the Astros. He bounced back from that outing with a dominant start against the Angels – 6.2 IP, 3 H, 1 BB, 1 ER, 9 K. But it was last week's start that really stung. Darvish served up seven runs, walking four in a start against the red-hot Athletics. We expect two more starts out of Darvish this season – one more against those A's (on the road) and then one on the final weekend against the Rays. His 141 ADP this preseason was a reasonable price in hindsight when you consider all the early round SP busts and the fact that we didn't have to wait all that long for Darvish. He'll be back to SP1 status heading in to 2017.
Honorable Mentions: Jett Bandy (C, LAA), Max Kepler (OF, MIN), Yunel Escobar (3B, LAA), Zack Greinke (SP, ARI), Cole Hamels (SP, TEX), Jeanmar Gomez (RP, PHI)
Sedler is a veteran NFBC player and CDM Hall of Famer.
Follow @rotogut on Twitter.
Get a FREE RotoWire 10-day trial (no credit card required) at RotoWire.com